Millwall's dark history returns, stains progress
It's about an hour after the FA Cup semifinal on Saturday and, despite the fact that Wigan Athletic have just achieved the greatest result in their history with two expertly worked goals, no one much wants to talk about the football or even the winning team.

Millwall manager Kenny Jackett, however, doesn't much want to talk about the fan violence in his club's end that has so tarnished and overshadowed the occasion. For his part, Jackett claims he was far too focused on what he could do to turn around a 2-0 deficit to even register anything apart from that. He didn't even know it was happening. To a degree, that's completely understandable.

-- Probe into Millwall trouble continues
-- England shaken by return of hooligan violence
-- Wigan saves FA Cup from further indignity

For virtually everyone else in the stadium, though, it was simply impossible not to notice. I was sitting in the east part of the main north stand and although the trouble happened about 70 yards away in the west corner of that section, the sheer aggression and movement immediately commanded my attention. For the final few minutes, no one was really looking at the football.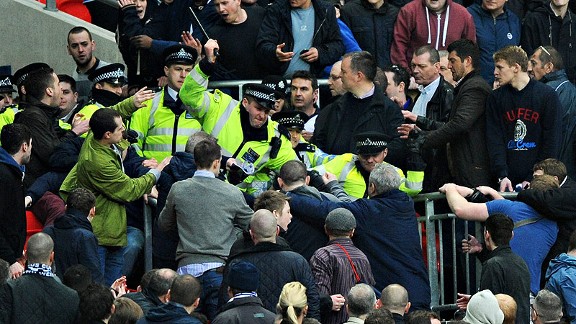 The FA/The FA/Getty ImagesAuthorities belatedly arrived at the scene of fan violence during Millwall's FA Cup semifinal match against Wigan.
There were a few reasons, in fact, why it was more jarring -- if not more severe -- than the trouble that followed the Tyne-Wear derby between Newcastle United and Sunderland the next day. Although that Premier League game in the northeast involved 15 more arrests with a total of 29, it didn't quite have the same stark contrasts.

The primal nature of around 30 men going at each other with fists and boots simply isn't really seen inside stadiums as glistening, gleaning and sealed off as the new Wembley anymore. Emphasizing that fact was the near-complete absence of any authority trying to stop them. For around 20 minutes, the situation was allowed to develop and worsen, with police only belatedly arriving to the scene. The stewards, it must be stated, are instructed to hang back for their own safety once an incident involves a public order offense.

All around, though, were the even more unsettling images of young children crying and adults attempting to position themselves between the chaos and their kids.

Such contrasts inevitably invite all manner of questions -- from the cause of the trouble to the security that allowed it.

The most simplistic answer has been, "That's Millwall." The club has a reputation for this kind of thing.

The reality, though, is more complex -- as illustrated by the vast majority of the fans who booed the aggressors.

One thing is undeniably clear: Those at the club are hugely dismayed and disappointed by what happened and fully recognize the gravity of the situation. They have, after all, spent the past two decades attempting to drive this element out and, even apart from that, done a lot of good work in a relatively isolated London community.

But just as the shocking nature of the events at Wembley illustrate how far football has come since the malice of the '80s, the fact that the incident specifically involved Millwall in yet another high-profile incident shows how far the club still has to go.

As Michael Calvin, the Independent on Sunday journalist who authored the award-nominated "Family, Life, Death and Football" on the team, tweeted Saturday: "Millwall is a complex club, condemned by a minority whose actions they cannot influence. Sad. So sad."

Saturday's captain, Danny Shittu, also expressed his sheer frustration. "At this club, you do five things right and one thing wrong and it sets us all the way back again. I knew the Canary Wharf area when it was the Isle of Dogs; I lived in that area for a long time so I know there is a stereotype about Millwall supporters. Even today, when I tell people I play for Millwall, some of them say 'Ohhh ...' I'm trying to promote that it's not that kind of club, but when this sort of thing happens, it makes it so much harder."

To be fair to Shittu, it certainly doesn't seem like "that kind of club" when you visit their Calmont Road training ground. Quite the opposite. On the Thursday before the semifinal, Millwall held their media day there, and it was a distinctly warm occasion. You could sense a proper family atmosphere, from the gentle bantering between staff members and players to the way in which they made an effort to put anyone you wanted up for interview -- something that is not exactly common in the closed-off world of the Premier League.

Goalkeeper David Forde spoke to ESPN on the day and offered one quote that both captured Millwall as an institution and also proved prescient.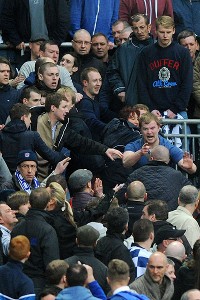 The FA/Getty ImagesUnsettling images of fan violence dominated the scene over the weekend at Wembley.
"At times, the club get a raw deal because it is such a fantastic club," he said. "There is a small element that maybe gets out of hand but that's no different to what you get at other clubs. At the end of the day, Millwall have the reputation and they get a bit of rough justice over that. But look ... they've had over 50,000 at a playoff final and what a unique experience."

It is that last playoff final, from 2010, which does provide further context to Saturday's events.

Privately, one football figure with a long-standing connection to Millwall provided his experience of that occasion. For a sector of the club's fans, it was an excuse to go to extremes. One of his most vivid memories of the match was supporters going into the Wembley toilets before kickoff to do cocaine.

That's relevant given that three of the 14 arrests made at Wembley this weekend involved possession of Class A drugs.

Speaking about three hours after the game then, three Millwall fans who were near the trouble blamed it on "coked-up idiots."

They also stated that they heard of "West Ham fans with tickets to our end causing the problems" -- Millwall's notorious rivals -- but officials briefed that "no credence" should be given to such claims. Additionally, the FA now apparently believe that the trouble involved a section where tickets were exclusively purchased by Millwall season-ticket holders and members.

Now, a mix of substance abuse and lax logistics and security seems to be the most likely explanation for the trouble. Those Millwall fans spoke of people around them being "absolutely hammered drunk by 11 a.m." on the day of the game, with the late 5:15 kickoff only allowing more time for a previously recognized problem. As a matter of course, most Premier League matches which will potentially involve flash points are given an early kickoff.

That, however, did not have the desired effect following Sunday's Newcastle-Sunderland.

As regards Millwall alone, though, there unfortunately can't be any doubt that the more malevolent section of supporters escalated the problems. The club undeniably has that edge.

Despite all the decent people who go to Millwall's home, The Den, it does have a kind of tension you don't find at many other grounds. The club is isolated, it's difficult to get to, it almost feels cut off from the rest of London, both in terms of location and investment. And, even if that's all only a feeling derived unfairly from previous reputation, the guttural note that some fans roar -- and could be heard on the way to Wembley and in the stadium -- adds to that sense of intimidation.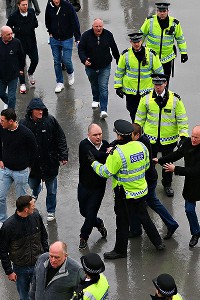 The FA/Getty ImagesMillwall has a reputation for fan violence, but the club has spent the last two decades attempting to drive out undesirable elements.
It's just unfortunate that on a day that should have been as special as Saturday's semifinal, all of that came together. It's also unfortunate that it coincided with events in Newcastle, and even Milan with trouble outside the San Siro.

Because, as regards the weekend as a whole and whether football has anything to worry about again, there was a context that will invite certain conclusions.

Given the death of Margaret Thatcher, given the fact that a club so central to the football problems of the '80s were involved again, given all of the debate about her death and given the return of the austerity of her era, it is tempting to say that something subconscious and latent might have been touched over the last week.

In truth, it is still far too early for such assertions. This may be nothing more than the most unfortunate of coincidences.

It has, however, provided a lot of ground for discussion beyond the football -- as Jackett has unfortunately found out.