Marveaux beginning to show true quality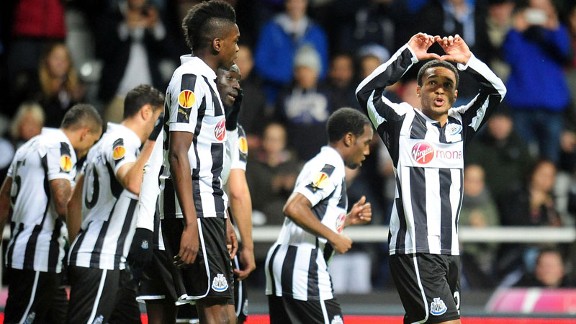 PA PhotosSylvain Marveaux scored his first Newcastle goal against Maritimo in the Europa League
As the rain pelted Benton, just outside Newcastle, Sylvain Marveaux stepped out of his taxi, made his way through the double doors of Newcastle's training complex and found it exactly how Hatem Ben Arfa had described.

The pair had met at Clairefontaine while recuperating from injury and discussed, amongst others things, Newcastle United. Surrounded by cards and well wishes following his broken leg, Ben Arfa's claims about the fandom that went with the Magpies seemed validated.

- Marveaux: We're not safe yet

Thus when Marveaux's protracted move to Liverpool fell through, Mike Ashley continued with company policy in drawing up a five-year-contract for him to sign. "I am so happy I just cannot wait to get started," he told the club's official TV channel.

His first start would take a while. A graduate of the Rennes academy, the move to England represented new but conquerable obstacles for Marveaux. His first interview was given in near perfect English, negating any language barrier. "I was quite good at French and enjoyed English and Spanish [at school]," he told the club's match-day magazine recently. He was speaking amid a run of games that he had never previously been afforded at St James' Park.

That was in part due to injury, an unfortunate curse to befall him given that prior to joining the club rumours surfaced that a questionable medical had stalled his first opportunity in England with Liverpool. That's all they were though, just rumours. Promptly denied by the Anfield club doctor during a radio interview, it was at least fair to say that his time in France had been blemished by spending too much time with physios.

When he was substituted during his first Premier League start against Everton, the fears of having signed a physically fragile player resurfaced. A disjointed period of cameos and development squad games followed for the rest of his inaugural campaign. During that time, his talent was never questioned, with conjecture centring over whether his body could meet the demands of the Premier League.

As December approached, so did his first piece of good fortune. It took 900 minutes to arrive, but as Marveaux slotted the ball past Maritimo's goalkeeper, a bubble of frustration burst. As he looked up to the sky, a release of emotion, the pain of the previous 18 months drifting into the night.

"It's difficult," he told ESPN after the game. "When you come in and you haven't played for a couple of weeks, it's physically hard. But that's how it is, and you just have to work hard in training to make sure you're ready."

While he celebrated, Ben Arfa winced. A rash challenge in the first half had seen him withdrawn from the game in what would be the beginning of a lengthy period out. With Newcastle embroiled in a relegation battle and also missing Yohan Cabaye, fears began to grow over who would turn creator in such a two dimensional looking attack.

As he finished the year strongly, it appeared that Marveaux was the man. A devilish free-kick at Old Trafford saw him rattle the crossbar, before a goal and equally impressive assist at the Emirates were lost in amongst the eleven goals their opponents scored. After the ashes of Newcastle's relegation in 2009, the diminutive winger was beginning to represent a flickering ember.

Initially playing on the left, his preference, much like Ben Arfa, is to be placed centrally. "Yes, that's always been in my head," he affirmed before Christmas. "I've never been someone who's clung to the touchline all the time, looking to cross. I like to really get involved in the game in the centre of the pitch. That was my strength when I was at Rennes and I think it's important to try and play and the same way here. Of course, I have to adapt as well and the manager's been good at showing me how to do different things as well. So it's up to me to be able to combine the two."

On Sunday, against Fulham, he was given a chance on the right. Eager to cut inside, his deliveries have been of benefit to the resurgent Papiss Cisse, with two of his three recent injury-time strikes being as a consequence of Marveaux's ingenuity.

Describing his last minute pass against Stoke as "world class", Alan Pardew will be keen to note that he registered a higher pass completion rate in the final third at the weekend (80%) than Juan Mata (79%) - creating five chances (Opta) against a stubborn Fulham defence.

Now supplemented by a bevy of compatriots, signed during the January transfer window, he admitted recently it is not something he could ever have imagined. "It is a weird sensation with so many Frenchmen here," he told the Journal. "I know Yoan Gouffran from years ago, he is a good friend of mine so that is very good. I was not expecting anything like this."

It also means the physical and defensive duties can be left to those around him, provided he tracks back. With the creative burden normally left to the aforementioned Ben Arfa and Yohan Cabaye, it is actually Marveaux who leads the club in assists - confidence in him clearly high, as Cabaye combined most with him during Sunday's encounter (Opta).

Yet having previously stated how much he enjoys playing alongside the man who first introduced him to the Tyne Bridge and the imposing stadium nearby, it seems cruel that the two have never enjoyed harmonious success alongside each other. With news that Ben Arfa may be passed fit for the Sunday clash against Sunderland, that could be about to change.