Spurs bosses fail to hit target in striker search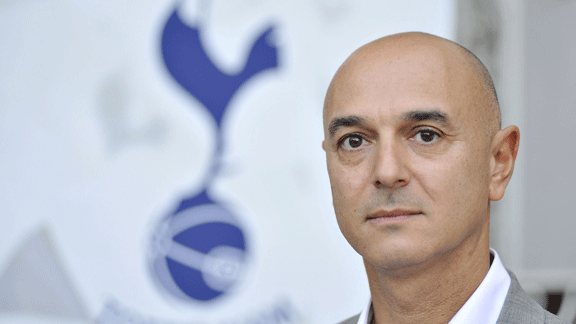 GettyImagesCan Tottenham chairman Daniel Levy be held accountable for the club's failings this season?
Tottenham may soon begin their search to identify the culprits behind their latest Champions League near miss and on this occasion, manager Andre Villas-Boas and his players should not be placed in the dock.

After Tottenham chairman Daniel Levy dispensed with the services of Harry Redknapp after he claimed the top four finish demanded of him last season, successor Villas-Boas must be wondering what fate awaits him as he closes in on the unwanted fifth spot in this season's Premier League standings.

Never mind the reality that the Premier League's 'bridesmaid slot' may be the best he could have been expected to deliver with the tools at his disposal, after a campaign that has seen Villas-Boas and his match winner supreme Gareth Bale combine to cover the holes in a squad overloaded with ten first team midfielders and what has generally been a solitary recognised striker for much of the season.

On this occasion, the finger of suspicion for this latest Spurs collapse should fall on the club's mysterious kingmaker Joe Lewis and his assistant Levy when their annual postmortem gets underway.

Lewis, described by former boss Redknapp as 'the Tottenham owner', is a reclusive billionaire who spends his time bobbing on the waves of Bahamas. The principle investor in ENIC – the company that has run Spurs since 2001 – he uses Levy as his eyes and ears on the ground in London, but the reality is many Spurs fans will probably never have even heard of him.

As for Levy, he is very much the frontman of the Tottenham operation, but his rare public utterances give little insight into the workings of the club. The ENIC view may be that they hire managers and players to do their talking for them, but fans would appreciate the odd contribution from the power brokers at the club.

An Arsenal-style financial prudence seems to be Lewis/Levy ethos in running Tottenham, with their refusal to shatter wage structures and spend vast sums in the transfer market evidence that this football club is run very much as a business rather than a play thing for Lewis to offload his spare change from the Caribbean.

That reluctance to splash the cash has been evident time and again in recent years. A £22 million deal to sign Joao Moutinho from Porto was said to have 'fallen through' at the last minute in the August 2012 transfer window. The transfer of Brazilian starlet Leandro Damiao fell through due to 'lack of time' in the January window. Publicity stunts to convince fans they were chasing top players or genuine near misses? We will never know.

What is not in doubt is that after last season's bid to qualify for the Champions League was undermined by a lack of striking firepower in the final six weeks of the season, Lewis and Levy have been presented with two transfer windows to address the problem and they have blatantly failed in that mission.

Even after they collected a £45 million windfall from the sales of Luka Modric and Rafael van der Vaart last summer and the prospect of a bumper new TV deal for Premier League clubs starting next season, the Tottenham hierarchy opted to stick with the same tried, tested and failed forward line and they are set to pay a heavy price.

Levy and Lewis could have been forgiven for their financial prudence had Villas-Boas been given two top class strikers to work, but instead he was presented with the enduringly over-rated Jermain Defoe and the persistently frustrating Emmanuel Adebayor to get through the season with.

Between them, Tottenham's dynamic front two have scored just one Premier League goal since New Year's Day, inspiring Villas-Boas to offer up this insight into his thinking at one of his recent media briefings at the club's immaculate Enfield training centre.

"Our objectives are Champions League qualification, but if we don't achieve it, we have to consider the steps forward that have been made," Villas-Boas said, seemingly getting his excuses in early in case his side come up short of their targets.

"Bear in mind the key players lost from last season (Modric and van der Vaart), so I think there are positives in our efforts. However, you want to move forward, you qualify for the Champions League, we know that, so we try to do it.

"We know how important a top four finish can be. For the club to move forward as we want it to do, we have to be in the Champions League consistently and that is the ambition of everyone at this club."

Tottenham's financial position is unlikely to be affected by another Champions League near miss, as that scenario would trigger the inevitable sale of star turn Gareth Bale and a £50 million windfall that would cover Champions League revenues for a couple of seasons at least.

However, that is hardly a satisfactory outcome for the club's supporters who are hurting once again right now.

Snaring the only Europa League spot up for grabs in the Premier League this season would be an admirable effort for Villas-Boas in his first season at Tottenham, yet you wonder whether the Lewis/Levy combination will agree with that assessment.

If they do decide to sack a manager who has gone a long way to rebuilding his tarnished reputation at Spurs this season, it would be an acceptance from Levy that he made the wrong calls last summer.

At that point, Levy's position as the face of Tottenham's chief policy decisions would come under severe scrutiny.