A brand-new corporate ballgame?
When David Beckham was introduced as a Paris Saint-Germain player, his silhouette was cast in front of a crowded collage of logos and brand names.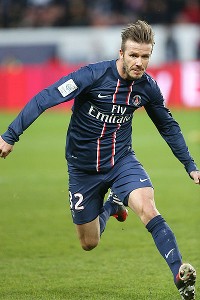 John Berry/Getty ImagesThe Nike logo on the Paris Saint-Germain jersey is highly visible on adidas pitchman David Beckham.
Of course, this was not unusual for the former Manchester United, Real Madrid, AC Milan and L.A. Galaxy player. His professional career and personal life have been defined by his corporate value to such an extent that he himself has become a brand ("Brand Beckham," as we're used to hearing).

What was unusual was that positioned strategically over each of his shoulders was not the logo of his sponsor, German sportswear manufacturer adidas, but that of its rival and kit supplier to PSG, Nike.

Somewhere in Germany, marketing executives presumably were watching a stream of the news conference, pounding themselves over the head with a Predator boot.

For the first time since leaving Manchester United in 2003, Beckham had signed for a team outside the adidas portfolio. On the pitch, where a player is most visible, adidas' flagship ambassador would be wearing -- and effectively endorsing -- Nike products. Although Beckham may no longer operate at the peak of his powers on the pitch, he still vies with the very best, namely Lionel Messi and Cristiano Ronaldo, for the title as football's most marketable player.

The rivalry between Messi and Ronaldo is one fought on billboards and magazine covers, too. As one's face adorns the cover of a leading football video game, the other endorses its rival. The same goes for sportswear, where Messi reportedly is paid a little more than $3 million a season to be the face of adidas, and Ronaldo receives $7.5 million a season to do the same for Nike.

However, the most visible logo on Messi's chest is not the distinctive three stripes of adidas, but the "swoosh" of Nike. And vice versa with Ronaldo. Barcelona, Messi's team, plays in Nike kits, while Ronaldo's Real Madrid rather inconveniently wears adidas.

So with Ronaldo linked to a possible move from Madrid at the end of the season, is it really so implausible that Nike would see as in its best interests to ensure its poster boy joins a side that wears Nike? Reports last week suggest not.

According to various accounts, United officials already have met to discuss a possible move for Ronaldo. But it wasn't Real Madrid that United were said to have met with in London, but representatives of Nike. Furthermore, it was reported that Chevrolet, United's shirt sponsor for the 2014-15 season, also is willing to help finance a move for Ronaldo, having identified the Portuguese attacker as the man to front the American car manufacturer's advance into the European market.

Of course, commercially motivated transfer activity is nothing new in football.

When QPR signed Park Ji-Sung from Manchester United, the statement announcing the transfer claimed his arrival at Loftus Road would "put the QPR brand on a global scale." Naming him club captain soon after was a decision blatantly designed to further capitalize on a fruitful Asian market.

In another instance, Brazilian government bodies are said to be boosting Neymar's pay packet in an attempt to keep him at Santos -- and more importantly, in Brazil -- until the 2014 World Cup, at the very least.

Both aforementioned cases are typical of how commercial interests influence transfer activity, with the welfare of the club or league at the center of the decision-making process.

Should United utilize their extensive commercial portfolio to manufacture a deal for Ronaldo, it would set a compelling precedent -- a transfer pushed through by what's best for a corporate partner, rather than what's necessarily best for the club.

Is it possible that to a certain extent, corporations one day could act as agencies in the transfer market, shifting clients around depending on where they are of maximum value to their brand?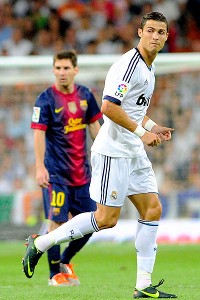 Gonzalo Arroyo Moreno/Getty ImagesLionel Messi (left) and Cristiano Ronaldo are each his own brand, so it's plausible to expect each to move on to a club that fits his corporate image.
It is a frightening scenario in which agents and multinational corporations could turn the transfer window into a commercial cattle market dictated by where players can sell the most 4x4s or Big Macs. With UEFA's Financial Fair Play regulations designed to eliminate reckless and irresponsible spending, clubs are increasingly finding room to maneuver in the gray areas left unrendered by president Michel Platini.

Clubs already have set about exploiting loopholes in the regulations (see the inflated sponsorship deals signed by Manchester City and PSG that have come under scrutiny) but could third-party funded transfers be the biggest loophole of all?

The truth is footballers might be entitled to feel aggrieved with the commercial paradigm they comply with, particularly when comparing their situation to that of athletes in other sports. Quite simply, football is out of line with the rest of sport when it comes to individual marketability, something that could change in the era of "player power" and the agent-driven marketplace.

Despite football's position as the world's most popular and lucrative sport, the sponsorship deals handed out to its star performers lag drastically behind those awarded to athletes in other sports (consider Rory McIlroy's $250 million deal with Nike, or Roger Federer's $130 million contract with the same company). Even in other team sports, such as basketball, LeBron James can play for the Miami Heat in the NBA, where adidas holds a lucrative contract, without jeopardizing his own personal $120 million deal with Nike. James never has to be seen endorsing a rival brand, thanks to the blank, sponsorless game jerseys.

So why are footballers expected to promote a rival brand when other superstar athletes can avoid crossbranding in order to preserve their own personal endorsements? Is it fair that clubs are free to plaster brand names and logos across the chests of their players while keeping the rewards for themselves?

Football's fundamental flaw when it comes to the commercial endorsement is the conflict between the interests of the team and player.

But while the benefits for players of using their own personal marketability to control their transfer value are obvious, why would brands be so eager to spend so much for an essentially intangible return -- increased exposure?

For corporations, football enjoys the sort of "brand loyalty" they can only dream of. By associating themselves with clubs and players, the notion is that fans will extend that loyalty to their consumer choices almost subconsciously. It's the loyalty to a club or player they buy a part of, rather than the club or player itself.

Whether that concept bears actual results is the stuff of complex university studies, but with Premier League sponsorship revenue at an all-time high, it would seem corporations and brands are convinced of the merits of attaching themselves to the sport. With players now seemingly as powerful as ever, it seems unavoidable that the commercial interests of the individual rather than the collective will take precedence in the future.

It's somewhat remarkable that such commercialism hasn't yet infiltrated the core interests of football clubs, particularly in the transfer market. Many now consider football a business, but could it soon be controlled by business? While the prospect of signing a player as good as Ronaldo without even having to pay all of the transfer fee themselves might seem too good an opportunity to turn down, United and others should be wary of creating a market that football can't control.

Graham Ruthven is a freelance football writer, juggling his work for the New York Times and STV among others while displaying an all-consuming crush for Dimitar Berbatov. He believes all football shirts should have sashes and can be found on Twitter @grahamruthven.