Fergie hopeful of making history, again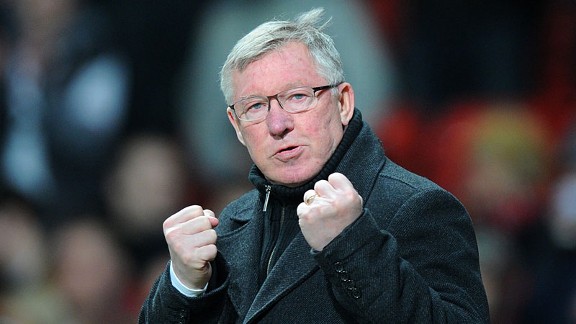 PA PhotosSir Alex Ferguson
In one moment, Sir Alex Ferguson had seen an opportunity to make history again arise.

Although the great Real Madrid side of 1960 might have fired his fascination with the European Cup, their modern successors at bitter rivals Barcelona seemed likely to define his lasting legacy in it.

Had events taken a different turn and Pep Guardiola not assumed control at the Camp Nou in 2008, Manchester United might have won five European Cups and Ferguson himself a record four.

The 2009 Champions League final may even have seen his team become the first in two decades to retain the trophy. Instead, he was left talking about one of the greatest-ever teams - and it wasn't his own.

A couple of moments around the 2011 final at Wembley seemed to give an insight into how much of a searing reality check that game - a 3-1 defeat by the Catalans - was for Ferguson, who sat silently on the bench before delivering a post-match press conference in which he acknowledged the greatness of the winners.

"In my time as a manager I would say, yes, this is the best team I've faced," he said. "I think everyone acknowledges that, and I accept that. It's not easy when you've been well beaten like that to think in any other way. No-one's given us a hiding like that."

Very few teams came close to competing with that Barcelona side when it mattered most. In three years, only Inter Milan had eliminated them from the Champions League - and that was down to an exceptional tactical and defensive masterclass from Jose Mourinho.

Ferguson had spoken before the 2011 final of how he knew what had gone wrong in 2009 and wouldn't make the same mistakes. He didn't need to. Barca were on another level.

The United manager seemed to realise that he couldn't figure out how to defeat them, and some close to the highest ranks at Old Trafford say he had privately accepted that a 20th league title for United might be his last landmark target. While this Barcelona were around, his team could only ever be second best in Europe.

But no more. After watching Chelsea eliminate them in May's semi-finals, Ferguson turned to a high-ranking United official at a dinner and declared that he would win the Champions League again.

Around that time - and especially after the 1-0 defeat to Manchester City at the Etihad that tilted the title race and denied United that 20th title - the United boss instructed chief executive David Gill to work on bringing in players of prime quality in preparation for a resurgence.

At that point, Eden Hazard was the number one target, but Robin van Persie's name was also mooted.

Chelsea's defiance at the Camp Nou not only gave Blues owner Roman Abramovich his dream, it also gave Ferguson new drive. By so impressively shutting out Guardiola's side, Chelsea had opened up the Champions League again and shown that Barca were beatable.

And, with Ferguson believing a Treble is on this season, three recent results should have served to deepen that belief.

The first was Milan's commanding 2-0 win over Barca, which may well ensure that this is the most unpredictable Champions League quarter-final draw since 2006-07, and it was followed by Real Madrid's successive Clasico victories. Even if United end up facing Barcelona again, the Catalans are a world away from the wonders of 2008-11.

The other side of those Clasicos, though, is that they may mean that Mourinho's Real assume Barca's status as the team to beat. That seemed the case at the start of the season after the manner in which they had dethroned Barcelona in La Liga, and it may well become the case again.

Real's players seem full of belief once more, talking about how the Clasico victories have renewed their vigour after a dreadful four months. "This will spur us on for the clash with Manchester United," Pepe said. "We have won two very important matches against a tough rival by playing well, and this has boosted our confidence for the game against United."

Sergio Ramos struck a similar note, saying: "This is a great moment for us, and we have to make the most of that. Psychologically, the team has been strengthened by the Clasicos and we will go to Manchester convinced we can go through. We know we can. Things change - football is about runs, cycles, fashions."

But, as good as Real look again, last season's devastating displays aren't quite there. It takes a rhythm developing, and long-term planning, for things to come together beyond a simple run of form - and the sort of defensive rigour utilised by Chelsea to defeat Barca, and applied by United when they beat the Catalans in the 2007-08 semi-finals, could well do for Mourinho's men.

As overwhelming as they often were in terms of scoring last season, that was usually the case in games in which they were ahead. The fact that opposition teams had to come out of their shells and try to equalise meant they could maximise their most potent weapon: cut-throat counter-attacking and the sheer power of Cristiano Ronaldo. As Lionel Messi said, "Madrid kill you on the break."

Barca almost illustrated the worst way to approach them in the last two Clasicos. They attempted to take the game to Real, but without the pressing that stifles the threat of counter-attacks. It was all a long way from their 3-1 win at the Bernabeu in December 2011.

At their best, Barcelona's pressing-possession approach ensured that virtually every match was played on their terms. In contrast, the effectiveness of Mourinho's counter-attacking game is almost always dependent on how the opposition sets up.

In those games against Chelsea, United and so many others, Guardiola's Barca forced their opponents to play a defensive game that they weren't necessarily comfortable with and to rely on fortune. At Old Trafford, though, Ferguson can choose to apply a more restrained approach and force Real into a more proactive game that they are not necessarily comfortable with. It's difficult to see United offering Ronaldo the space to tear into.

Ferguson mentioned this as he ruminated on Barcelona's Copa del Rey defeat to Real, saying the counter-attacking display by Mourinho's men had been "terrific". "We're aware of that, and our preparation has to include that - but I think we'll score, I really do," he said.

And will Real score a key away goal of their own? They have Ronaldo's heading and long-distance shooting, along with the creativity of Mesut Ozil and Angel Di Maria, but United have developed the kind of run that Ramos was speaking of.

With the return of all their key centre halves, it is 447 minutes since they conceded a league goal - their second-longest run since the 2008-09 season. In that campaign, the manner in which their defence managed a record 14 successive clean sheets emphasised that the last truly great United team was built primarily on resilience before the departure of Ronaldo and the defeat to Barcelona ended one cycle.

Ferguson will feel that everything is coming together for the beginning of another.