No secrets in success for Mancini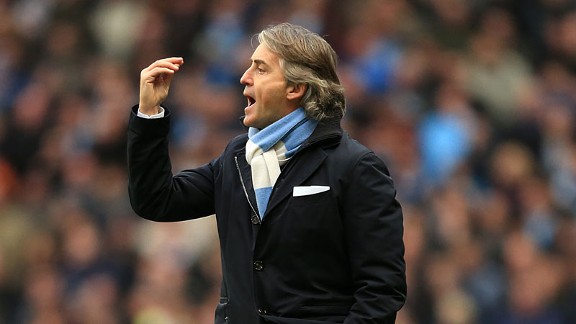 PA PhotosRoberto Mancini believes a policy of public honesty is the best route to success
While, for many managers, what happens in the dressing room stays in the dressing room, Roberto Mancini is the exception, a man willing to make private criticisms public. For some, it is heresy. For the Manchester City manager, it is necessary. He remains unapologetic about his approach.

- Curtis: City, Villa share more than just players
- Hughes: Villa hoping to avoid Monday blues

Joe Hart and Samir Nasri have been recent targets. Go back a few months and Mancini was similarly unafraid to take Joleon Lescott and Mario Balotelli to task in press conferences and post-match interviews. A confrontational, controversial method is, he said, because he believes improvement is a consequence of honesty.

"I say what I think sometimes and if I think it could be good for my players to understand they could play better, they can do more, I say this because I don't lie," the City manager said. He insists the message is delivered in an appropriate manner - "I'm not rude," he explained - and they do not object to his policy of openness. "I don't have any problem with my players," he added.

Rather, he is a perfectionist who believes the demands and rewards of elite-level football require mental strength and a certain type of character. Mancini, who has accepted he has made mistakes this season, does not want the kind of people who will deny accountability and deflect blame in his team.

"I say what I think and sometimes it's important that a player takes responsibility because when you are a top player you earn a lot of money and you should play at 100% always," he added. "I don't like players who never think it's their fault. These players can't play with me because this is impossible. I want strong players that are upset with me when they don't play but after that show me on the pitch that they deserve to play."

A desire to play, and to play well, was a constant in Mancini's distinguished playing days. A Serie A winner with both Sampdoria and Lazio and a European Cup finalist during his decade and a half with the blucerchiati, Mancini's will to win sometimes led to losses of temper and the red cards that pockmarked his career but, he said, he was always answerable for his performances.

"When I was a player I always took responsibility," he recalled. "When I didn't play well, I said 'sorry I didn't play well and will do my best in the next game' and it should be like this."

Mancini played in the most successful spell in both Sampdoria's and Lazio's history. Neither, however, won consecutive titles and the 48-year-old believes it is harder to retain the Premier League than Serie A. It is almost certain City will not keep their crown either and Mancini argued that a failure to strengthen in the summer cost them a competitive edge.

"For this reason we've said that it was important to put another two or three top players in the team," he said. He remains annoyed that results have dropped off, but he believes that can be inevitable at clubs who do not have a tradition of lifting trophies. "Sometimes we didn't play with the same attitude that we had last year. Sometimes for a team like Manchester City that didn't win for 30 years, the year after they win a championship it can happen," he said.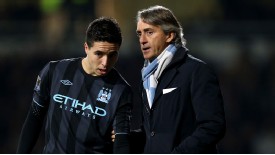 PA PhotosRoberto Mancini voiced his frustration that Samir Nasri had not done all he could to fulfil his potential this season
Those problems are personified by Nasri, a player whose talent his manager admires but one who has lost his place to the more workmanlike James Milner. Mancini's warnings that individuals ought to do everything to realise their potential applies to the inconsistent Frenchman in particular.

"I think that he can do better because he has quality, technique and he's strong," he explained. "For me, Samir is a top player and a top player should play well in every game. Samir is one of the best players in England. He showed this with Arsenal, he showed this with us last year and also this year sometimes."

Less than a fortnight ago, Mancini gave an interview in which he was honest about Nasri's shortcomings. It has not created an issue with the midfielder. "Samir knows," he said. "I spoke with Samir many times about this."

Nevertheless, while others would choose to keep such discussions in-house, Mancini is more revealing than most of his managerial counterparts. His method could be deemed tough love but, he is adamant, there is genuine affection.

"I don't criticise my players after every game," he said. "It's easy when you've won a game and everyone is saying 'well done' or 'you are the best' but, when you have a problem, you should resolve that problem. I love all of my players and I can do everything for my players but I want them to do everything for the club."