League Cup final matches magical makeovers
There might not be any big names involved, but don't let that put you off watching Sunday's League Cup final. With the exception of unexpected power failures or sudden plagues of rats, there's just no way that this game can miss out on a happy ending.

It would be exciting enough if it were just Swansea City who had fought their way to Wembley. That fourth-division Bradford City will be there, too, will make this an extraordinary afternoon of football. After all, the Swans have already fought their way back from the desolation of the basement division. Bradford are still marooned down there.

-- Swans set for Wembley

If there were a school for owners of football clubs, and heaven knows there should be, the story of Swansea City's revival would be at the top of the syllabus.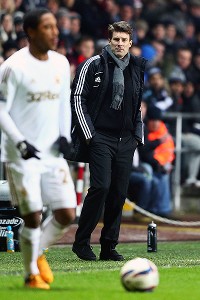 Michael Steele/Getty ImagesMichael Laudrup, a man familiar with being on the big stage, has used a steady hand to guide Swansea to Wembley.
This club could have been relegated out of the Football League in 2003. A last-day victory over Hull City was the only thing that saved them. Back then, of course, affairs on the pitch were the least of their worries. Having finally wrestled control of the club from the hated Tony Petty, the new consortium of local businessmen and supporters were forced to declare their debts unpayable and start all over again. Under the stewardship of experienced boss Brian Flynn, they lifted themselves up the table to safety.

When a poor run of form cost Flynn his job in 2004, he was replaced by Kenny Jackett, now performing so well at Millwall. Jackett deviated from the accepted wisdom that physicality and 4-4-2 were the only weapons required in the basement division. Swansea constructed a new stadium with considerable help from the local council and began to rise up the league.

Unlike many clubs, which simply appoint the "flavour of the month" candidates regardless of how their style sits with the present setup, Swansea have always stuck to Jackett's template. Roberto Martinez, Paulo Sousa, Brendan Rodgers and Michael Laudrup have all insisted on attractive, intelligent football. With a fan on the board and a 20 percent supporters' group holding in the club, in any normal year, Swansea would be the unanimous choice of the impartial observer. But this is far from a normal year.

Like Quint and Hooper in "Jaws," Bradford and Swansea could easily spend an entire evening round a table comparing scars. In 1999, the Bantams were, for a brief period at least, an encouraging example of what an unfashionable northern club could achieve with an enthusiastic young manager and a bit of financial backing. Against all odds and expectations, Paul Jewell took them to the Premier League and then somehow avoided relegation straight back down again with a final-day 1-0 win over Liverpool.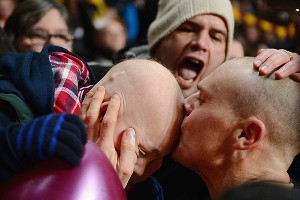 Laurence Griffiths/Getty ImagesSupporters of League Two club Bradford are ecstatic about Sunday's trip to Wembley.
But then everything went horribly wrong. Jewell left that summer after falling out with chairman Geoffrey Richmond, and Richmond responded to the breakup in the traditional manner by going shopping. In came Benito Carbone, Dan Petrescu, Ashley Ward and David Hopkin, all on completely unsustainable wages. Coach Chris Hutchings was given Jewell's job, team spirit collapsed and Bradford were relegated with a whimper.

Without the Premier League TV money, Bradford never had a hope. They clogged up the second flight for three years, spent another three in the third and in 2007, just six years after their last Premier League game, and after dozens of battles with receivers, bailiffs and tax collectors, they were back in the basement.

Now managed by Phil Parkinson, who took lowly Colchester United to the second flight in 2006, they've got something to be proud of again. Their promotion campaign has hit the skids since this Cup run intensified, but you'd be hard-pressed to find anyone in Bradford who cares. This is a well-organised, disciplined and brave unit, and if they keep their heads in Wembley, they've got a chance. Arsenal and Aston Villa were silly enough to write them off. Swansea are unlikely to make the same mistake.

Even if that's the case, and Swansea are victorious, the money made on this Cup run will still have a transformative effect on Bradford. More than that, it will breathe new life into the club, attracting new, young supporters and winning back those who have drifted away.

But perhaps most pertinently, should they lose, perhaps the sight of Swansea lifting a major trophy will remind them that for all of the money, cynicism and nastiness in football, there's still no limit on what can be achieved through clever management and hard work.

On the flip side, Bradford might win it themselves, sparking celebrations that would never be forgotten, and wiping out Yorkshire's economic productivity with the biggest mass hangover since VE Day.

In short, you'd be a fool to miss this one.

Iain Macintosh is the UK Football Correspondent for The New Paper in Singapore, writer for ESPN and the co-author of "Football Manager Stole My Life" from @backpagepress. You can follow him on Twitter at @iainmacintosh.