Wenger snaps under media scrutiny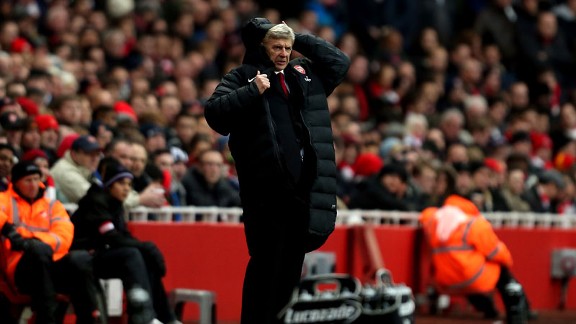 PA PhotosArsene Wenger is under increasing pressure
For those of us who have covered Arsene Wenger from our privileged position among the ranks of the media over the last 16 years, the scenes played out at the club's London Colney training ground on Monday lunchtime were as shocking as they were disturbing.

The sight of Arsenal's greatest manager of all-time bristling with anger, seething with venom, as he confronted the media confirmed that the coach famed for his cool, articulate delivery of answers and his charm when dealing with the media is rapidly losing patience with a demise in fortunes that is in serious danger of ruining what should be his sparkling legacy.

Those of you who base an opinion of Wenger's personality on his TV interviews, which are often forced upon him at a moment when he would rather avoid the glare of the camera, may suspect this Frenchman has a tendency to lose his temper more than most, yet never before has he lost his temper with the media two days after red midst of a shattering defeat has passed.

Wenger often jokes about his on-screen petulance when quizzed about it by reporters a few days later, with the co-operation he has offered to the media down the years one of the primary reasons why many of us find it hard to plunge the knife into his back now that he has reached his lowest ebb. Yet we, like Wenger, are running out of excuses for his team and his policies.

Make no mistake, Saturday's FA Cup demise against Championship side Blackburn at Emirates Stadium was a new low in Wenger's Arsenal reign and in case there was any doubt about that sweeping statement, you merely needed to join a stunned throng who were invited to attend his latest public appearance.

From the moment Wenger walked into an overcrowded media room to preview the Champions League last-16 tie against Bayern Munich on Tuesday night, it was clear that his mood has darkened rather than mellowed in the hours since Blackburn's improbable triumph at his expense.

However, it was the topic he chose to as his chief line of attack against the media was hard to fathom, as he exploded with fury when asked whether reports of him signing a new contract to stay at Arsenal were accurate.

"This is wrong information," snapped Wenger, with his inquisitor left to wonder what he had done wrong. "I have worked for 16 years here in England and I deserve a bit more credit that giving out wrong information that only has one intention, which is to harm.

"If it is good information, it's alright, but this is wrong information and comes from nowhere. It is wrong. I don't know where the information comes from."

Quite why Wenger found it so offensive when it was suggested that his employers would consider extending his stay at the club for another two years was somewhat hard to ascertain and it was then that the atmosphere threatened to turn nasty, as he pointed an accusing finger at Daily Mail journalist Neil Ashton.

"I look at you, not because it is you that give the information, I don't know if it is you," he shouted at a confused Ashton, whose newspaper had not written the article suggestion that a new contract may soon be on the table for Wenger.

"Why do you look at me," bellowed Wenger. "Cos it's your press conference," responded Ashton, as the verbal joust intensified.

"You have given this information out," Wenger then asked the same reporter, who quickly responded with a denial. It was an embarrassing exchange that did little for Wenger's sullen mood.

His rant did not stop there, as the next questioner dare to mention the FA Cup fifth round defeat against Blackburn, which brought another agitated response from Wenger. "Look, this is a pre-match conference for Champions League," he interrupted. "If you want to talk about Saturday, the press conference happened after the game. Can we get some questions about the Bayern game? That would be very nice."

Arsenal midfielder Mikel Arteta found himself caught in the cross fire of these angry exchanges, as he fulfilled his role as the nominated player chosen to face the media alongside his manager, but he could have picked a much better day. This was Wenger in a guise that only his own players have seen before after crushing defeats. Sir Alex Ferguson in 'hairdryer' mode you might say. It was unpleasant to witness.

It remains to be seen whether Wenger's current squad of players have what it takes to back up their boss as he comes out fighting ahead of a game he dare not lose against Bayern, but there can be little doubt that the Arsenal manager's eagerness to alienate the media he has enjoyed a healthy relationship with since his arrival in English football back in 1996 is a risky move.

Jose Mourinho may have mastered the art of convincing his players that the world is against them and using that mentality as a motivating tool, but this is new territory for Wenger, whose has long been a darling of the London media thanks in no small part to the fact that he always guarantees us a good story every time we are invited to meet him.

Now, for the first time, it is Wenger himself and not his always enlightening opinions that has emerged as the lead story amid an Arsenal crisis that could explode in ugly fashion at Emirates Stadium on Tuesday night. Is the great man cracking at last? It certainly seems as if he may be.

Could it be that some of the chores that go with this job are growing tiresome for one of the Premier League's most colourful personalities? It remains to be seen how much longer he will need to put up with them.