David de Gea puts on a master class in United's draw with Real Madrid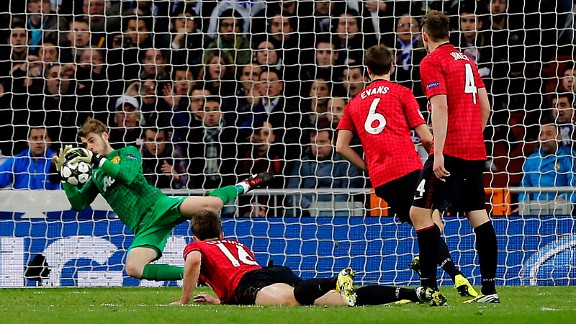 Cesar Manso/AFP/Getty ImagesDavid de Gea had his best night between the sticks for Manchester United, denying Real Madrid on eight occasions with top-class saves.
As is so often the case, it was a night of absolute and clear Spanish supremacy in the Estadio Santiago Bernabeu. Classy, assured, dominant -- thrilling hundreds of thousands of fans all around the regal city of Madrid.

But the man in question wore green. Not white. The man in question was playing for England's champions-elect. The man was, of course, David De Gea.

Although Jose Mourinho's side didn't go right through the gears, and while Manchester United's daring and insistence on a second goal very nearly brought joyful dividends, this was an evening when Madrid could most certainly have come away with a 3-1 win, just as they did the last time the two sides met competitively here, and only the visiting English fans would have truly complained. Instead, the Champions League tie ended in a 1-1 draw, with United securing the key away goal.

The reason that Spain's up-and-down champions didn't win the match and get that comfort zone to take to Old Trafford was De Gea.

Born in Madrid, raised in "enemy" territory, the 22-year-old is someone whose problems in acclimatizing to English football are partly because when the ball is crossed into the United penalty box, you're often unsure whether he's trying to win it or waving at someone in the crowd.

Wednesday evening, in the cauldron which stews so many good teams, exposes so many great players, De Gea was magnificent.

If you accept, and I think it's inarguable, that United were terrifically athletic and disciplined right across the pitch and managed to suffocate Real Madrid's most threatening tactic, the counterattack, then it's testimony to De Gea's excellence that he still needed to make eight fine saves. Three of them were top quality.

It's also testimony to United's scouting that Sir Alex Ferguson's men didn't commit that cardinal sin.

- Video: Valuable away goal for United

Real Madrid are an exceptional counterattack side, constructed and trained to bite with the speed of a cobra. United, by DNA and by dint of their manager's underlying belief in thrilling football, are a side which loves to be on the front foot, to bully opposition high up the pitch and to take part in a match of cut and thrust if it's offered.

It should have been a case of 1+1=2. United brave and cavalier, Madrid calculating and deadly. Goals for the home side on the counterattack.

But the visitors steadfastly refused the invitation to disobey their manager's instructions.

Madrid were whispering, "It's a great night of European football between two of the mightiest and romantic brand names of the world game ... come out and play ... let's dance ... never mind Ferguson ... let's go toe-to-toe."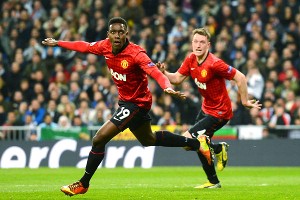 Mike Hewitt/Getty ImagesUnited's Danny Welbeck opened the scoring with a header.
The men in red turned a deaf ear, which stripped Madrid of a really powerful weapon and asked Jose Mourinho's side whether it could pick locks.

Often when Spanish sides close up the ranks at the Bernabeu, either Mesut Ozil or Angel Di Maria or Ronaldo can break it down after relentless surge after surge in and around the last 25 metres of the pitch. Siege situations very rarely turn out well for hostages at the Bernabeu when they are marooned in their own penalty area.

But United neither allowed themselves to be stretched nor did they allow any "backs-to-the-wall" situation to drag on for very long.

If that was "INSTRUCTION No. 1" in large type on the folder every United player read before this tie, then the second dictum was: "Score!"

Asked in the flash zone, where quick interviews take place prematch, what his desire for the night was, Ferguson said: "I'd like 5-0! But the vital thing is that we score."

United did so in a movement familiar to all the players in red. As Danny Welbeck admitted in the mixed zone: "We have a series of different moves when we practise corners in training and I knew exactly where this ball was going to land."

The other thing to say is they did so in a movement familiar to everyone who watches Real Madrid.

For over a year now, I've been writing about how terribly vulnerable Los Blancos are from set plays and crosses from wide. Welbeck's goal will be horrible for Sergio Ramos to watch back. The Englishman just takes a single large stride away from Ramos, doesn't really need much of a jump and thus has a clear header to score. Not great defending. Not great at all.

But this is when the De Gea factor comes in. Before United took the lead, he produced a save which I, as a neutral on the night and simply a lover of football, will treasure for a long time.

When Fabio Coentrao curved a right-footed shot toward De Gea's left-hand post, it shouldn't have been possible for the Spaniard to see it or react in time. The ball curled around Ozil's backside and United's keeper had no decent time at all to even see it, never mind react.

Yet he extended his considerable frame to absolute full stretch and tipped the effort against the post. Genuinely, a moment to marvel at. Peter Schmeichel, the best keeper United ever had, pointed out: "He had absolutely no right to even touch that, let alone save it."

But De Gea wasn't allowed to steal all the plaudits. On the podium with him is Ronaldo.

This wasn't his best night. He, like his entire team, seemed to run out of gas. "I think it was maybe a little difficult for Cristiano playing against us after six great years with United," Ferguson said postmatch. "But when he gets the ball you just pray."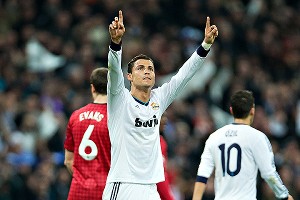 Jasper Juinen/Getty ImagesCristiano Ronaldo scored the equalizer in the 30th minute.
However, supplication was insufficient when Madrid produced an absolute replay of the goal which won them the Copa Del Rey final against Barcelona in 2011. Di Maria down the left, a perfect hanging cross and then, like some comic book superhero with a jet pack on his back, a tall, muscular figure hanging in the night sky and nodding the ball into the inside side panel of the goal net.

Edge-of-the-seat stuff when it won the cup final, at least as thrilling and gravity-defying when it equalised United's opener in Madrid.

I truly believe that Ronaldo, and Leo Messi, produce such unbelievably sublime moments so very regularly that we become desensitized to them. The absolutely extraordinary becomes commonplace. Ronaldo's leap and his execution of the chance were absolutely extraordinary.

There were other highlights: De Gea's taekwondo save from, again, Coentrao; Ronaldo's dipping, swerving free kick which bounced off the roof of the net; Robin van Persie's blistering shot late in the second half which Diego Lopez somehow tipped onto the bar.

But I know, from experience, that on the other side of the Spanish capital, around the Manzanares River and the Vicente Calderon Stadium, Atletico Madrid's fans were not only rooting for United, as they do for the opponents every time Madrid play. Their highlight was assured: a Spaniard, an Atletico Madrid supporter producing heroics not just to stamp his authority over the Old Trafford goalkeeping position but to keep Los Blancos at bay.

You have to feel a good dollop of contentment for De Gea. Life's been tough for him in England. This was a prize won through hard work and gritted teeth.

There will be aftershocks from this collision -- debate will rage as to whether Rafa Varane might have been red-carded for what looked like a foul on Patrice Evra, freed by a perfect third-man run, as the Frenchman threatened to go clear on goal.

Heads will be scratched about how Van Persie, somehow, fluffed his free shot at goal, thus allowing Xabi Alonso to dash back and hack the ball clear of the goal line.

But the biggest bonus is not the slender advantage United take home to Old Trafford thanks to the draw and the away goal. It's the fact that we, the neutrals, have another 90 minutes (at least!) of this high-octane, high-stakes, high-wire act to enjoy.

Hats off to De Gea, deep gratitude to all his fellow combatants in white and red shirts for a terrific night of Champions League football.

More please.