PSG, Ancelotti take nothing for granted
Carlo Ancelotti knows more than most not to count his chickens before they hatch. After all, when you're on the receiving end of one of the greatest comebacks in the history of sports, you learn not to take anything for granted; Istanbul lives with him every day.

(Brief digression for those who don't remember 2004-05: Ancelotti was manager of the Milan side that dominated Liverpool for 45 minutes and raced out to a 3-0 lead in the Champions League final. They would eventually lose on penalty kicks.)

News: Lavezzi, Pastore give PSG lead
Ledwith: Valencia still in it -- barely
Johnson: PSG does it the hard way
Video: Ancelotti bemoans Ibra red

Still, his Paris Saint-Germain side was two-nil up away to Valencia. It was injury time. PSG had been clinical all game, limiting Ernesto Valverde's crew to just one shot on target while conceding lots of sterile possession and creating a number of chances on the counterattack.

What could go wrong?

Here's what: His defenders -- who had put in a stoic performance in the absence of their injured leader, Thiago Silva -- somehow lost sight of Adil Rami's big frame, and the Frenchman pulled one back from Valencia.

Then his most experienced (and expensive) player, Zlatan Ibrahimovic, got himself needlessly sent off for planting one of his big boots on Andres Guardado's ankle.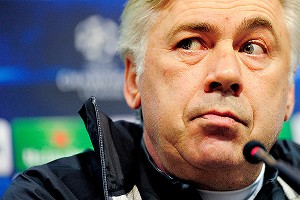 Josep Lago/AFP/Getty ImagesCarlo Ancelotti has handled big clubs with intrusive owners (Milan, Chelsea) in the past, and the foundation he's laid at PSG suggests he's the right man to move them forward.

Now you know just why Ancelotti looks so rumpled. Nights like these can age you. Quickly.

Returning to the Parc des Princes with a two-nil away win under your belt and the big man up front is one thing; it would have been an entirely different proposition to the one now facing him.

Still, maybe he can relax. Just a tiny bit. Because after twelve months of near-hell -- in which, domestically, he managed to do worse statistically than his predecessor, Antoine Kombouare, despite PSG's mega-spending spree -- things might just be coming together.

PSG have won 12 of their last 13 games in all competitions and gone from third, five points off the pace, to being first, with a six-point lead. And they're still alive in the Champions League and the Coupe de France.

If you look at the resources at Ancelotti's disposal, it's bare-minimum stuff. If you consider where they were on December 1 shortly after their last defeat, a 2-1 setback away to Nice, it's quite a turnaround.

PSG, of course, are the team that many neutrals love to hate. That's what happens when you have a faraway billionaire pouring in hundreds of millions in pursuit of overnight success. They're a walking schadenfreude dispenser, and it doesn't matter how much David Beckham gives to charity or what a nice guy Leonardo is: just about everybody they play is either an underdog motivated to the hilt or a blue blood looking to knock back the usurper. The fact that they also have everybody's favorite cartoon villain up front doesn't help matters.

All of the above hasn't made Ancelotti's job any easier, either. Nor has the way his squad was assembled. In fact, it's a case study reminding us that while spending and success are obviously correlated, waving a big checkbook around doesn't always equate with instant wins.

But when the likes of Javier Pastore, Jeremy Menez, Ezequiel Lavezzi and Thiago Motta -- more than $100m worth of talent for those keeping score at home -- don't impress straight away, you need to find the right balance while at the same time getting results and keeping everyone happy.

As such, it's been a really rocky road and in some ways was made more difficult by the presence of Ibrahimovic. His 18 Ligue 1 goals before Christmas kept PSG afloat, but at the same time, the over-reliance on him meant the side didn't really develop a cohesive style of play.

So Ancelotti focused on the defense: If you don't concede, your nerves don't rattle as much. Opponents can't get the early goal and then shut up shop, which not only forces you to go more direct (more Zlatan) but also makes you more frenetic.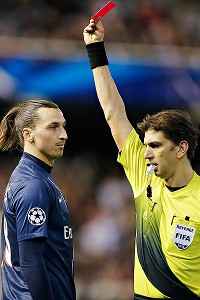 Jose Jordan/AFP/Getty ImagesIbrahimovic has been vital to PSG since joining yet still susceptible to self-destruction. As such, PSG's not quite as cohesive as it needs to be.

The plan is working... for now. PSG is consistently getting good results, in line with the wage bill and the transfer spending. Ibrahimovic is more of a value-added asset these days than a one-man strike force. Self-belief is growing; it was always going to take a coaching alchemist and first-rate man-manager to make this group come together, and Ancelotti is living up to the billing.

But we're not there yet. Far from it. PSG are not more than the sum of their parts, and that's the measure of a great side. You're not getting the "multiplier effect" that occurs when great players work in a great system suited to their skill sets. What you have is individuals who come in and out of the side and take turns deciding games. It's not ideal, though we've seen it can be enough to win cup competitions.

The challenge now is finding the right mix and the right answers to the pressing questions. How much can Lucas Moura, fresh off the boat, contribute? Can you trust the uber-talented but volatile heads of Jeremy Menez and Ezequiel Lavezzi? Given that Motta seems to be about as durable as one of those papier-mache floats, do you really want him to be the hub of your midfield? Is Marco Verratti, at just 20 years of age, ready to be a full-time starter? Oh, and what do you do with that Beckham guy?

Ancelotti doesn't want your sympathy for the task of resolving these issues. Nor, frankly, does he deserve it. He's paid an exorbitant amount of money precisely because he has a track record of unraveling footballing Gordian knots, more often than not assembled by owners who mean well, spend big and like to keep their finger in the pie. (His previous employers include Silvio Berlusconi and Roman Abramovich).

Just don't think that what he does is easy. Or automatic. Could someone else do as well or better? Sure. Maybe.

But Ancelotti is the guy driving the bus right now. And he knows both how quickly things can go wrong, and that -- because of who he is, what he has achieved and what he's working with -- the bar is set exceptionally high.

Hopefully he also knows that, little by little, he's going in the right direction.

Gabriele Marcotti is a London-based journalist and broadcaster who covers world soccer. He is the author of three books, the world soccer columnist for The Times of London and a correspondent for the Italian daily Corriere dello Sport. You can catch him on ESPN Press Pass and read him here twice a week. Follow him on Twitter: @marcotti.