Dempsey to Spurs -- a sobering reality check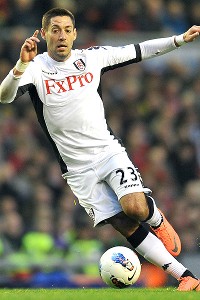 GettyImages / Paul Ellis/AFP/Getty ImagesClint Dempsey finally got his wish to leave Fulham. But how will he fit in at Tottenham?

Clint Dempsey had backed himself into a corner, or so it seemed. But like he has so many times on the field, he managed to wriggle out of a tight space and achieve his goal, in this instance securing a transfer to Tottenham Hotspur.

According to Sky Sports, Spurs shelled out $9.5 million for the privilege of prying Dempsey away from Fulham, and fended off interest from Liverpool in the process, with the U.S. international poised to sign a new three-year contract. And while it remains to be seen if Tottenham will fulfill Dempsey's wish of someday playing in the UEFA Champions League, he is certainly closer to reaching that objective than if he had remained at Fulham, and has no doubt improved his financial situation in the process.

But amid the congratulations and backslapping that are taking place within Camp Dempsey, the price Tottenham paid represents a sobering reality check. How a player who scored 23 goals in all competitions last year couldn't command a higher fee is baffling to an extent. Yes, Dempsey is 29 years old, something of a late bloomer, and likely will have little resale value. But his durability and the fact that he didn't play his first professional match with the New England Revolution until he was 21 speaks to a player with plenty of miles left in his legs.

The fee paid also reinforces the belief that the bias towards American players is alive and well, since Dempsey has more than proved himself in parts of six seasons at Craven Cottage. The fact that Liverpool shelled out over $30 million last year for Jordan Henderson, yet couldn't see fit to offer more than $6.3 million for Dempsey adds more fuel to that particular fire.

Is Dempsey's versatility to blame? The string of managers that have passed through Fulham during his time there always seemed to initially struggle to figure out where to put the American. But one would think that his ability to score goals regardless of where he's positioned on the field ought to be viewed as a strength rather than a weakness.

Instead, perhaps the biggest reason for the rather tepid interest in Dempsey -- at least until deadline day -- was the way he went about securing his move. Dempsey was in the last year of his contract, and once he made public his desire to move only to clubs with Champions League potential, that certainly limited the amount of leverage Fulham had, as well as the number of potential suitors.

Granted, Robin van Persie is the same age as Dempsey and used nearly identical tactics in securing a move away from Arsenal to Manchester United. But van Persie is the kind of striker who can be the difference between winning trophies and merely contending for them. Dempsey, as talented as he is, isn't at that level. And when that is the case, the other factors, including his aforementioned age, begin to erode his market value.

In the end, things still worked out well for Dempsey. Both Aston Villa and Sunderland reportedly made determined efforts to land the U.S. international, but Dempsey stuck to his guns to land with a club in the EPL's higher echelons. That left Spurs vying with Liverpool to land the American, but when a proposed move to the Reds fell apart, Spurs won the player's signature.

Whether Dempsey has lucked out in terms of where he landed is open to interpretation. Certainly Tottenham is closer to being a Champions League side than Liverpool at the moment, given that only Chelsea's march to the title last year prevented Spurs from qualifying. And Tottenham's London roots mean that Dempsey will not be forced to uproot his family.

But playing time would appear to be tougher to come by at Spurs as opposed to Liverpool. Dempsey's biggest competitor for playing time will likely be Aaron Lennon, who currently occupies the right side of midfield in Andre Villas-Boas' 4-2-3-1. And while the American certainly has a greater nose for goal than Lennon, the incumbent's speed sets him apart.

It's possible that Dempsey could be deployed centrally now that Rafael van der Vaart has left for Hamburg, but with Moussa Dembele and Gylfi Sigurdsson in the mix, the quest for first-team minutes will be far from easy, even if the American's history has been such that he always has found a way to break into the starting lineup.

But at least now, Dempsey can now focus on maneuvering his way out of trouble on the field as opposed to off it.