Wilshere the beauty and beast England have craved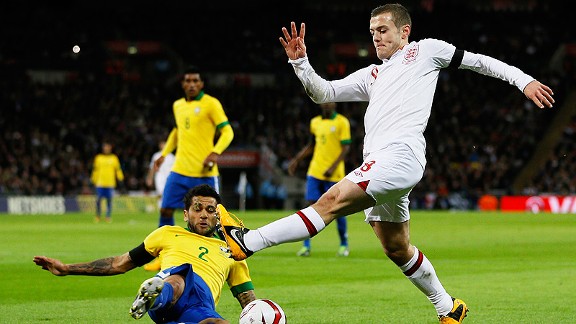 AP Photo/Kirsty Wigglesworth
Make no mistake -- this boy is for real. Jack Wilshere has impressed for Arsenal in the Premier League, he has shone in the Champions League and now he has offered up a man of the match performance for his country against Brazil. And let's not be sniffy. A team that failed to get past the quarterfinals of the last World Cup and were embarrassed at the last Copa America might not be the rightful heirs to the 1970 side ... but this was still Brazil.

Wilshere has leapt every hurdle put in from of him, which is good because had he tripped over one, he would probably have tried to fight it. He is the most promising English footballer of his generation, and he has a nasty edge as well. He's exactly what England have needed for years. Bill Shankly once said that a football team was like a piano. "You need eight men to carry it and three who can play the damn thing." Disregarding the fact that very few pianos are large enough to be played by three people, it's clear now that Wilshere can perform both roles.

His passing Wednesday night was exquisite. The through-ball that presented Theo Walcott with a chance -- and, indirectly, Wayne Rooney with his goal -- was glorious. But it was the tackle on Adriano that really caught the eye. With the Barcelona man accelerating into open space on the flank, Wilshere sprinted over and hit him with a perfectly timed, perfectly legitimate slide-tackle that seemed to have slipped into the game from the 1980s via a convenient tear in the space-time continuum. When someone makes a tackle like that, everyone stands a little taller. Except, of course, the man who was tackled. He spends the next 10 minutes picking pieces of advertising hoarding out of his bottom.

While there remains a part of me that fears Wilshere's destiny is to be sent off early in a crucial World Cup match for some form of unnecessary bodily contact, his aggression is just what Roy Hodgson needs at the heart of his midfield. With Steven Gerrard by his side, a man who made more than his fair share of reckless challenges as a youngster, Wilshere has an excellent in-game mentor.

Far from fading into the twilight of his career, the Liverpool captain has grown into his new withdrawn role like an elder statesman assuming his place beside the throne of a young monarch. If England can keep both men fit, it will be fascinating to see how the partnership develops.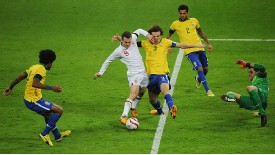 GettyImagesJack Wilshere of England takes on Brazil
We live in such hysterical times that bright young talents are routinely lauded and then swiftly attacked as imposters. On the basis of their last match, everyone is either a Ballon d'Or winner-in-waiting or an embarrassment to their trade. Even as Wilshere's reputation skyrocketed, Neymar was derided in some quarters as a fraud. Both men, of course, are exceptional talents.

It's a shame that so many English football fans dislike Wilshere. In real life, of course, he might not be the fighty little monster that he seems. In fact, shortly after he broke into the Arsenal first team, he held a door open for me as I left the Emirates Stadium one night. Granted, I assumed that he was just a particularly polite ball boy and only realised my mistake when I was halfway down the road, but it was a nice touch. But even if he is an absolute toe-rag, it's no bad thing. As far as some English football fans are concerned, you don't have to be a gentleman, you just have to be a winner.

There is something about the way Wilshere carries himself that inspires confidence. It was on display in that extraordinary game at the Valley Parade when Arsenal were humiliated by Bradford in the League Cup. All around him, more experienced players faded out of sight. Wilshere, on the other hand, just wanted the ball more. He refused to accept the result, even though he'd only just returned from serious injury. That's the attitude England have needed on so many occasions, and it hasn't always been there.

It's dangerous to read too much into friendly internationals, and regardless of whether you rate Wilshere, it's obvious that the young man still has much to learn. But after so many apathetic performances from so many highly rated midfielders over the last 10 years, you'll have to forgive the English for getting a little bit excited about this one.