Did Wesley Sneijder take a 'step down' by joining Galatasaray?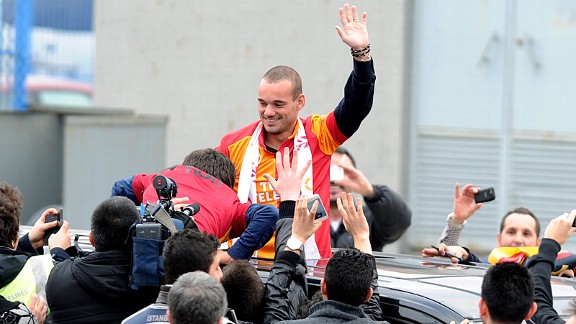 Getty ImagesWesley Sneijder was greeted by fervent Galatasaray supporters ahead of his debut for the club this weekend.
He opened the car sunroof, stood up to look around him and waved, an expression of disbelief on his face accompanied by a smile. When Wesley Sneijder emerged dressed in a Galatasaray shirt, a club scarf draped around his neck, the 2,000 or so supporters who had gathered to welcome him to Istanbul made even more noise.

Fans were jumping up and down, singing. Some were on friends' shoulders. Others had climbed onto things to catch a glimpse of him. The red flares that they lit gave off the smell of cordite. There was a feeling that this was a procession. "I realised how big the Galatasaray community was after arriving at the airport," Sneijder later said. "Wow!! I can't believe what just happened ..!" his wife Yolanthe Cabau tweeted.

After all the skepticism and condescension across Europe about Galatasaray's chances of getting Sneijder, the club had pulled off a huge coup, arguably the biggest in Turkish football history and one that perhaps offers another indication of how the game's landscape is changing.

The move's completion certainly surprised many. Galatasaray had made an audacious attempt to sign an Inter No.10 before. It was back in 2000, and the player they wanted then was none other than Roberto Baggio. "Midway through January that year I was ready to go to Istanbul, to [Fatih] Terim's Galatasaray," he recalled. "They offered me 10bn lire a year. But above all they offered me an escape, which is what I wanted."

-Should Inter leave San Siro?

It sounds familiar, doesn't it? Except there are some crucial differences. Baggio wished to leave San Siro to get away from Marcello Lippi, his coach at the time, who was punishing him supposedly because he had declined to become his dressing room spy. In Sneijder's case, Inter had asked that he take a pay cut of more than 30 percent. He apparently declined, leading the club to take the decision not to play Sneijder, who was sidelined indefinitely.

In the end, only one of them would leave Inter for Galatasaray. Baggio, of course, stayed at San Siro, although for only another six months. He was 32, and some maybe thought it was a time in his career when it would have been acceptable to go to Turkey. He didn't do so out of personal pride and the understanding that if he did, even for a league of greater prestige, like England where Gianluca Vialli and Gianfranco Zola had gone before, he wouldn't be considered for the national team.

First and foremost, though, Baggio wanted to stick it to Lippi and did so by making the coach come to him when qualification for the Champions League was in jeopardy. He scored the winning goals in a playoff with Parma and then said his goodbyes, joining Brescia with the intention of playing every week and making the Italy squad for the 2002 World Cup, a tournament for which, incidentally, he was cruelly overlooked.

By not moving to Galatasaray, there's a sense that Baggio kept himself relevant. By joining them today, however, some believe that Sneijder no longer is. It's a harsh assessment, unfair too, and in many respects is a projection of the disappointment felt by some that, at 28 and with so much more to give, he didn't come to their country and join their club instead.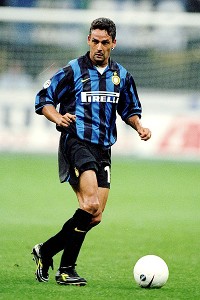 Getty ImagesIn 2000, Galatasaray made an audacious attempt to sign Inter's Roberto Baggio.
Come as it did after a contract dispute, the assumption was that the move to Galatasaray was motivated by money. Let's look at the numbers. According to a statement put out by the club, he'll earn "€2m for the remainder of the 2012-13 season and €3.2m per season in 2013-14, 2014-15, 2015-16 as well as a €25,000 bonus per game [up to a limit of €500,000 per season]. In addition to this, Sneijder will be paid a €3.9m signing-on fee, the payment of which will be broken up into installments to be paid equally over the course of the next three seasons."

So from this summer onward, Sneijder's basic pay, excluding bonuses, will be 4.5 million pounds a year, a considerable amount, sure, but also more or less the same figure Inter wanted him to accept to stay at the club, hence the feeling in Italy that, even if there's a burden off the balance sheet, they handled the whole business rather poorly, letting go of a high-profile player who could still have been of use, for just 7.5 million euros.

"Sneijder didn't come for the money," one of Galatasaray's associates, Ali Güven, insisted. "Anzhi offered him 12 million euros in addition to 4 million euros in bonuses, which he rejected. [He] has great character. He's ambitious and wants to win." There's an element of self-interest and spin in that claim, but also some truth.

Galatasaray are the Turkish champions and current league leaders. They're in the last 16 of the Champions League due to face Schalke and are likely to be back in the competition again next season, something which looks improbable for his former club Inter and isn't a guarantee at some of the other supposedly interested parties. They may not be perceived as a prestigious club (despite lifting the UEFA Cup and European Super Cup in 2000). They may not be a member of the traditional elite. But that's not to say they aren't a huge club, the size of which only dawns on players when they join and on fans when they go to watch football at the Turkish Telecom Arena. It's myopic to believe otherwise.

Many still think Sneijder is "better than that," but to give him credit -- he has been honest with himself and shown an awareness of his current position in the game, distinguishing between his reputation, which precedes him, and his performances since 2010, which have lagged some way behind. "Why did I not join one of the top five clubs in Europe? Because I am no longer one of the top five players around and neither are Inter among the five best clubs," Sneijder told De Telegraaf.

"That was the case when we won the Champions League back in 2010 but I have no doubt that Galatasaray are a step forward for me." Sneijder had become a luxury for Inter, his injury-enforced absences and poor form over the past two years convincing many that he was no longer indispensable.

In fairness to him, and as he argued in his defence during his presentation at Galatasaray, "since [2010] there was a lot of change [at Inter], there was like six or seven coaches [five actually]. I was very uncomfortable with the situation. I played different positions, different systems, it was hard to adapt to, it's why the team as a whole failed to perform."

Sneijder points to his creditable performances for Holland in that time, particularly at Euro 2012, when he was one of the few players on the squad who could leave the tournament with their head held high, as evidence that Inter's woes were, in part, to explain for his dip.

A new challenge could be just what he needs. Sneijder called his former coach Jose Mourinho and Holland manager Louis van Gaal for their opinions. Both backed him to go to Turkey, as did Ajax boss Frank de Boer, who spent the 2003-04 season at Galatasaray.

"This is good news for the Dutch national team," de Boer told Voetbal International. "Wesley will now be playing football every week. They're still in the Champions League and are a big club. Ultimately, Galatasaray aren't the wrong club for Wesley. I'd have liked it if he had gone to England or Germany, but where football atmosphere and experience is concerned, you can't play in a better country than Turkey, even though in terms of skill it's obviously not top."

Point taken. Yet playmakers like Sneijder tend to thrive there. It's enough to think of Gheorghe Hagi at Galatasaray and Alex at Fenerbahçe. "Being compared to Hagi is an honor," Sneijder said. "I know what he did for the club. He's a legend. I want to become a legend here as well."

Sneijder will wear the No.14 shirt (a typical Dutch tribute to Johann Cruyff) rather than the No. 10, which, irrespective of his goal-scoring exploits last season, incongruously belongs to Felipe Melo. It's thought that Terim, who worked in Italy with Fiorentina and Milan and will communicate with Sneijder initially in Italian, will adapt his system and play him in a 4-4-1-1 behind a lone striker, Burak Yılmaz, the current Champions League top scorer with Real Madrid's Cristiano Ronaldo.

Sneijder's debut is expected to come as soon as this weekend in a top-of-the-table clash and derby with a resurgent Besiktas. "I love big matches. I want to play against Besiktas," he said.

He's a player who knows how to hit the ground running. No sooner had he got off the plane following his move from Real Madrid to Inter in late August 2009 than Mourinho threw him straight into the Derby della Madonnina against AC Milan. Sneijder was excellent as Inter won 4-0 that night. He never looked back for the rest of the season. "I couldn't have wished for a better debut," Sneijder said at the time. Galatasaray fans will be hoping Sunday's will be just as good.