Benitez hoping to overturn home Blues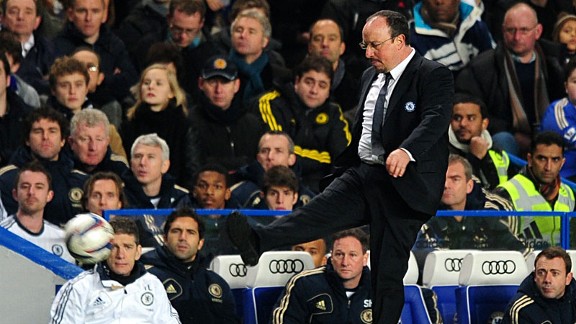 PA PhotosChelsea have only won two matches at Stamford Bridge under Benitez
Rafa Benitez is at it again. The Chelsea manager is asked an innocuous enough question about his attack and, not for the first time, he uses a few props to explain his point. On this occasion, it's the journalists present at Cobham for his pre-match press conference.

Given the arrangement of the reporters in the room, Benitez indicates where the best possible place to play the ball in order to get through or around them.

As he speaks, there's a smile on his face, an enthusiasm to his gesticulations. The ultimate tactics aficionado, this is what Benitez is most accustomed to. What he is a little less accustomed to, though, is playing at Stamford Bridge, or, rather, winning at Stamford Bridge.

Given that he now has two home games in four days that could well alter the course of Chelsea's season, it is the issue that dominates the week, even more so than the apparently endless debate over Demba Ba and Fernando Torres.

So far, Benitez has only won two of his six home games at Stamford Bridge since taking over, with two losses and two draws along the way. That is in stark contrast to their away form. Chelsea haven't lost on their travels since the Spaniard's first game on the road - a 3-1 defeat to West Ham - and have won six in succession.

It's a far cry from the period under Jose Mourinho, when the club went 86 games unbeaten at home - a stat that is all the more poignant for Benitez this week given the Portuguese's statement that he wants to return to England. There is a growing feeling that will to be again join Chelsea - as opposed to Manchester United or City.

In fact, Benitez's demonstration about where to play a ball arose when he was asked the possible reasons behind his poor home record. And, when it was put to him that it was down to the supporter negativity surrounding his appointment and general management, his mood did darken. Normally amicable and always willing to engage, Benitez got oddly argumentative.

There can be no denying, however, that the supporter unrest is there. Chants against the Spaniard have been heard in every game, with the volume dependent on chances of victory. It is an odd situation, not feeling fully comfortable in your own home, and Benitez conceded it may have an effect on some of his squad.

"It depends on each player. Some players might say it does, but the main thing is the attitude of the other teams."

This, ultimately, is the point Benitez was trying to hammer home: it is not the depressed nature of the crowd at Stamford Bridge that is affecting performances but the deeper-lying opposition defences.

"The main thing is the attitude of the other teams. In the last two games, they were very, very deep. It was pushing and pushing. They weren't counter attacks at pace. It's because teams are playing with too many players behind the ball. It's something that happens to a top side at home. We have to be more clinical in these games.

"You cannot run behind defenders if they're sitting deep. Away, you have that space because teams attack you. You run behind them. But, at home, [with] 11 players behind the ball, you have to be more precise. We had a lot of clear chances [in the League Cup game] against Swansea, but we didn't take them. That allowed them to sit deep.

"How many times did Swansea have chances? Michu had one chance and he scored. We have to reinforce with the team that we are doing these things and have to control the mistakes we concede. They must not be given chances.

"What is easier? To score a goal or clear the ball? Clear the ball. It'll take more time. A top side has to be patient. You have to sustain attacks, keep controlling the game, but be patient. If you think you have to score a goal 'now', you'll make more mistakes. We have to keep coaching and training the team for this situations. You have to send your message across. They will have doubts if things don't work out immediately, but in time they will get it.

"It was a question of time at Valencia, too, but we knew we would eventually score. We were convinced we would score and win the game, but we had to be patient."

That is all apparently exacerbated, then, by the lack of preparation time to do something different, given Chelsea's hectic schedule.

"You have to analyse the environment. We just arrived and had two games in three or four days, so I couldn't prepare. We had two clean sheets in those matches. Then there was the World Club Cup in Japan in the middle. It's not about four games where we didn't score. Swansea was not the sane game as City. One is a cup where they were deep and the other was against a team at the top of the table. Different.

"It's not about mentality. You have to find situations in your training sessions to get players crossing from the by-line, perhaps, or shooting from the edge of the box. You have to give them solutions they can use. Afterwards, when you have players with talent, they can show that talent in the final third. You have to find a way through and give the players clues or ideas how to do it. Today we were doing that with this idea. You have to create space."

One of the big problems, though, appears to be when Chelsea don't create chances early on. The crowd get restless, and then rancorous. Indeed, it is telling that the team themselves have got rampant in the two home games - against Aston Villa and Nordsjaelland - when they scored relatively early.

"We always try to do this. It depends on the other team sometimes, but we try to play at a high tempo to score goals. It'll be easier for me to manage the game in the second if we're ahead.

"We have a lot of positivity around. You see the stats, the numbers, the team creating chances and keeping clean sheets. A lot of positive signals around. My job is trying to concentrate on these positive things."

Wednesday could well prove them right or wrong as Chelsea take on a Southampton side that they thrashed 5-1 in the FA Cup away from home just 10 days ago.

Do this again and Benitez could well redefine the complexion of the team's campaign. One thing is for sure: they don't need another negative.