Guerrero shows Corinthian spirit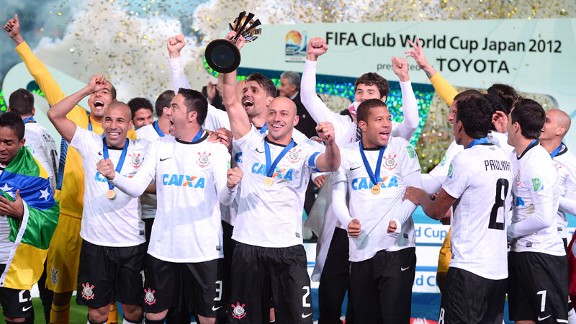 Mike Hewitt - FIFA/FIFA via Getty ImagesCorinthians' victory was richly deserved and showed the extent to which teams outside Europe take such tournaments seriously.
In the Quechua language there are no possessive adjectives. This is for the simple reason that this ancient people -- who make up a large part of the Andean population and culture -- believe in the collective and not in personal ownership or gain.

Jose Paulo Guerrero may have scored the only goal in the Club World Cup final to give Corinthians a 1-0 win, but his greatest contribution was in the other 89 minutes as the Peru forward ran, ran, battled, ran, pressed, tackled and ran some more -- beginning the process of battering Chelsea into submission from their own half.

There had been plenty of talk in the build-up to this game of how much this competition meant to South Americans, and for Guerrero it had required a conquering of an immense personal fear to even get to Japan.

The Corinthians star has severe aviatophobia (a fear of flying) caused by his uncle's death in the Alianza Lima air disaster in 1987. One of football's great tragedies saw 43 players, coaches and officials from one of Peru's biggest clubs crash into the ocean and lose their lives. The incident left a great scar on Peru's society not just because of its immensely tragic nature, but because the search and rescue mission that would surely have saved many lives could not be conducted because corrupt officials had sold the daily fuel quota of rescue craft on the black market.

Yet in spite of Guerrero's understandable psychological trauma regarding air travel, that he embarked upon the 25-hour journey to Tokyo proves just what the Club World Cup means to South Americans -- this same spirit has been obvious on the streets of Sao Paulo in the wake of Corinthians' victory.

If Chelsea had won, it's no negative reflection on the club that the streets of tranquil West London would not have been filled with blue-shirted hordes. The Kings Road would likely not have swelled with thousands of Chelsea supporters; compare to the festivities in Brazil's largest city, where the deafening fog of the buzinaço -- a massed, repeated sounding of vehicle horns -- was the soundtrack to a morning of party that will last long into Sunday night.

There are plenty of reasons put forward as to why the Club World Cup means so much to CONMEBOL clubs, and they all go far beyond the premise of testing themselves against the world's best.

Brazil, above many others in the region, is a country experiencing a new-found confidence through its economic growth and increasingly important role in the global financial community. This has directly affected football in a number of ways but most obviously in the league's ability to retain stars such as Neymar and bring back players from Europe before they truly enter their twilight years -- with Paolo Guerrero's return from the Bundesliga a particularly trenchant example today.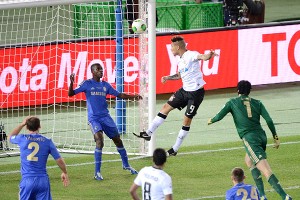 TORU YAMANAKA/AFP/Getty ImagesPaolo Guerrero overcame plenty of trauma to make it to the Club World Cup. Fitting, then, that his goal capped a successful tournament for Corinthians.
There are undoubtedly hints of an lingering inferiority complex too, with Europe's colonial masters running roughshod over the continent 500 years ago and the world order having kept South American nations on the periphery of decision-making while Europe and North America enjoyed disproportionate influence. Attitudes have mellowed and changed, but a Euro-centric arrogance has remained; as such, Brazil has always seen its football as a way of restoring parity and showing its strength.

The only surprise with Rafael Benitez's first XI against Corinithians was that he only went with two of the club's four Brazilians -- Oscar and Lucas Piazon were left on the bench -- and at the final whistle it was clear to see who had felt this defeat the hardest.

While some Chelsea faces slouched off immediately from view, David Luiz broke down on the Yokohama pitch, his face flooded with the tears of a lifelong Corinthians fan who had watched his dreams of winning the Club World Cup against his boyhood club dashed by a lacklustre showing from his colleagues.

After the game, Piazon raged against his teammates, questioning the desire of his more illustrious teammates as he had sat in the dugout, itching for the chance to play. "They lacked character, love for the shirt. None of them wanted to play. That is something in their head that I can't criticise," Piazon railed. "At least Oscar tried. I won't go into specifics but the team went in with no desire. You can't go into a final with no desire to play, it's unforgivable."

Whether Piazon's comments were ill-judged or not is irrelevant. Chelsea's understandable sadness was rightly overshadowed by Corinthians' joy, and when you think about what Paolo Guerrero -- whose name fittingly means "warrior" -- has been through to taste this victory, it almost seems unfair to put the result down to a lack of Chelsea heart.

Sometimes, victory simply goes to he who wants it and merits it most.

Ed Malyon is a freelance sports writer who has written for The Daily Mirror, The Guardian and FourFourTwo, among others. He can be contacted @eaamalyon or by whistling in F sharp on the night of a full moon.