Stakes are high for Liverpool vs. City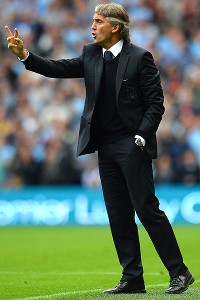 GettyImages"I think Liverpool will fight for the title this year," Roberto Mancini said ahead of the City-Liverpool clash on Sunday.

Suggesting Sunday's clash between Manchester City and Liverpool is just a game of football is like claiming "Animal Farm" is merely a book about horses and pigs.

The weekend's glamour tie features a pair of tradition-soaked teams from the northwest of England that are both being refashioned by foreign owners. Manchester City, long a master of slapstick and self-sabotage, employed a direct method to shuck its incompetence and ridicule. Sheikh Mansour of Abu Dhabi pumped over $1.57 billion into the club, an extreme makeover that saw it stockpile a world-class squad and morph into a champion.

Liverpool is a club desperate to prove it's not moving in the opposite direction. An unparalleled tradition of domestic glory forged in the 1970s and '80s has excruciatingly unraveled. Now run by Boston Red Sox owners John Henry, Tom Werner and their Fenway Sports Group, the Reds are staggering into a brutal opening schedule which sees them face City, Arsenal and Manchester United in three of their first five games.

The stakes Sunday could not be higher. A loss -- which would be only their second in 31 years to City at home -- would serve as further proof that despite Henry and Werner's best intentions, the gap between Liverpool and the elite teams is actually widening.

"The gap is widening," according to ESPN's Steve McManaman who played for both Liverpool and City. "Liverpool were 37 points off the pace last season, a difference that is astronomical."

Both clubs experienced a challenging first week to the season. Manchester City labored during a 3-2 win against lowly Southampton in a wide-open game that was a neutral's delight. Liverpool was humiliated in a 3-0 loss to unfancied West Bromwich, displaying a toxic combination of uncalibrated finishing and hapless defending to dent high hopes surrounding new manager Brendan Rodgers within just 90 minutes of his league tenure.

Despite his win, Manchester City's Roberto Mancini has continued to sound like the most dissatisfied man in world football. Sergio Aguero's instant knee injury will keep him out of action until mid-September and force a decision about whether to start the stolid Edin Dzeko or the unpredictable Mario Balotelli in his stead. City's midfield was also a cause for consternation. With his eye on a contract renewal as well as the ball, the paper-cut-passing David Silva was uncharacteristically imprecise, and Gareth Barry's absence forced football's most menacing man-mountain, Yaya Toure, to play too deep to pummel his opponents.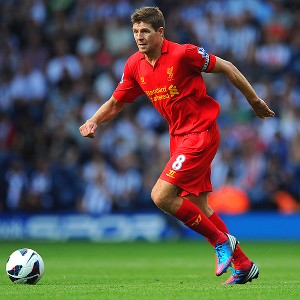 Ageing icon Steven Gerrard his yet to indicate he can subjugate his hardcharging game to the subtleties demanded by Brendan Rodgers' ball-shuffling style.

But Mancini's greatest frustration surrounds his owner's sudden decision to turn off the spigot of cash, as the specter of Financial Fair Play looms. A slew of players Mancini would previously have expected to woo and sign to Powerball jackpot-sized contracts, including Eden Hazard, Robin van Persie and Daniele De Rossi, have resisted his charms, and the Italian has bristled. The club's new policy of fiscal responsibility makes sense in the medium term, but Mancini is well aware that if his squad does not defend its EPL title and make an impression in the Champions League, he will not be around long enough to experience the benefit.

Rodgers is struggling with managerial challenges of a different kind. His footballing ideology involves imposing a possession-based game, in which a core of tactically sophisticated players carve kaleidoscopic passing angles and regain possession within seven seconds of losing the ball. Yet the complexity of the task means his team appears very much to be a work in progress.

Watching Luis Suarez frantically try to create and finish his own chances is akin to witnessing one man attempt to play catch with himself. Aging icon Steven Gerrard has yet to indicate he can subjugate his hard-charging game to the subtleties demanded by Rodgers' ball-shuffling style. The reported loan signing of Real Madrid's technically adept midfielder Nuri Sahin may help, but Rodgers was brutally honest after the indignity at West Brom.

"There are going to be more days of hurt as well, in terms of where we are trying to go," he said.

After just one game, Rodgers found himself philosophizing about the tension underpinning the conditions of his profession. "Managers, we all want time, of course, but I understand the pressures of this game."

"The pressures" Rodgers was referring to mean that in this era of hyperbolic, compressed news cycles, he, Mancini and the likes of Roberto Di Matteo or Andre Villas-Boas will be judged anew after every game. They will be hailed as visionaries one week or incompetents the next.

Yet to reduce a team's success or failure to its manager's ability wildly exaggerates the influence they have on the team. As legendary Italian coach Giovanni Trapattoni once claimed: "A good manager, at best, can make a team 10 percent better; but a bad manager can make a team up to 50 percent worse."

A manager's success can only be as good as the organizational infrastructure that supports him. Sunday's opponents, Manchester City and Liverpool, offer two jarringly contrasting case studies that illustrate this and cast light on Trapattoni's point.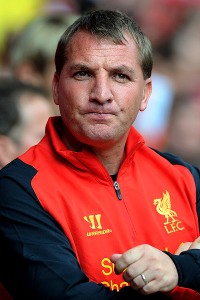 Brendan Rodgers admitted that Liverpool's resurgence will "take time and whether it will be in my time, I'm not so sure."

Similarities do exist between the clubs. After taking over, their foreign owners expressed a desire to restore a fading winning tradition, while professing underlying agendas that surpassed football. City's takeover was intertwined with a sophisticated global marketing operation for "The Brand of Abu Dhabi." Henry and Werner have admitted they were attracted to Liverpool's worldwide fan base as a way to amplify the sponsor relationships they had developed through the Red Sox and assemble the world's most effective sports marketing machine.

But from that point, the two club's approaches have diverged. Love City or hate them, it is hard not to have been impressed by the thoroughness with which they have overhauled every aspect of their club's infrastructure. Sheikh Mansour's representatives have refurbished the club's commercial capabilities, appointed a director of football (avoiding the controversy surrounding the position by employing the innocuous title "Football Administration Officer"), started building a state-of-the-art $314 million academy and training center on 75 acres in the shadow of Etihad Stadium and, in a recent groundbreaking move, open-sourced game data to improve the way they analyze their players' performance.

In contrast, Liverpool flip-flopped on its management structure, proudly appointing a director of football, then scrapping the position, while squandering $185.5 million on the likes of Charlie Adam, Stewart Downing and club albatross Andy Carroll. While it has shown returns on its ability to engage sponsors, a declared desire to emphasize youth development was recently undermined by the sudden departure of vaunted technical director Pep Segura, which has left a youth academy in disarray.

Ahead of last season, John Henry infamously, and naively, proclaimed, "Our main goal is to qualify for the Champions League. If we don't, it would be a major disappointment."

Chastened by the turbulence of last season, he has recently adopted a more cautious tone around the Liverpool reclamation project, admitting, "We feel that we are behind – but we are on it," and explaining that "you can't turn an ocean liner around like you can turn a speedboat."

His choice of words would have registered in Liverpool, a city proud of its nautical tradition. Brendan Rodgers may well be wondering which specific vessel Henry was referring to. After all, the city has had a relationship with an armada's worth of legendary ships, from the venerated Ark Royal to the much less buoyant Titanic.

"I believe Liverpool are going forward," said McManaman, "but I would certainly expect them to finish higher than 8th with the squad they have. If they don't it is a sign than they have huge problems."