Benitez faces becoming the odd man out again


"We don't have sympathy for each other. We compete against each other, toil, play mind games and tactically have to outweigh each other."

Sam Allardyce was relishing the afterglow of West Ham United's victory against Rafa Benitez's Chelsea. It was little surprise he offered no sympathy to the vanquished. Mutual ill-feeling has not healed since they were the managers of Blackburn Rovers and Liverpool but Allardyce's point stands even between those bosses who readily clink glasses with each other.

Managers compete with each other far beyond individual matches. Allardyce was lampooned two years ago for stating his belief that he "would be more suited to Inter Milan or Real Madrid". He was mocked for not knowing his place but ambition to reach the top must form part of any manager's make-up. Benitez and Allardyce would agree on that much.

Benitez spent two years out of the game and wrote a blog and developed an iPad app while he waited for a big club to call. As time drew on, a chance of the big time lessened. Football's recent past is always full of already forgotten men. Perhaps that was the point of the move into digital media - to remind that he was still here.

Having turned Chelsea down once and then seen them subsequently win the Champions League, he eventually had to accept a job at a club where stability is a stranger. Already, he faces the ruination of his credibility by a decision made out of something approaching desperation from both parties. Benitez might regret his dismissal of those overtures that teams like Aston Villa and Sampdoria made to him while he waited on the Wirral. He may not have been granted the funds he would have liked, but time is just as valuable an asset to a football manager as a big budget.

Perhaps he had forgotten that big football clubs demand instant results. An ill-fated spell at Inter should have taught him that. He might also recall that events can always overtake the best-laid plans of patient pragmatism.

In Benitez's two years out of the game, the managerial elite has crystallised into two main contenders for the big jobs. They are Pep Guardiola and Jose Mourinho. What they do decides the future of many others. This is as much a time for galactico managers as players.

Come the summer of 2013, there will be big jobs for big hitters and Benitez, notwithstanding a swift change of Chelsea fortunes, will be missing that boat. A game of managerial musical chairs may well outstrip the transfer window for back-page space.

Mourinho's time at Real Madrid is not expected to extend beyond the end of this season , and that would complete a three-season cycle that looks to be his limit at any of his clubs. Only at Chelsea did he go beyond that length of tenure, and he was gone by the end of September in his putative fourth term.

Should Mourinho take his leave of Spain, a list of possible options takes in almost all the European giants. There is one factor that he may not find quite so palatable: he is likely to be everyone's second choice. Guardiola is the one they all want. He has been variously linked with Manchester City, Manchester United, Chelsea, Arsenal, Bayern Munich, AC Milan and Paris Saint-Germain.

Only a repeat Premier League title might save Roberto Mancini from paying for his failings at Champions League level. The end for Sir Alex Ferguson at United draws near - "I can't go on forever, that's for sure," he said last week when sidestepping a question about whether Mourinho could succeed him. The final length of Ferguson's tenure is football's best-kept secret if even he knows when the end will come.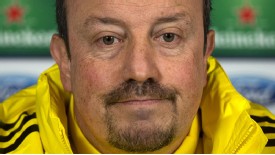 PA PhotosRafa Benitez expects to be booed by the Goodison Park crowd
Chelsea is a club where taking the job is a game of Russian roulette. Relations have warmed such that Mourinho being back in the arms of his former paymaster is becoming a possibility. If that were to happen then Mourinho would require the type of guaranteed patience that Roman Abramovich is said to have pledged to Guardiola. He may get it, as he has an ace card to play: the Russian has never had it quite so good under anyone else.

Mourinho has stated that one of his leading ambitions is winning a European title at an English club, though he also wants to achieve Real's tenth. If he achieves that at the end of this season, it would not keep him at the Bernabeu - he left both Porto and Internazionale straight after winning the Champions League.

Arsenal may not appeal to Mourinho, but should Arsene Wenger finally tire of being the frontman for a club whose financial ambitions are being met while years drift by without trophies, then an elite club will still need a manager.

Over in France, Wenger is a name mentioned in association with PSG - though he has denied anything deeper developing - where Carlo Ancelotti has faltered. Meanwhile, the Italian is linked with the possible Real Madrid vacancy, a club he has always entertained ambitions of managing. It goes without saying that both Mourinho and Guardiola are on the Parisian list, though Zlatan Ibrahimovic might yet be a blocker to Guardiola, despite his previous links with Qatar.

Italian links suggest Guardiola is tempted by AC Milan, a club with a pedigree the equal of Barcelona, but that may rely on fresh finance coming into San Siro.

Bayern Munich's Jupp Heynckes is another coach out of contract this summer, freeing up another 'superclub'. Jurgen Klopp may one day follow in Ottmar Hitzfeld's footsteps by managing both Borussia Dortmund and Bayern but the younger man is also a name on other shortlists, despite his protestations of loyalty. Such a quality can be bought off by the various oligarchs and institutions that now run Europe's biggest clubs, and Klopp is a young manager looking capable of joining the big beasts.

In the summer of 2009, Benitez was a manager linked with many such clubs, and he is said to have been approached by Real Madrid several times. That summer, the job went to Manuel Pellegrini, before Benitez suffered a horrible last season at Liverpool. He paid for a commendable loyalty but has suffered from wrong turns and bad decisions ever since.

Three years on, and three games into his new job, Benitez faces being left out of the equation at all when the big clubs make their choices. Should things continue as they have done, he is as likely to be considered by the elite as Sam Allardyce.