No need for any Ibracadabra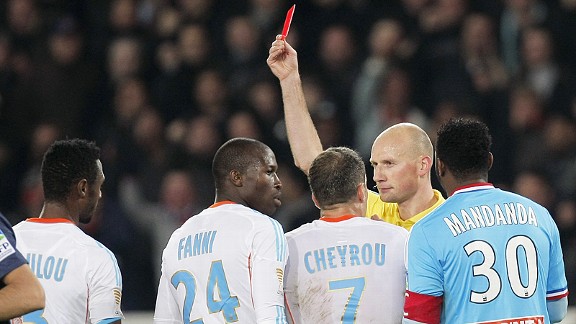 GettyImagesMarseille's Rod Fanni is sent off against PSG, ending the game as a meaningful contest
Paris veut tout (Paris want it all), says the headline of Thursday's L'Equipe. That may sound like stating the obvious given the unabashed attempts of Paris Saint-Germain to grasp at world domination in the last 18 months, but even if the dazzle was only intermittent in the Coupe de la Ligue win over Marseille, the hunger was plain to see.

- PSG show strength in depth

Never mind the competition, of course; a "clasico is a clasico", as PSG's Guillaume Hoarau told France 4 television immediately after the game, even if Real Madrid and Barcelona's dual dominance of the planet means Spanish lexicon has supplanted its French counterpart to describe such occasions. "There's no such thing as a friendly between us two," Marseille defender Rod Fanni had said before the game.

That was something that was re-emphasised to Fanni himself just before the half-hour, when he tugged back the goal-bound Hoarau and was shown no mercy by referee Antony Gautier - who sent him off and awarded a penalty, despite the offence seeming to take place outside the area.

Fanni also complained after the match that Hoarau had been moving away from the goal, making his red card "unjustified", and he might have had a point. What is certain is that the dual decision turned promise into frustration in an instant.

Carlo Ancelotti was not unreasonable in praising his players' "great professionalism" after the game and saying their industry was "a good sign", but it felt as if we were deprived of an opportunity to see PSG really show their mettle without Zlatan Ibrahimovic, as well as being denied a grudge match that would be nip-and-tuck for the whole distance.

The absent Ibrahimovic's presence hung over this match like a ghostly, Halloween shadow. Television cameras constantly cut to the Swede in the Parc des Princes' stands, trying to hide under his ski hat, as the match's intensity drifted. "We'll sit down and take a decision together," Ancelotti had said before the game, before letting slip where the decision really lay. "If he wants to play, he'll play."

To give Ancelotti his due, there really is no point pretending that PSG haven't already become Ibra-dependent. Their star had got them out of trouble again on Saturday, when his goal in the final 15 minutes nailed victory on what seemed like the first night of winter on the artificial pitch at chilly Nancy. "Merci Ibra," were the flustered-looking coach's first words when he took his seat in the warm of the Stade Marcel Picot's press room on Saturday night.

There was no doubt that Ibrahimovic needed the rest. Before this second classique/clasico of the season, he had started 12 of the first team's 13 matches this season, scoring 12 times in the process, and having sat out training on Monday and Tuesday in favour of the gym, he made the right decision to take himself out of the firing line provided by this extra competition.

It gave France striker Hoarau the chance of a first start of the season. We can't really say the chance to stake a claim because a) there's no question of him competing with Ibrahimovic and b) Ancelotti already knows what Hoarau can do after a pretty decent contribution in the second half of last term.

He applied himself well enough, though that currently seems fairly unlikely to snare him a new deal when his contract runs out at the end of this campaign. Hoarau knows which way the wind is blowing at the Parc, but even if he is the member of the squad who most resembles Zlatan size-wise, he is very much the reliable bass player rather than lead guitarist.

Hoarau's steady contribution did allow others to shine, and there was certainly value for PSG in a game that quickly withered as a contest after their other genuine galactico, Thiago Silva, stroked home that harshly-awarded penalty with an elan of which Zlatan himself would not have been ashamed.

The high note was probably the return of Javier Pastore, who had been flamed in the media for his poor display at the Velodrome in the last encounter with Marseille a few weeks back. Here he revelled in the extra space as the game went on, and his sublime turn and chipped pass to release Jeremy Menez for goal No. 2 was the moment of the match. Perhaps the biggest triumph of the evening was in simply observing Pastore's body language, seeing him smiling in break in play. He has so often cut a sullen figure in the French capital, and an upturn in his mood and productivity would do much to lend fluency to his team's disparate - if functional - parts.

Elsewhere it's easy to see why Ancelotti invests so much faith in Menez, a player with all the athleticism and natural skill that a boss could want, but so often infuriatingly devoid of the high-level decision-making skills that could make him a true great. He was at his best against Marseille, surging past defenders in the left channel and whipping up the crowd with his energy.

Even if Marseille goalkeeper Steve Mandanda was largely unoccupied for long periods, this was something that was needed. Ancelotti's predecessor Antoine Kombouare misunderstood the value of the Coupe de la Ligue last season and the board (and sporting director Leonardo) were infuriated when PSG shelled a 2-0 lead to lose at Dijon in last year's edition. Poor Diego Lugano was held responsible for that too and has never really recovered.

Yet elsewhere in its pages, L'Equipe again floats (in agreement with Wednesday's Gazzetta dello Sport) the possibility of Cristiano Ronaldo's arrival in the French capital - and of bringing his head coach with him. "Not as a sine qua non condition of the Ronaldo transfer, but as a complement to it," it writes. Quite what Jose Mourinho himself would think of being a footnote in such a bombastic plan is another question entirely.

To quote Hoarau, the clasico is the clasico, and always will be. Yet there is an overriding feeling now that PSG have bigger fish to fry.