Fabien Barthez inspires tiny Luzenac to dream big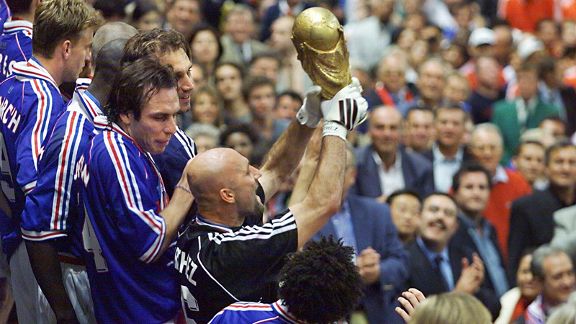 GettyImagesFrance goalkeeper Fabien Barthez lifts the World Cup in 1998.
Imagine that you are a first division goalkeeper with a positive World Cup experience. What would your reaction be if you got an offer from a tiny team that plays in a village of 650 inhabitants?

For Quentin Westberg, it was a dream come true. When he answered an unexpected telephone call from Luzenac in the summer of 2012, on the other end of the line was none other than Fabien Barthez.

"For a keeper, to be asked to join the club by a guy who won every possible trophy and was twice voted the best goalkeeper in Europe is amazing. It was a no brainer for me," Westberg explained to me.

Eighteen months on and Luzenac are fast becoming one of the most intriguing club tales in Europe. With half a season played in Championnat National, the French third division, they are second in the table, seven points ahead of Bourg-Péronnas in fourth place, with the top three clubs promoted to Ligue 2. They possess the best attacking record in the league, as well as its top scorer, and are on the way to becoming the smallest ever team to gain professional status in France.

Luzenac is a small village in the Ariège department of the Pyrenees, in the south-west of France, very close to Andorra. This is one of the most beautiful regions in the country. Sparsely populated and almost unspoiled, it's surrounded by gorgeous green mountains -- a paradise for tourists who love nature and picturesque little houses.

Professional football is the last thing that comes to mind when looking at Luzenac from the scenic route that goes over the hill above it. But it is possible to notice a small pitch that goes by the name of Stade Paul Fedou, in honour of a former owner of the local talc plant.

The club, US Luzenac, were founded in 1936, the stadium was built in 1971, but until a few years ago very few people had ever heard of the tiny outfit. They were playing in a local amateur league, before the rise began. Luzenac were promoted to the fifth division in 2000, established themselves in the fourth division in 2005, and then made a huge step up to the Championnat National in 2009.

Two years later, the most important development in the club's history occurred, as Luzenac were purchased by Jerome Ducros, owner of JD Promotion, a real estate firm from Toulouse. Ducros' aspiration was to make the club represent the whole region, and thus its name was changed from US Luzenac to Luzenac Ariège Pyrenees.

Then, in May 2012, the exciting announcement was made that Barthez had joined the club as honorary president. The former Marseille, Monaco and Manchester United goalkeeper, who won the 1998 World Cup and Euro 2000 as part of France's golden generation, was born in Lavelanet, a small town just 50 kilometres from Luzenac.

Now living in Toulouse, developing his new professional career in motor racing -- he was crowned champion of France's GT motorsport series this October -- Barthez was glad to become part of such a local project. "When Jerome offered me the job, I didn't hesitate for one second. The proposition deeply touched me inside. Ariège is my home. I am here to share my experience as much as possible," he told the local newspaper La Depeche.

Ducros and Barthez started making ambitious plans. They believed that Luzenac could be the second biggest club in the south-west, behind Toulouse FC, achieving promotion to Ligue 2 within three or four years. Barthez became personally involved in deciding which players should be signed as plans were put in motion to make it happen.

One of his first recruits was another star who grew up in the area -- Nicolas Dieuze, a well respected former Toulouse midfielder. He spent a couple of years at financially troubled Grenoble, who went bankrupt in 2011 and now play in the fifth tier of French football. "I went to two trials in Los Angeles and Boston, and during that time started training with Luzenac in order to keep fit," the 34-year-old told ESPN. "When hopes to play in the MLS didn't materialize, the club offered to sign me. The project appealed to me, and I was glad to join this adventure."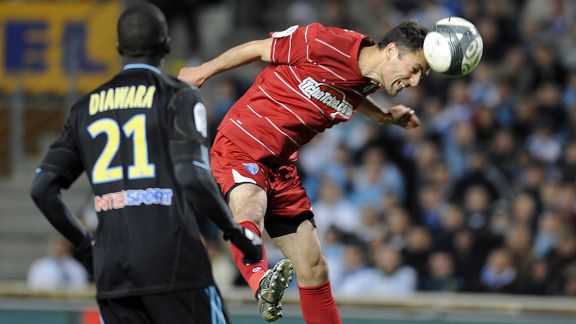 GettyImagesNicolas Dieuze heads the ball during his days with Grenoble.
Westberg, personally picked by Barthez, was the other high-profile addition. At the beginning of his career, Westberg was a very promising keeper. He studied at the famous Clairefontaine academy in Paris, where Abou Diaby was his roommate. Born to an American father and a French mother, Westberg chose to represent the United States, and in 2005 he was brilliant for the Stars and Stripes at the Under-20 World Cup in the Netherlands.

Coached by current Seattle Sounders manager Sigi Schmid, the USA team finished first in a very tough group with eventual winners Argentina, Germany and Egypt, while Westberg recorded clean sheets in all three matches, keeping the likes of Leo Messi at bay. He finally conceded his first goal in the tournament after 324 minutes of play, and the USA lost 3-1 to Italy in the last 16.

"I keep extraordinary memories of my time with that team, with Schmid and his staff -- Dave Dir, Peter Vermes, Mike Lapper and John Harkes. They were an amazing group of people to be around and learn from", Westberg says. Things didn't really work out for him later, and his time at Evian proved to be disappointing, but now he is enjoying himself again.

The 2012-13 season didn't start well for Luzenac, as they took just one point from the first five games. That didn't have any negative effect on the project, however. There is a family atmosphere in the squad, and coach Christophe Pelissier always had the president's full backing. He has been at the club since June 2007, long before Ducros arrived, making him one of the longest-serving coaches in France. The relegation battle ended with great success, as Luzenac won three out of four games in May, scoring 10 goals in the process, and that marvellous momentum continued into the new season.

In the summer, another significant change occurred, as the club were forced by the federation to abandon their village stadium and move to Stade du Courbet in the town of Foix -- a "big city" by local standards, with population of about 10,000, all proud of the beautiful 10th century castle in the middle of it, Château de Foix. As players live and train in Toulouse, they are not really connected to the village of Luzenac on a daily basis now, but it remains very much part of the club's fabric.

The new home ground enables football lovers from all of Ariège to come and watch Luzenac games, and attendances more than doubled to around 1,500 fans. The club budget has also grown during the Ducros era, from under €1 million in 2009 to €2 million this season.

The progress on the field was even more impressive. The pitch in Foix is wider, and thus better suited for the possession-based style of Pelissier, who changed his tactics from a narrow 4-3-3 to a 3-5-2 formation. New players signed during the summer, like defender Julien Outrebon and Cameroonian midfielder Guy Ngosso, seamlessly settled into the squad, and the results are outstanding.

With 17 games played, Luzenac have won 10, drawn five, and only lost two. The new year started with a huge 3-0 win over promotion rivals Colmar, with Dieuze scoring a brace. The real star in attack, though, is Cameroonian striker Ande Dona Ndoh, who is responsible for 12 of the team's 23 goals. That makes him almost certain to be crowned the top scorer in a defensive-minded league. No other player in the National has netted more than six times.

Asked about the reasons behind the club's success, Westberg said: "I don't think there is a secret -- only hard work and great spirit in and around the team. The guys that were at the club last year learned a lot from the very tough season, while the few guys that joined us recently add a lot, on and off the field. We finished very strongly last year to avoid relegation, and the summer break didn't stop that dynamic."

While the players are excelling, the biggest star of Luzenac is still the one in the stands. Barthez visits every home fixture, and spends a lot of time with the players during training sessions. He even joins them in their spare time -- in December the honorary president went for a day of kart racing with the squad. And now he is reportedly going to play an even more significant role at the club, taking the duties of general manager.

"I get to chat with Fabien very often when he comes to our practices. Mostly I listen as he shares his experience with me, such as how he managed his time off the field -- eating, sleeping and so on -- and how he practised going into games. He gives me technical and tactical advices. Fabien also introduced us to a great osteopath to try and dig deeper in our physical and recovering abilities. Overall, it is amazing and very helpful to be able to learn from him," said Westberg, who has only conceded nine goals all season.

Dieuze adds: "Barthez is very involved in the club, and likes to tell us stories about his times at the big clubs, especially Manchester United. His reputation gave us a huge lift, and his name helps to attract business partners to the club."

Originally, Ducros and Barthez hoped to be promoted to the second division in 2015 or 2016, but now it looks like the dream will be achieved ahead of schedule. The locals are certain that the club will be perfectly able to survive in Ligue 2. Winning a friendly against Toulouse this season shows they could be right. Right now, the sky is the limit for Luzenac and its bald honorary president, as well as the 650 people in the village and the whole region of Ariège.