Deschamps' cunning plan in Spain
The first Mexican wave started to ripple around the Estadio Vicente Calderon just 35 minutes into Tuesday night's game. The pattern of the match seemed clear and the result never in doubt. The action had begun with France kicking off, hitting the ball long from the back, then watching Spain's players pass the ball back and forth and back and forth and hold possession for the next two-and-a-half minutes.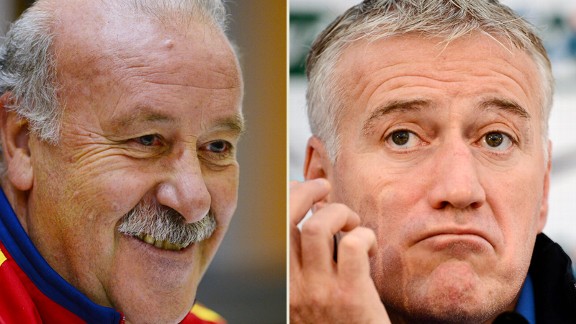 Getty ImagesVicente del Bosque was outwitted by Didier Deschamps

Even before the first people began to stand in their seats and throw their hands in the air, the home fans had been looking for extra entertainment, with many choosing to boo La Marseillaise before the game and then chant Viva Espana and 'I am Spanish, Spanish, Spanish' at quiet moments during play, in answer to the growing separatist movement in Catalonia.

France had done their bit to kill the atmosphere inside the ground, as recently-installed coach Didier Deschamps' plan was seemingly to sit back and defend, and hope to hold out for a 0-0. Spain spent the first quarter passing the ball around in front of the visiting defence, but bit by bit had started to find holes. Then some poor defending from a corner allowed Sergio Ramos two chances to open the scoring, and the Madrid defender took the second of them.

There was little worry in the stands, or urgency on the pitch, and why should there have been? Everyone had known beforehand that Spain would win, as they had their previous 24 World Cup and European Champions qualifiers, a run stretching back to September 2007. France had been completely outclassed in last summer's European Championship quarter-final meeting and had lost 1-0 to Japan at the weekend. The last time Spain had conceded a goal in a competitive game was over ten hours of play ago, to Italy's Antonio Di Natale in their opening Euro 2012 game. You cannot really blame the fans – or the pundits - for their presumptions. But they were wrong.

They should have been more concerned as Del Bosque, possibly influenced by this mood, had broken one of his own golden rules before the game. In every important match since losing to the USA in the 2009 Confederations Cup, he had chosen a 'doble pivote' twin defensive screen of Sergio Busquets and Xabi Alonso in front of his defence. This lead to plenty of very harsh criticism in Spain for being too cautious and conservative, even as he lead Spain to the World Cup and European Championship titles, but he stuck with it throughout.

Last Friday, with Carles Puyol and Gerard Pique both missing, Del Bosque had moved Busquets back to partner Ramos at the back in Belarus, which made sense given that Spain were likely to do little defending in that game. La Roja won 4-0 and he decided to leave it like that for Tuesday night's game, with the added bonus that it allowed him to field an extra attacking-minded player in midfield.

This selection was welcomed by most in Spain before the game, and seemed justified, or at least as if it would not not really matter, when Cesc Fabregas stepped up to take a penalty that would have put Spain 2-0 up and likely out of sight on 43 minutes. But France 'keeper Hugo Lloris guessed right and saved, and then followed that up with an even more impressive double stop from Pedro and Fabregas a few moments later, and France got to the break at half-time with the score at just 1-0.

Even still few in the ground expected a France comeback, but the concerns began when France came out for the second period looking much more purposeful and Deschamps' clever substitutions forced Spain onto the back foot. Mathieu Valbuena for Maxime Gonalons helped his team to hold and use the ball better, while Moussa Sissoko's entry for a waning Jeremy Menez gave his side extra energy to break more quickly onto Spain's defence.

Much of the questioning at the post-match press conferences centred around the second half substitutions. The French coach, who won four and drew one of his five games against Spain as a player, told reporters after the game that it had all been part of his cunning plan.

"I knew that in the first half of the game we would be obliged to defend," he said. "Those who started the game had to work and those who came on could add more to the play. Mathieu (Valbuena) was important to have more attacking animation and to keep the ball."

With France taking a more positive approach, Alonso looked to be struggling to cope from about the hour mark. Whenever Spain's moves broke down there was little protection for their back four. Paris St Germain powerhouse Blaise Matuidi gradually came to dominate the centre of the park, while the influence of Xavi Hernandez and especially Santi Cazorla greatly diminished. Alvaro Arbeloa's injury brought on Atletico Madrid's inexperienced right-back Juanfran and Frank Ribery came more and more into the game. Benzema also dropped left, into Busquets' channel, and France began to create chance after chance.

Instead of shoring things up by bringing on Javi Martinez to give Alonso some help in midfield, Del Bosque chose to replace a tiring Andres Iniesta with Fernando Torres. This was a sentimental choice - giving the former Atletico striker a run out on his old stomping ground - but it was uncharacteristically risky, as the coach himself admitted afterwards.

"We took a bit of a risk at 1-0, the game had become very open with lots of back and forth," Del Bosque said in the Calderon press room after the game. "With the third change the doubt was between reinforcing at the back or looking for the counter-attack with Fernando. We decided on that option. We will always have that doubt, these are unprovable questions."

France kept banging on the door, only for a mixture of poor finishing, bad luck and excellent goalkeeping from Iker Casillas appeared to have saved the day. But in injury time, Spain first tried and failed to see out the remaining seconds by holding the ball by the corner flag, then Juanfran attempted to dribble past Patrice Evra near half-way. Sissoko regained possession, released Ribery down the left wing and Deschamps' third substitute Olivier Giroud glanced the perfect clipped cross to the net for a deserved French equaliser.

Del Bosque was right to point out afterwards that this is just the third game of the qualifying campaign and the draw was far from decisive. Despite his talk of "doubt" and substitutions not being an exact science, the feeling in Madrid on Wednesday morning was that he will never start a big game without the 'doble pivote' again. The Spain who can grind out results, and leave some fans looking to generate extra entertainment for themselves, will be back for the return game in Paris in March, when it looks likely that automatic qualification from Group I will be decided.