Old approach can help Moyes against new Arsenal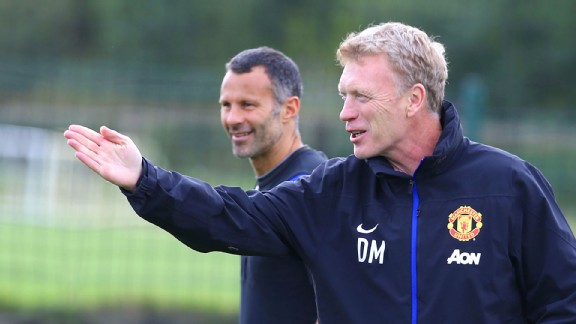 Matthew Peters/Getty ImagesCan David Moyes craft a game plan to halt the Arsenal juggernaut?
It was a different time, and a different type of demand.

After Andrew Johnson struck a stoppage-time winner in March 2007 to give Everton both a 1-0 win over Arsenal and a significant boost in their push for a Europa League place, David Moyes happily reflected on his side's return.

- Cox: De Gea, Szczesny extend grand traditions

"That is four points we have taken from Arsenal this season and hopefully that shows signs of progress."

Broadly speaking, that undeniably proved to be the case. Moyes' fine progress with Everton is one of the reasons he now finds himself at Old Trafford. As regards his record against Arsene Wenger and Arsenal, however, it isn't quite progress the Glaswegian has experienced.

If four points off the London side represented a fine performance for the 2006-07 campaign alone, the same cannot quite be said for the entirety of the 6½ years since. In that time, it is exactly that number of points Moyes has claimed against Wenger. His Everton side yielded no more than four draws. The Johnson goal actually represents the last time Moyes beat the French coach.

The contrast with his current club could not be starker. In the same period, United have lost to Arsenal only twice. Alex Ferguson won a remarkable nine of his last 12 games against Wenger.

Manchester United's results against Arsenal in all competitions since March 2007: DWWWLWWWWDWWLWWD (most recent first)

David Moyes' results against Arsenal in all competitions since March 2007: DDLLLLDLDLLLW (most recent first)

Although the drastic differences between the resources of the clubs mean it still remains almost impossible to even begin to fairly assess Moyes, Sunday's fixture will at least provide a clear indication as regards one key individual strand in the job of replacing Ferguson.

One of the undeniable traits of the latter part of the Old Trafford legend's era was that he had finally figured out how to almost always beat one of his great rivals. United had simply worked Wenger out. If that run of results against Arsenal doesn't say enough, Ferguson was all too willing to explain it in his recent autobiography.

"In later years, we learned more about Arsene's thinking. Arsene had a template of how he sees his players and the way they play."

In response, Ferguson clearly developed a template of how to play a Wenger team: sit deep, hit hard, break fast. The pattern was repeated in all manner of games, from the devastating 2008-09 Champions League semifinal victory to a 2011 fifth-round FA Cup tie in which Ferguson fielded seven defenders but still won 2-0.

So far, so obvious; but it is perhaps the deeper specifics of that template which explain why Moyes' record against Arsenal is comparatively under par -- even accounting for the difference in resources.

Back in January 2010, after one of Everton's better recent performances against Arsenal, Steven Pienaar explained their approach.

"The game plan was to be aggressive in the midfield, not give them enough time, because we know if you give Arsenal two metres they will play you off the field."

Arsenal still left that field with a point, as Tomas Rosicky claimed a stoppage-time equaliser to make it 2-2. Ten months later, after Wenger's side turned that draw into a 2-1 win at Goodison Park, Phil Neville was speaking about a very different response to the same approach.

"They seem a little more resilient now," the former Everton man said of Arsenal. "You always fancy yourself to rough them up but we couldn't do it and that is where they have improved."

In attempting to stifle Arsenal primarily through physical or aggressive challenges, it is arguable that Moyes was applying an approach Wenger had long since learned to deal with. Sure, the French coach always encountered trouble with Everton, but generally trumped them. The old stereotypes about his team were not quite so true. Stoke City, after all, provide a telling acid test which the London side almost always passed. Despite the perceptions about Tony Pulis' team, Wenger won every home game against them in the league and lost only two of 11 matches.

It was in that notorious game of October 2004 that Ferguson used a similarly abrasive physical approach to end Arsenal's 49-game unbeaten run, and commented that neither Wenger nor his players could accept it. By 2006-07, though, Arsenal had won successive league games against United.

In his book, Ferguson also reveals a moment of realisation about all this.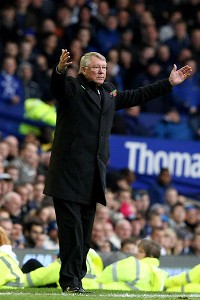 Matthew Peters/Man Utd/Getty ImagesDavid Moyes may need to have a word with Sir Alex Ferguson ahead of the game.
"We didn't need to win the ball against Arsenal, we needed to intercept it. You need good payers who can intercept. We worked out that when the ball was played into [Cesc] Fabregas with his back to goal, he would turn round the corner and meet the return pass... so we would say to our players: 'Stay with the runner, then intercept the pass.' Then we counter-attacked quickly."

As it happens, United currently make the most interceptions of all 20 Premier League teams, with 17.2 per game. That is also up significantly from last season's 13.6, which was conversely one of the lowest rates in the league.

Naturally, there is a radical difference between achieving that through general play and then applying a concerted approach in an individual game. It is promising for Moyes, but may not quite transfer like that. What's more, the increased speed and number of Arsenal's interchanges -- as so gloriously emphasised by Jack Wilshere's goal against Norwich and the general movement of Mesut Ozil -- will demand even more and better interceptions.

Their flurried attacks have provided 22 goals and thereby the second-best scoring record in the league, while rendering some of the best back lines irrelevant. United currently have one of the worst defensive records, with the 13 goals they have conceded better than only Fulham, Newcastle United, Norwich City, Crystal Palace and Sunderland.

Yet responding to that rampant attacking with more committed rigour may not actually be the correct route here.

This is a new Arsenal, but they have not been fully tested against an old approach.

For all the complications linked to Ferguson lingering, and all the comparisons with the drama of Matt Busby's retirement, this is one game where Moyes could benefit from a lengthy discussion with his predecessor. That could be key.

Otherwise, we may see a very different outcome to this famed fixture.