Top Tenner: Fergie fall-outs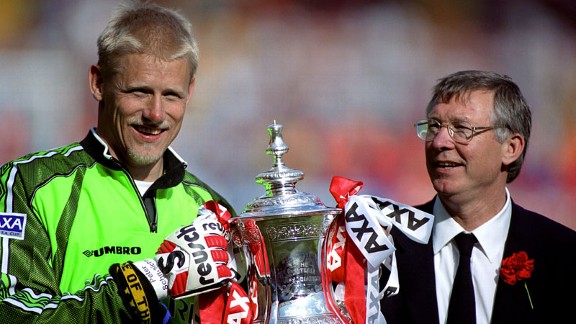 GettyImagesPeter Schmeichel and Sir Alex Ferguson with the FA Cup in 1999
Top Tenner picks out a selection of bust-ups involving Sir Alex Ferguson during his trophy-laden career.

10 - Peter Schmeichel

A lesser-known tale, but all that success, all that brilliant goalkeeping, the blonde Danish wall that occupied the United goal for so many years, none of it might have happened if a row between the pair had not been resolved. During a game at Anfield that United were winning 3-0 but ended up drawing 3-3, Ferguson blamed Schmeichel for the goals, the goalkeeper disagreed, and a row ensued.

"Obviously I stepped over the line," said Schmeichel. "The next day he [Ferguson] was in the office. I was called in and he said: 'Listen, I have to sack you. I can't tolerate my players speaking to me like that. It goes against my authority'." Schmeichel eventually apologised, and kept his job.

9 - Aberdeen players

You didn't have to be against Fergie to incur his wrath and devastating tongue. You didn't even have to be with him but disobedient. You didn't even have to be with him and lose. One of Ferguson's most memorable and excoriating pieces of criticism came while with Aberdeen in 1983, after they had just beaten Rangers in the Scottish Cup final.

The win in itself apparently wasn't good enough for Fergie, who was asked by a slightly baffled TV reporter for his reaction. Ferguson said: "We're the luckiest team in the world. It was a disgrace of a performance. (Willie) Miller and (Alex) McLeish won the cup for Aberdeen. Miller and McLeish played Rangers themselves. They were a disgrace of a performance. And I'm not caring, winning cups doesn't matter. Our standards have been set long ago and we're not going to accept that from any Aberdeen team. No way should we take any glory from that."

8 - Jaap Stam

You don't question Fergie. It mattered not how good you were, or how many trophies you'd won with him. You especially don't suggest that he tapped you up when he recruited you, which Stam did in his 2001 autobiography. Of course, Ferguson claimed the motivation for his subsequent sale to Lazio was that £16.5 million was too good an offer to turn down, and that he thought the Dutchman was finished, but he has since changed his mind on that one. Given Stam would go on to play another 150 games for Lazio, Milan and Ajax, it would have been a tricky assessment to stand by, but still...

7 - The media

Quite a large group to take on, but take them on he did. From refusing to talk to the BBC for years after objecting a documentary they made about his son, to banning one journalist over a book Ferguson hadn't read to casting out another for accurately reporting news of a Rio Ferdinand injury, the old boy's relationship with the media has been pretty, well, confrontational, at times. Actually, scratch that -- he was a bit of a git to them for about 20 years. Still, that didn't stop them greeting his retirement by giving him a cake shaped like a hairdryer.

6 - Brian Kidd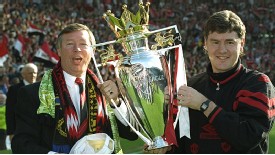 GettyImagesSir Alex Ferguson and Brian Kidd after winning back-to-back Premier League titles in 1994, also the first time he did the Double
In his recent interview with Charlie Rose on American television, Ferguson offered an important piece of advice to would-be managers: "Never hold a grudge, that's very important." Many, not least his former assistant Brian Kidd, would presumably scoff at that. There was more than a little of the Mafia to Ferguson's methods, the sense that you were with him or against him, and if you fell into the latter category you might as well be dead, no matter how close you once were to him.

Kidd helped Ferguson build his first great team and was around as the second one was under construction as well, but decided to strike out on his own, leaving Ferguson's side to become Blackburn manager in 1998. This was seen as an abandonment, a betrayal of sorts, as Ferguson made clear in his first book, and when the ever-humourous hand of fate dictated that it was a draw against United that sent Blackburn down, Ferguson claimed not to be aware that his team had just demoted his former right-hand man. "Perhaps he feels the need to put on a front following his momentous decision to walk away from the success he enjoyed with us," he said after Kidd reacted to the game with some dignity. Ouch.

5 - David Beckham

There was more than a little of the stern but protective father and the bright but vaguely errant son relationship between Ferguson and Beckham. The father didn't really understand the son, but knew he had something special. The son respected the father, but wanted to do his own thing. Then came the hair, the clothes and the unsuitable girlfriend, and it all went a bit south. Of course most fathers don't welly a football boot into their son's forehead, but different people express their disappointment in different ways. "He got drawn into that celebrity status, you know?" Fergie told Charlie Rose. "And for me, I'm a football man. He lost the focus."

4 - Kenny Dalglish
One of the many, many complaints Liverpool fans had about Roy Hodgson was that he was too pally with Ferguson. It's hard to imagine a man as affable as Uncle Roy not being pally with anyone, but that he spoke with deference and affection towards the United manager was a source of much ire. That of course changed when Kenny Dalglish returned to replace Hodgson, an age-old feud rekindled, and the Kop were much happier for it.

Glaswegians of a similar age, Ferguson would often give a young Dalglish lifts around town when they were playing for Rangers and Celtic respectively, but when Ferguson arrived in Manchester, intent on knocking Liverpool "off their f****** perch", the old friendship withered. "You'll get more sense out of her," said Dalglish when asked about his old foe. The 'her' in question was his six-week-old daughter. Of course, it wasn't total hatred, and a mutual respect remained, so much so that Ferguson wrote the foreword to Dalglish's autobiography.

3 - Arsene Wenger

"They say he's an intelligent man, right? Speaks five languages! I've got a 15-year-old boy from the Ivory Coast who speaks five languages!" That was one of many, shall we say 'caustic' comments directed at Wenger when his Arsenal were a genuine domestic threat to United. In more recent times, when their title challenge had usually disappeared by February, Ferguson would speak in warmer tones about Wenger, a sign for most that he was no longer threatened, and that newer foes needed cutting down with a well-chosen jibe.

2 - Rafa Benitez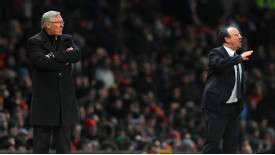 PA PhotosSir Alex Ferguson and Rafa Benitez never saw eye to eye on the touchline or off it.
Many arguments in football have more than a dash of pantomime to them. Passions rise in the moment, you call the other guy something horrible, he calls you something horrible back, you have a drink after the game and say sorry, all over. More often than not, it's the desire to win, combined with pressure and tribalism. Feelings tend not to run too deep. However, these two really didn't like each other -- the antipathy was genuine, and not just for theatre.

Ferguson constantly goaded Benitez, including accusing him of 'disrespecting' Sam Allardyce when all the Liverpool manager had done was vaguely wave his arms a bit. He of course succeeded in winding his rival up so that he eventually exploded in a flurry of paper and 'facts', although it's well to remember that Liverpool only actually lost one league game after this 'rant' (though they did fail to win for three league matches), so how much tangible impact it had on the 2008-09 title race is open to question.

1 - John Magnier

For United fans, this is probably the most significant, because it ultimately led to the arrival of the Glazers. It started, as many things do, with friendship. "Nobody could wish for better friends than them," said Ferguson of Magnier, a hugely successful Irish horse owner, and his wife, with whom he was listed as 'joint owners' of Rock of Gibralter. When the horse was retired to stud, Ferguson felt he was entitled to half of the earnings from the offspring, which could have totalled €50-70 million, whereas Magnier saw Ferguson's stake as more of an honorary thing, and not worth nearly that much.

All of this wouldn't have had much impact on United had Magnier and his business partner JP McManus not been steadily building up their stake in the club, so when the dispute over the horse reached the courts, the investors started asking some pointed questions about how Ferguson was conducting business, in particular in reference to his agent son, Jason. The dispute was eventually settled, but Magnier and McManus had one last card to play, and that was to sell their shares, with Malcolm Glazer only too happy to take them off their hands for an estimated £230 million. All leveraged against the club, naturally.