Youth promises but experience is also needed at Palace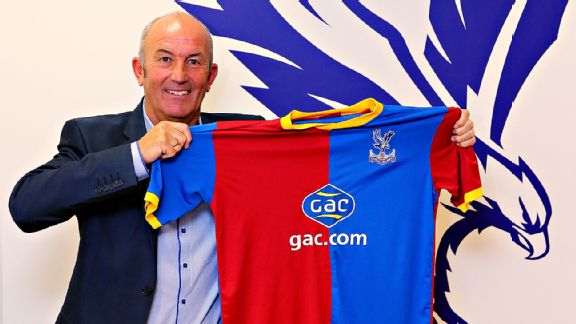 Clive Rose/Getty ImagesWho else will join Pulis at Palace this month?
We are a week into the January transfer window and, despite already having been linked with 3,465 players, Palace so far have confirmed the signing of precisely zero.

I have a feeling it is going to be a very long month and by the end of it, the Eagles will likely have been linked with every player in the world, past, present and future. Like some sort of Christmas Carol scenario. I imagine Ron Noades would be the ghost of Palace past.

In fact it was Noades' funeral last week and although the former Eagles chairman still divides opinion massively among the Palace faithful, it's hard to ignore the respect he still commanded from nearly every footballer he worked with.

The likes of Ian Wright getting emotional at his funeral spoke volumes. I'm still not convinced about the man who sold the club but held onto the stadium knowing it could send Palace into administration (which it did... twice!) but there you go.

- Darke: Grading the Premier League field
- No Zaha return to Palace
- Sign up for Premier Fantasy

But back to January transfers and while the apparent long line of new arrivals has yet to manifest itself, Palace have signed one player. Youth striker Sullay Kaikai has agreed a new four and a half year deal, having shown scintillating form for the reserve and youth teams. He has scored eight in his last five games, including some spectacular free-kicks at which he is becoming something of an expert.

Kaikai is the latest product to roll off the highly-effective academy production line -- the very same that gave the world Victor Moses, Ben Watson and Wilfried Zaha -- and his signing is a commitment from the Eagles that they intend to keep doing the same.

It's the same reason Palace fans were so proud of Zaha when he made his move to Manchester United and are still vocally disappointed he isn't getting games at Old Trafford.

Rarely would fans of a team with no connection to United care about something like this, but we view youth players almost as our own and want to see them succeed, even if that is away from the colours of the red and blue army.

Palace fans are almost as excited about Kaikai's deal as they would be with a new arrival, and there is something about a local lad coming up through the ranks to the first-team that is almost as enjoyable as a big-name signing, especially for a team like Palace who traditionally do not make marquee purchases.

The club have already broken their transfer record once this season -- Dwight Gayle cost 4.5 million pounds in July -- and I suspect they may even do it again during January. I just hope whoever comes in doesn't stunt the growth of a superb young talent like Kaikai.

Another academy product, Hiram Boateng, impressed in his second senior appearance for the Eagles against West Brom in the FA Cup and the more bright young things Tony Pulis can pack into his squad, the happier I will be.

Away from the pitch, Kaikai and Boateng both seem to be friendly, down to earth lads. This is not the most important trait for most fans but I have a feeling that those young players who have their feet on the ground usually end up going further in the game especially in the crazy, bright lights of the Premier League.

Both of them spend lots of time tweeting Palace fans and thanking them for their support. They will need the Eagles supporters as much as the fans will soon need them. It's a team effort.

But there are new faces to be brought into Selhurst and most likely there will be a handful of those "posing with a Palace shirt" photo opportunities between now and February 1, all of which will hopefully give Pulis the best chance possible to keep South London's finest in the top flight.

It would signal a new chapter in the club's history as never before have they lasted more than one season in the Premier League and if Pulis does break the bank to try and achieve it, no Palace fans will be moaning.

The likes of Peter Crouch and Nikica Jelavic have also been linked with a walk through the Selhurst Park door and their top flight experience could be vital in grabbing the Eagles enough goals to stay up.

Palace are currently in the third and final relegation place but I'd suggest a handful of teams are in far worse shape and that it's not beyond the realms of sensibility to suggest Pulis and company have a very good chance indeed of that relegation hoodoo.

What will make surviving the drop even more perfect would be if the likes of Kaikai and Boateng get more playing time and start to develop into the sort of first-team talents Palace fans know they can be.