America poised for 'final' championship run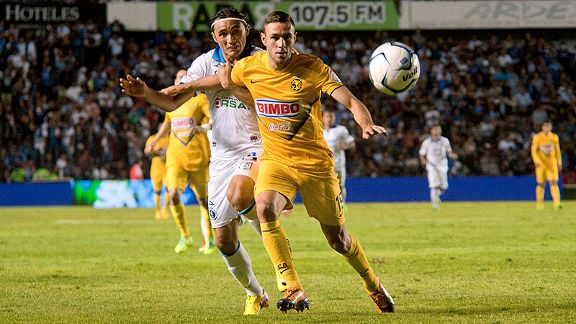 Gerardo Flores/Getty ImagesAmerica's Miguel Layun (r) fights for the ball with Queretaro's Luiz de Souza in a scoreless draw. Layun is one of 10 from America in El Tri.
MEXICO CITY -- Despite picking up only a point in their last two matches, Club America has secured the Liga MX's top playoff spot going into the last week of play. Under Miguel Herrera, the team lost only once in their first thirteen league games, and has managed to pick up four of nine points since then under interim manager Alvaro Galindo.

Next weekend, the defending league champions will likely close out the season with almost half of its first-team squad missing. Since taking over the Mexican national team, Herrera has called up ten of his club pupils to El Tri, looking to push that team over the hump against New Zealand just nine days from now at the Estadio Azteca.

In the uneven, borderline superstitious world of the Liga MX, having the top spot in the playoffs is almost never seen as a boon, but almost always as a burden. Since the short-season format was adopted in 1996, the vast majority of top seeds have underperformed, with a good many being kicked out of the Liguilla playoffs in the opening quarterfinal round.

It's hard to argue that this league leader won't make the cut, though. With Miguel Herrera at the helm, America has slowly improved its playoff runs, with two straight semifinal berths in his first year in charge giving way to the team's 11th league championship last May. Now, they set their sights on a more elusive mark: No team since Pumas has notched back-to-back titles since 2004.

With rumors of European interest circling around young stars Raul Jimenez and Miguel Layun, the next weeks will be absolutely critical. Jimenez, the author of a spectacular bicycle kick goal that kept Mexico in the running for Brazil 2014 last month, will try to capitalize on his raised profile for club and country this November. Former America and Real Madrid boss and current Ajax front office man Leo Beenhakker has been glowing in his praise of Jimenez, and could very well mount an offer for the striker over the winter break.

Layun, already with Italian Serie A experience under his belt at Atalanta in 2010, has risen from second-string footballer and running joke on Twitter to consistent national teamer and media friendly face for both America and the Mexican national team. A move back to Europe will likely be Layun's prize if he continues to dazzle on the left wing; back-to-back titles with America and a ticket to Brazil 2014 could easily launch him back to the Old World.

In keeping with the "now or never" theme, Herrera himself might be geared for a final run at the helm of the club. A berth into the World Cup will likely assure him continuity into next summer, and leave America with a vacancy going into the Clausura 2014. After spending 10 years building a steady, moderately successful career with Atlante and Monterrey among other clubs, Herrera raised his profile with his dramatic, passionate title-clinching victory over Cruz Azul on a rainy Mexico City evening last spring.

Following that, a nightmarish five months for El Tri have contrasted with a glowing Apertura 2013 campaign for America, who is now completely entrusted with the responsibility of taking an entire country to the World Cup. America knows that there's no trophy for that, per se, but a 12th Liga MX championship would definitely round out a roller coaster 2013 for a club that suddenly became synonymous with the national team.