Tired Chelsea hampered by clueless board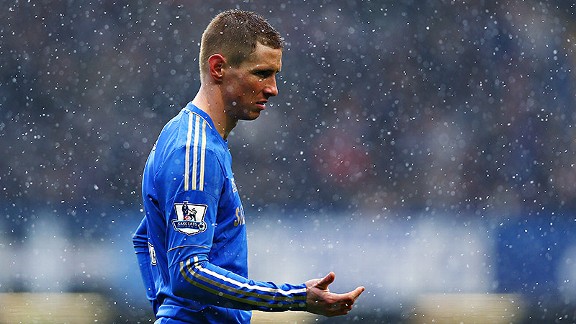 Clive Rose/Getty ImagesNow two years on, the £50 million albatross of Fernando Torres' transfer continues to linger over Stamford Bridge.
The vast sums of money that have been lavished on Chelsea FC by Roman Abramovich are cited on a daily basis by those reporting on the club. The Russian billionaire has been at the helm for almost 10 years and barely a sentence goes by in the press without some reference to either his wealth or the hundreds of millions of pounds poured into the coffers of Stamford Bridge in the pursuit of glory.

Why then does the playing squad look so thin two-thirds through this season? Why do Chelsea already look like they are running on empty with the most important section of the campaign still to come?

- Cech suffers broken finger
- Ba joins injury list

The main reason for this is something that you will have read on this page before: last summer's flawed transfer policy. I make no apologies for repeating myself as it is the single largest reason why Rafael Benitez is currently forced to select almost the same eleven every few days irrespective of current form or who the opposition are. It was immensely gratifying to see Abramovich loosen the purse strings having been invigorated by last season's miracle in Munich and the sight of so many vibrant attacking players arriving at the club was very encouraging. But the vision was myopic and unbalanced, and undeniably self-indulgent.

Why, for instance, was no striker added to the squad to provide competition to the out of sorts Fernando Torres and the untrusted Daniel Sturridge? The answer has to be that Abramovich was determined to see his 50 million pound vanity signing succeed and was not prepared to place any potential obstacles in his way once Didier Drogba had departed. Just as baffling was the decision to release both Michael Essien and Raul Meireles on transfer deadline day without bringing in any cover. Frank Lampard and Ramires are currently the only two fit members of the squad capable of playing that position -- with the possible exception of Oscar -- and they have hardly proven to be the perfect partnership for the double pivot. Add in the fact that the club have persisted without a half-decent goalkeeper to back up Peter Cech for the umpteenth campaign in a row and it is no wonder that all Chelsea's chickens are coming home to roost.

The players that have come in have all had differing degrees of success. Eden Hazard has been the stand-out performer of all the newcomers and this recent suspension has highlighted how important he has already become to the team with his absence being keenly felt. His explosive start to life in England was tempered by a slight dip in form, but the winter months have seen him bubbling once again. Cesar Azpilicueta is still adapting to the Premier League though he has shown himself to be a quick learner and has improved markedly since his debut even if he does look to be a little lightweight at times. Victor Moses has perhaps been the surprise package and he is another whose unavailability has seen his stock rise even further. The Nigerian international had become a favourite of Benitez's and understandably so given his solid if unspectacular displays of direct running and upper body strength.

Oscar has seen his early jaw-dropping performances tail off as the harsh reality of a winter playing football in England reminded him just how far from his native Brazil he had travelled. There have been flashes of samba magic of late such as his deft finish at Brentford, though he has not really been at the races since November. The very first signing of last summer, Marko Marin, has looked exceptionally short of being a Germany international on his few outings for his new club, the winger withdrawn at halftime at Griffin Park so witless was his display. Having seen the player excel in a Werder Bremen shirt, it is obvious that the kid has talent though we can only hope that the last couple of years that have seen him plagued by injury have not had a permanent effect on his game.

With key areas of the squad not reinforced and those players that have come in each having some issue acclimatising to their new surroundings, the last thing that Chelsea needed was a season that has seen the club play a competitive match every five minutes or so. However, the club hierarchy would have been fully aware of the obligations that needed to be met as winners of the Champions League -- notably participation in the UEFA Super Cup and the FIFA Club World Cup -- over and above the expectation of success in every competition in which the club is entered. One would hope they were also aware that Chelsea would lose some players to the Africa Cup of Nations. Chelsea have now played 42 games in 2012/13, yet the squad looks threadbare.

Why was this deficiency not spotted by those at the club who are paid handsomely for their 'advice' and 'expertise'? Maybe they were all burying their heads in the sand and praying for an injury-free campaign. Unfortunately for them that has not come to pass. Injuries to John Terry and Lampard have disrupted the team's rhythm and upset the spine of the team, while any teamsheet that does not contain Cech's name on it is a huge concern as Ross Turnbull is a million miles from being a Premier League standard goalkeeper. David Luiz and Oriol Romeu have also suffered physically creating a void in defensive midfield especially with John Obi Mikel away on international duty.

Little can be done to avoid injuries. There can be amendments to training regimes and medical practices but ultimately a club is at the mercy of providence. What can be done is to create a framework by which the impact of those injuries on the fortunes of the team is lessened. As we have seen, the active buying and selling of players created an imbalance, though the situation could still have been rectified to a degree by either recalling some players from loan or not sending them out in the first place.

The decision to allow Lucas Piazon to leave for Malaga until the end of the season had some logic considering he will get the opportunity to play Champions League football while also laying the groundwork for a summer move for their young midfield maestro Isco. Yet he would surely be getting some game time had he stayed due to Benitez's lack of options. Piazon is just one of 22 players employed by Chelsea who are temporarily engaged elsewhere. Many of those players will not make the grade though it seems a tad generous to allow such a multitude of players ply their trade away from Stamford Bridge while the available members in your first team squad are dwindling by the day. There is, of course, a benefit to loan arrangements and Nathaniel Chalobah at Watford and Josh McEachran at Middlesbrough have undeniably thrived by playing regularly. But one can't help feel that Chelsea are providing a conveyor belt of talent from which others cherry pick the best while the board only see value in marquee names therefore rendering that development process almost meaningless .

With the errors in managing the numbers of playing staff glaringly obvious, one would have thought that there would have been more activity in the January transfer window. In a break from the norm, Chelsea conducted their business early and actually turned a profit with the acquisition of Demba Ba being wholly funded by the sale of Sturridge to Liverpool with change to spare. It was hoped that Ba's arrival might also herald an addition to the midfield department and perhaps even a third striker to guard against injuries, but that was not to be despite results in the month being unacceptable from start to finish, the win over Arsenal excepted.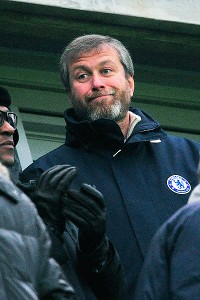 Glyn Kirk/AFP/GettyChelsea supporters are growing restless and want Roman Abramovich to take action.
The only explanation I can think of is that the board do not have enough faith in Benitez to reward him with an influx of fresh talent. But that in itself begs the questions of why did they hire him in the first place? Or maybe it is a tactic employed to keep the manager in his place. Jose Mourinho was indulged resulting in a power struggle between him and the owner which the latter won. The situation has not been repeated since. Torres and Luiz were thrust upon Carlo Ancelotti and Andre Villas-Boas was denied his two prime transfer targets in Joao Moutinho and Radamel Falcao (although he did get Juan Mata for whom we should all be eternally grateful). Roberto Di Matteo was plainly not trusted and it would be a major surprise if he was even consulted over the purchases of Hazard, Oscar and co.

All in all, a perfect storm of an abysmal transfer policy, unnecessary manager upheaval, injuries to key players and a relentless fixture list have all contributed to this mess of a season. Frustratingly, all but the injuries could have been either avoided or managed with greater thought. The natives of Stamford Bridge are unhappy and it would be nice to know if Abramovich is listening. If he is, the first thing he can do is to remove the yes men around him and start to massage the club back into shape rather than worrying about his ego.

And once he has done that, he should direct his private jet to Madrid and visit a certain Portuguese gentleman with his chequebook open and pen at the ready.

Follow Phil Lythell on Twitter @PhilLythell