Mourinho's motivation principles key to Chelsea's success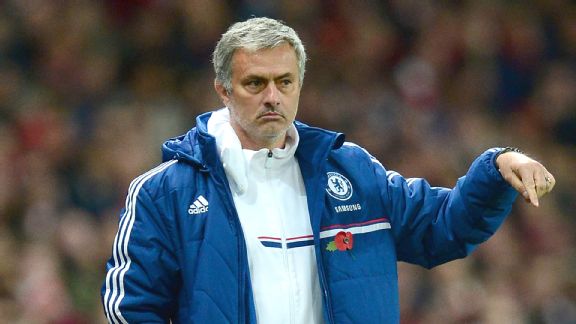 Jamie McDonald/Getty ImagesChelsea boss Jose Mourinho made all the right moves in the month of October.
As October draws to a close with an assortment of traditionally eerie Halloween festivities, Chelsea supporters will be anything but scared. Tuesday's 2-0 League Cup victory over Arsenal was the Blues' sixth straight victory in a fixture-packed month. September's horror show home defeat to Basel in the Champions League that brought with it risible "crisis club" headlines seems a distant memory.

- Report: Mourinho loses libel case
- Report: Chelsea sign Bertrand Traore

That six-game winning streak has seen Jose Mourinho's men plunder 18 goals and concede just three as Chelsea have made significant progress in their quest for trophies. Second in the Premier League, two points behind Arsenal, whose next opponents are third-placed Liverpool; the Blues travel to Newcastle this weekend looking to extend a run of good form that has seen the bookies reinstall them as title favourites, ahead of Manchester City. Impressive back-to-back away Champions League victories against Steaua Bucharest and Schalke 04 have seen Chelsea leapfrog the German side to head Group E. The manner in which the Blues' "second XI" brushed aside Arsenal to progress to the quarterfinal stage of the League Cup endorsed the widely held belief that Mourinho's squad has sufficient depth to be able to compete on all fronts.

With the Special One prone to playing his self-styled Mourinho-esque games at press conferences, it was refreshing to see Chelsea's assistant first-team coach Steve Holland be given the opportunity to address the media following the Blues' League Cup success at the Emirates -- if anything, just to hear a different point-of-view from inside the dressing room. Holland's words added another credible layer of veneer to the compelling story that Mourinho has won over the hearts and minds of his players, despite not being able to give them all a game week in, week out.

"It has taken a bit of time in the early weeks," Holland said, glossing over the Blues' early season hiccups. "The training and Jose's principles of play that he's been hammering home every day, there has been evidence in a few games now."

Six successive wins, four of them away from home, second that opinion, but it was Holland's message of unity and belief that resonated with Chelsea supporters loudest of all.

"Everyone is singing from the same sheet," enthused the Special One's right hand man. "Whether it was Willian defending in those wide positions [against Arsenal] or Andre Schurrle [against Manchester City] on Sunday."

Mourinho has a significant talent pool from which to select a team for any particular match, and that could prove problematic for those players sitting outside the coterie of "untouchables" who have been traditional features of his teams. Juan Mata, a peripheral figure this season, has been used sparingly by Mourinho, as has Fernando Torres.

Holland provided an insight into how the Chelsea manager has addressed this potential issue: "The focus in training isn't on the team for the next game, but all the individuals in the squad," he said, shedding further light on the interesting comment that born-again Blues striker Torres had made when asked about his remarkable return to form. "He talks with me like he talks with everyone else," remarked Torres after his stellar, two-goal display against Schalke. "He knows how to motivate the group," concluded the Spaniard, perhaps stating the obvious.

But then, the obvious has been a difficult beast to master in the Stamford Bridge dressing room in recent seasons, just ask Andre Villas-Boas and Rafael Benitez. Motivation is the essence of Mourinho's philosophy, motivation and understanding, and Holland made a point of highlighting this.

"The understanding of what was required for the team was the exact same, and that I think is a really significant thing moving forward," he summarized effusively.

The understanding of what was required for the team. Perfect management! Torres is now Mourinho's first-choice striker, and deservedly so. Against Arsenal, Torres' compatriot, Mata, was the star of the show, scoring a peach of a goal that prompted the media to question if it was a message aimed at Mourinho?

"I just try to play and enjoy my football," answered Mata. "The manager is the one who makes the decision. I always try my best for this club and that is what I will always do."

Will Mata continue to be rotated? Good question. A look at Chelsea's forthcoming fixtures provides the answer. While November sees the Blues play five games with an international break sandwiched in between, December is the month when Mourinho's squad will be fully engaged.

Chelsea face an exhausting schedule of nine matches, and every ounce of the Special One's unique blend of motivation and meritocratic principles will be required if the Blues are to maintain the momentum they have now. In November 2004, Mourinho's Chelsea went to the top of the Premier League -- and stayed there. Time will tell if history is about to repeat itself, but one thing's for certain -- Mourinho will persist with his agenda, and if results continue to go the way of the boys in Blue, few would have the temerity to question his preferences when it comes to team selection.