Chelsea's striker quandary can be solved by Rooney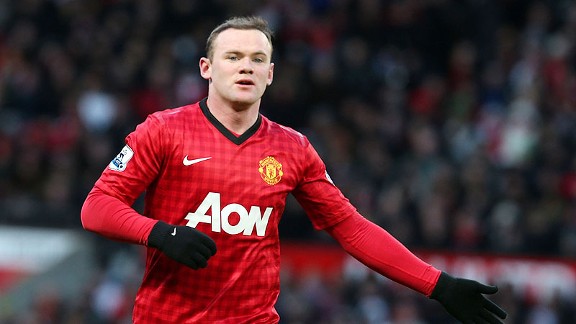 Matthew Peters/Man Utd via Getty ImagesWayne Rooney's future is still very much up in the air.
After another thumping win in Asia, Jose Mourinho will be delighted with how Chelsea's pre-season is progressing.

With each passing game, the understanding between the players has become more fluid -- as have the patterns of play -- and experimentation with different systems has also borne fruit. As ever, in these showpiece friendlies, there has been a glut of goals with the four against Malaysia XI on Sunday being doubled against a hapless BNI Indonesia All-Stars on Wednesday. Mourinho will be particularly pleased with Romelu Lukaku's displays as the Belgian has netted in each of the club's three outings in the Far East, his tally sitting at four goals so far. While it is hard to take anything definitive from what have been little more than glorified training sessions, the young Belgian has still laid down a marker of sorts and has shown his manager that, at the very least, he knows his way to the back of the net.

Yet despite Lukaku's positive contributions, there still remains a question mark over Chelsea's striking options. If ranking by experience, age and accomplishments, then Fernando Torres must be seen as the senior striker, though going into the new campaign with him as Chelsea's spearhead would appear to be folly. The Spaniard might have bagged 23 goals for the Blues last season, however he failed to net in the Premier League between 23rd December and the final day of the season on 15th May. His strikes against Barcelona and Benfica excepted, he is rarely the man for the big occasion and relying on him to fire Chelsea to major silverware does not sound like a move Mourinho is likely to make.

But then again, trusting a 20-year-old striker with significant, yet raw and untamed talent will also cause the Special One the occasional sleepless night. The Portuguese has already been stung once in this area when dealing with the volatile Mario Balotelli at Inter Milan. While Lukaku has not exhibited any of the tempestuous, prima donna traits of the Italian, Mourinho will surely be hesitant before placing all his eggs in that basket. Lukaku is destined to see plenty of action in a blue shirt in the coming campaign, though he needs to flourish without the pressure that comes with being your team's main goal-getter. He still has much to learn and it's true that his education is best served by playing, but too much expectancy at a young age can be detrimental to development.

Although hard-working and capable of the spectacular, it is hard to see Demba Ba being anything more than a useful squad member, coming off the bench to score a crucial equaliser or being rotated into the team against less threatening opposition to give the regular striker a rest. With that being the sum total of options available to Mourinho, it would seem obvious that Chelsea need to draft in someone of real calibre to shoulder the responsibility and lead the line prosperously.

As Chelsea are well aware, attaining someone of that quality costs a lot of money and there is no way of knowing whether the object of the club's desire will perform as expected. After the twin debacles that were the exorbitant purchases of Torres and Andriy Shevchenko, it was encouraging to see that the Blues were not drawn into a bidding war with AS Monaco and PSG over the signatures of Radamel Falcao and Edinson Cavani, respectively. Both South Americans are tremendous target men who virtually guarantee goals and would thrive off the service from Chelsea's flair-filled squad. But then the same was said of Torres and Shevchenko when they first arrived at Stamford Bridge.

With this new breeze of constructive thinking -- as opposed to simply throwing money at the latest big name -- now billowing through the corridors of Stamford Bridge, the approach for Wayne Rooney is particularly intriguing. The Englishman has his admirers and detractors among the Chelsea support, though there is no denying that he has the pedigree and ego to assume the mantle of being Chelsea's leading man.

- Mourinho relaxed over Rooney

While there have been newer, shinier, novelty options out there such as Cavani, Falcao, Robert Lewandowski or Stevan Jovetic, the approach for the Manchester United striker makes sense especially as his nationality would be of benefit under the home-grown rule. Rooney might seem like a veteran as he has been playing regular first team football for almost 11 years, and it does mean that he has plenty of miles on the clock, though at 27 years of age he still has, in theory, several years left in him. He has been fortunate in that he has so far avoided any long-term or regular muscle injuries with most of his lay-offs coming as the result of an impact, injuries that could be repaired without becoming a ticking time bomb. Rooney is not likely to break down in the manner in which Michael Owen or the Brazilian Ronaldo became all too familiar with in their careers.

Chelsea will be wooing him with the prospect of being the team's undisputed centre forward, promising him that he will not be buffeted out of position into wider or deeper positions should a Cristiano Ronaldo or Robin van Persie come along. And with good reason. In the one season in recent times (2009-10) when Rooney was deployed as the central striker, he responded by scoring 34 goals for United. It wasn't enough to deny Chelsea the domestic double but it did earn him the PFA Player of the Year Award.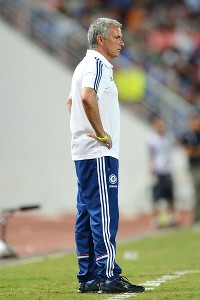 Thananuwat Srirasant/Getty ImagesJose Mourinho has not hidden his desire to sign Rooney away from United.
It is clear why Mourinho is keen to have him on board. The Portuguese puts huge value on the indefatigable spirit and irrepressible will to win that has been shown by English stalwarts Frank Lampard, John Terry and Ashley Cole in his previous stint in West London and he sees the same qualities in Rooney. Mourinho also sees a player who is seeking a new challenge and therefore a determined, striving and never satisfied. The Special One doesn't do laconic or half-baked; he demands that his charges are focussed and whole-hearted. He will get that from Rooney. Mourinho and Rooney in tandem has the potential to be one of those manager/player relationships that can lead a team into battle and emerge bloodied but victorious and in the process turn the clock back to the two title wins in the middle of the last decade.

On the negative side, there are question marks about whether he is still capable of delivering having had a relatively quiet season last time out in the shadow of van Persie. However, he can still point to the 23 goals he scored in 44 games for club and country; not bad for a sub-standard campaign in which he largely played outside of his comfort zone. People might also wonder why it is always Rooney who is moved away from the centre and not Ronaldo (who started life as a winger) or van Persie (who played on the left flank regularly while Thierry Henry was still at Arsenal). It is a good point, though the answer is probably because he is a more versatile player and less individual than the other two. That cannot be a bad thing.

Should Rooney move to Chelsea he will be hungry to prove his critics wrong, not least former boss Sir Alex Ferguson and the Old Trafford boo-boys. He always plays better with a bit of fire in his belly and when he has a manager who believes in him. Mourinho would give Rooney the affection he craves and if he does sign for Chelsea and starts hitting the back of the net on a regular basis, the Stamford Bridge faithful will be persuaded to show him some love as well.