Behind the scenes of Lewandowski to Bayern
It's safe to say that Robert Lewandowski is the most expensive free agent ever signed in the Bundesliga, perhaps even in global terms. The total package for the five-year-deal, once sign-on fees and agent commissions are included, will be north of 70 million euros.

Of course, Bayern Munich know all about star players changing clubs after running down their contracts. In 2006, Michael Ballack moved to Chelsea in the wake of a transfer saga that was equally unpleasant. When their attempts to renew the Germany captain's deal at the Allianz Arena failed, the bruised Bavarians publicly withdrew their offer at the club's annual general meeting -- to much applause -- and pretended that the decision to part company had essentially been theirs. (Which wasn't the case).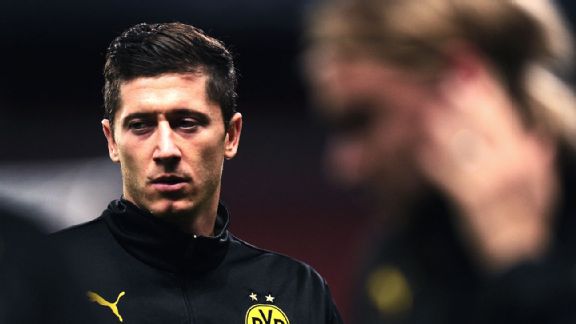 Mike Hewitt/Getty ImagesIn the end, Robert Lewandowski always wanted to join Bayern. Yet for reasons beyond his control, it took some time for his move to happen.

With that in mind, the 11 months since Rafael Buschmann of Der Spiegel broke the news that Lewandowski had agreed to join the eventual treble winners have seen even more intrigue and face-keeping exercises.

- Story: Lewi signs five-year Bayern deal
- Uersfeld: End of a Dortmund era?
- Schaaf: Worst-kept secret comes to light

At first, it actually seemed like a pretty straightforward affair. The Polish striker and his advisers thought that they had a verbal agreement with Dortmund that the player would be allowed to leave in the summer of 2013 if an offer of more than 25 million euros was lodged.

That, incidentally, was the figure Alex Ferguson had bid for the forward after watching him and Shinji Kagawa destroy Bayern 5-2 in the 2012 German Cup final. Dortmund sold the midfielder but much to Sir Alex's surprise, they turned down the offer for Lewandowski, having rebuffed a similar advance from Bayern before. Dortmund's categorical "Nein" was mistaken as posturing by many that summer, including Frantisek Smuda. The Polish national manager confidently declared that Lewandowski was off to Old Trafford after Euro 2012.

Dortmund, however, stood firm.

Contrary to reports, that was the closest the forward ever came to a move to the Premier League. Sources close to the player confirmed that there were "incessant" calls from interested English clubs throughout 2013, but they all had come too late: Lewandowski had made up his mind by January to join Die Roten.

The news didn't come as much of a shock to Dortmund. They knew the striker saw his future elsewhere -- their attempt to extend his current deal (worth 1.5 million euros per year) beyond 2014 had proved unsuccessful -- and initially seemed willing to release him last summer. But the equation changed when Bayern triggered the release clause of Lewandowski's teammate Mario Götze in April. Dortmund were shaken by that surprising defection, and attitudes towards Lewandowski hardened as a consequence.

Then in the summer, it got interesting -- and a little dirty.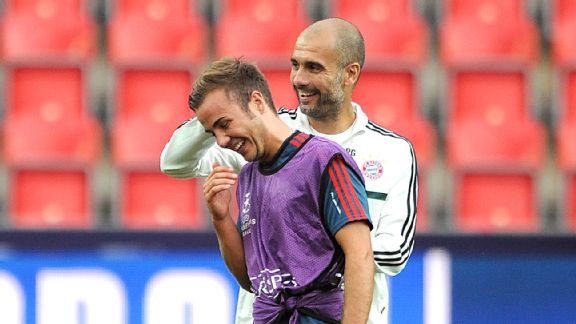 Chris Brunskill Ltd/Getty ImagesGuardiola and Bayern's signing of Mario Gotze likely influenced Dortmund's change of negotiation tactic.

Lewandowski was told he wouldn't be allowed to leave for Munich. The player went public with his frustration and Dortmund, in a sense, tried to pin the blame on Bayern. CEO Hans-Joachim Watzke maintained that a written offer for Lewandowski had never come in from Rummenigge and Co. and that he was therefore not in a position to put the matter to the board. Bayern later explained that their bids for players were never made in writing out of principle, but a perception arose that the treble winners didn't push all that hard to get their man. Many wondered: Did Pep Guardiola even want him?

ESPN FC can now reveal that Bayern did indeed make a very significant offer -- not once, but twice. Rummenigge bid 31 million euros at the beginning of the summer, and both Dortmund and Lewandowski were officially told that the offer was still valid a couple of months later. Bayern were pushing but with time on their side, they didn't try a third time.

All of this still begs the question why Dortmund didn't simply cash in. Defiance in the face of Bayern's raid on their team was certainly a factor, as was sending a message: Dortmund did not want to be seen as a selling club. But there were more pragmatic reasons as well.

First, they hoped Lewandowski could still be sold abroad. There was a precedent: in 2011, Leverkusen's refusal to let Arturo Vidal move to Bayern had resulted in Juventus hijacking the deal and the player changing his mind. Dortmund must have felt that the Pole and his agents could be swayed in a similar manner. They thought: Why wait another year for Bayern -- and a big pay rise -- instead of moving to Spain or England immediately? But with Lewandowski and his camp not entering any negotiations with clubs other than Bayern, Dortmund made a decision that he'd be kept on for another year regardless.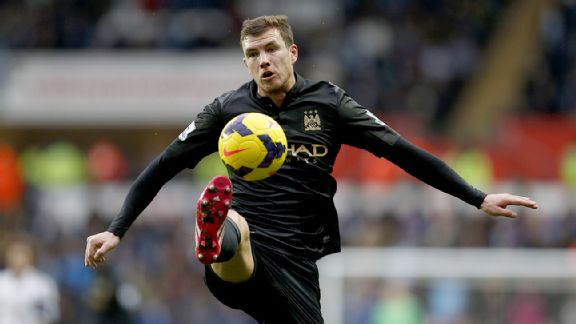 Adrian Dennis/AFP/Getty ImagesEdin Dzeko was floated as a Lewandowski replacement, though his fees and wages proved prohibitive.

Difficulties with finding a suitable replacement -- Edin Dzeko, mentioned as a possible recruitment by Jurgen Klopp, proved simply too expensive in terms of wages -- will have influenced their choice. So too would a simple calculation: With Lewandowski in the squad, the 31 million euros they missed out on would most likely be recouped by renewed qualification for the next Champions League and advancement to the knock-out rounds of the current competition.

To temper Lewandowski's disappointment, his wages were trebled. 11 goals in the league and four important goals in the Champions League later, Dortmund's stance has largely been vindicated.

In December, Real Madrid tried their best to stage a daring eleventh-hour raid, making an "indecent proposal" (says Lewandowski's agent, Maik Barthel) of 81 million euros, covering all fees and wages over a six-year-period. "A declaration of war," fumed Bayern president Uli Hoeness, according to Der Spiegel. But once again, Lewandowski kept his word.

The length and value of his contract with Bayern should leave little doubt as to Guardiola's true views of the player. What's more, the close proximity between the Catalan agreeing to join Bayern and Lewandowski doing the same suggests that the latter -- not Götze -- was actually Pep's first "signing" in the new job.

Robert Lewandowski will cost a few euros and will increase fears of the Bundesliga turning into a one-horse-race. But that's a price Bayern are willing to pay for the one man, they feel, who can still improve a squad that looks nigh-perfect already.