Prime and Megatron to take fight to England?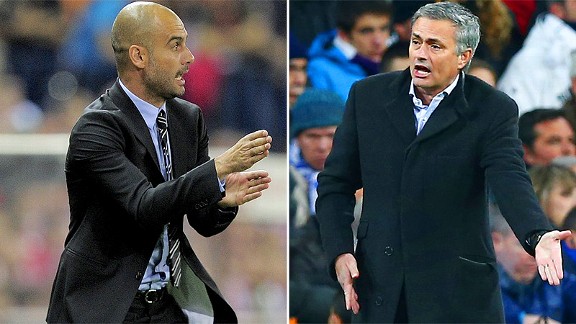 Getty ImagesOne way or another, it looks like Jose Mourinho and Pep Guardiola are coming to England. Let's get ready to rumble!
It is looking increasingly likely that 2013 will see renewed hostilities between Pep Guardiola and Jose Mourinho. Like Optimus Prime and Megatron, these two are fated to take their battle to pastures new, from their Iberian homeworld to a cold and distant land: England.

- Mourinho: No break if I leave Madrid this summer
- Berlusconi says City lead Guardiola race

Like Prime, Guardiola is the sort of chap who believes in doing things the right way. Like Megatron, Mourinho doesn't really care as long as he wins. This is what has made their duels so fascinating, even if neither of them has yet showcased the ability to turn into either a large truck or a powerful handgun. They are both winners, but in very different ways.

Guardiola, whom I presume is still wandering around Central Park taking pictures of squirrels, finds himself in the most advantageous bargaining position of any manager in history. Having won everything there was to win at Barcelona, more than once in most cases, he has the luxury of being able to choose his next assignment. He knows full well that there is hardly a club in the world that wouldn't sweep their present manager out the backdoor if they thought for a moment that he was interested.

He has most recently been linked with the impending vacancy at Paris Saint-Germain, where Carlo Ancelotti is realising once again that money and superstars don't necessarily equal success. It's likely that the prospect of living in one of Europe's most culturally vibrant cities appeals to Guardiola, and he already has links with the Qatari owners, having represented the desert state in their bewilderingly successful World Cup bid. However, if they are to sack Ancelotti so swiftly, it may set off the same alarm bells that ring every time Roman Abramovich calls him.

Guardiola loves a project. He wants to lay down the foundations of an empire that will last for years. He wants a club devoted to the production of tippy-tappy footballers, all rolling off an assembly line like Christmas toys, squeaking and begging to be adored. That's why he's more sought after than Mourinho by modern owners: because he buys into their dream of building a dynasty. The problem with dynasties, however, is that they always look much better when they're finished. While they're being built there are mis-steps and setbacks, barren years and crushing defeats. And modern owners don't deal very well with things like that.

Far more suited to a modern owner is Mourinho, whose time at the Bernabeu appears to be elapsing. He's worked under Abramovich, Massimo Moratti and Florentino Perez, always delivering silverware regardless of speculation or pressure. Of the two managers, he's the one you'd back to excel at any team on the planet. You could drop Guardiola and Mourinho into the Scottish Second Division and it would be the Portuguese boss who would drag Stenhousemuir to the top while the king of tiki-taka flailed around with East Fife.

Guardiola was brought up in a structure and rose to lead it to its greatest heights. Mourinho has had to fight for everything, from his days as an interpreter, after he was harshly dismissed by Benfica, in his brief but extremely impressive period with Leiria, through to Porto, Chelsea and beyond. It's entirely possible that he might be the perfect man for Paris. But I hope not.

There is only one man capable of replacing Sir Alex Ferguson at Manchester United, only one ego strong enough to survive the power vacuum the old Scotsman will leave. Mourinho, you sense, would wait patiently for his old rival to move on, rather than poison his chances by taking over their rivals. The two men have a mutual respect, perhaps borne out of their swift realisation that they are both cut from the same abrasive cloth. And imagine this goal-frenzied, defensively wayward United side after a tweaking from the master of the dark arts. They'd be unstoppable.

And imagine what would happen down the road at City if Guardiola were to team up with his old Barcelona mates, Txiki Begiristain and Ferran Soriano. It's far easier to start a dynasty if your friends fill the chain of command up to the owners. It's far more likely that the owners will grant you the time to transform the club if sacking you meant losing the chief executive and director of football as well. If Guardiola wants a project, City is perfect.

There are alternatives. Arsenal would offer stability and potential; Chelsea would offer wheelbarrows full of cash both before and after the inevitable sacking. But one way or another, it looks like Mourinho and Guardiola are coming to England.

Iain Macintosh is the UK Football Correspondent for The New Paper in Singapore and the co-author of "Football Manager Stole My Life" from @backpagepress. You can follow him on Twitter at @iainmacintosh.