Is Zlatan up there with Messi and Ronaldo?
There are few words that do justice to Zlatan Ibrahimovic's third goal against Anderlecht this week. "Spectacular" has been used so often that its allure has waned. "Emphatic" is certainly accurate, if a little dry. For a goal like this, we may have to form a committee and invent a new word. Tempocontortic, perhaps. A shot so powerful it contorts the space-time continuum. Evapomastic. A shot so fast that the friction of the ball on moisture in the air leaves a trail of steam hanging in the sky.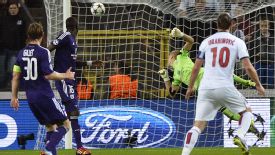 GettyImagesZlatan Ibrahimovic watches his thunderbolt effort fly into the back of the net.
It wasn't just powerful, it was accurate too. It whistled into the top corner like a photon torpedo up a small thermal exhaust port. Zlatan hit it as if he'd just caught it sleeping with his wife. Had the goalkeeper been able to stretch a hand to it, it would have been torn off by the force of the ball. And this was just one of four goals he scored on the night.

So, given that he is scoring goals of this calibre and at this rate, and given that he has won enough major trophies to fill a truck, is it time we reassessed Zlatan's place on the world stage? Even English supporters have long since accepted that he might be pretty good, the turning point of course being a ludicrous long-range overhead kick scored against their team. But is he so good that he can stand on a podium with Lionel Messi and Cristiano Ronaldo?

Messi is one of the most naturally gifted men ever to have played the game, a man whose control of the football is so extraordinary that you would not be the least bit surprised if he revealed himself to be a wandering alien who had taken human form for a bit of a laugh. It might also explain why he got the measurements of that human form so badly wrong at the first attempt and had to be rescued with growth hormones.

Ronaldo is a physical phenomenon, a rippling chunk of meat so conditioned that you could throw bricks at him and they would bounce off his torso without leaving a mark. Messi's edge may be that he isn't actually human. Ronaldo's edge is that he is everything a human has the potential to be: pumped, primed and perfected after long days on the training field.

Zlatan is both naturally talented and built like a stone watchtower. He does things with a football that no one in their right mind would do, primarily because he may not be in his right mind. He has won more league titles (10, if you include the two Juventus were stripped of) in more nations (four) than Ronaldo (four/two) and Messi (six/one), yet he's never mentioned in the same breath.

Perhaps this is because he makes so little effort to help himself. If Ronaldo's genius can be occasionally undermined by his petulance, what does Zlatan's arrogance do to his cause?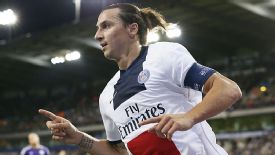 GettyImagesZlatan Ibrahimovic celebrates one of his four goals against Anderlecht on Wednesday.
This is a man who, when asked what he was buying his partner for her birthday, answered: "Nothing. She already has Zlatan."

This is a man who responded to a question about his sexuality by telling the female reporter: "Come over to my house with your sister, baby. I'll show you who's gay."

He called Pep Guardiola a coward and responded to the Barcelona policy of driving understated cars to training by buying a $400,000 Ferrari Enzo and parking it right next to the players' entrance.

It's fortunate that he turned out to be really good at football, because employment opportunities in PR and international diplomacy were not going to be an option for this man.

But while Zlatan is certainly the brooding anti-hero of European football -- the rock star with a revolutionary streak so potent that it makes James Dean's causeless rebellion look like someone pointedly paying his rent one day late -- it doesn't make him a better player.

Like so many others, he is damned by the brilliance of La Liga's leading lights. Zlatan is an awesome force of nature, but Messi and Ronaldo have been scoring goals for two of Europe's best teams at the rate of more than one a game for years. In his single Spanish season, Zlatan hit slightly more than one every other game. He might be a more exciting man, but Ronaldo and Messi are the more exciting players.

But perhaps we shouldn't feel obliged to rank and pigeonhole our players. Perhaps we should just sit back and enjoy their work. As for Zlatan, he shouldn't worry too much. Ronaldo and Messi will have the more successful careers now, but when it all comes to an end, I know who'll have the longer career on the lucrative punditry circuit ...