Football autobiography hits and misses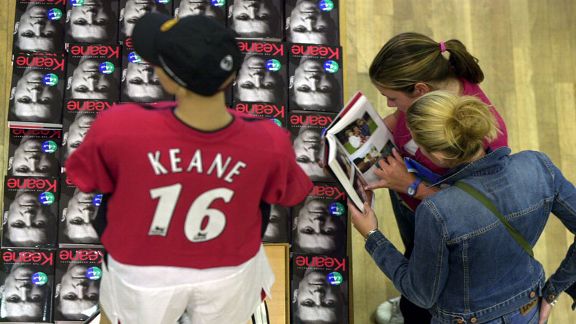 PA PhotosA customer at a Dublin book shop browses through a copy of Roy Keane's autobiography following its publication in 2002.
Sir Alex Ferguson's new autobiography hits the shelves Thursday, joining a long list of memorable and not-so-memorable books from football greats. Iain Macintosh looks at some that hit -- and missed -- the mark:

ROY KEANE -- "KEANE: THE AUTOBIOGRAPHY" (2002)

Generally, an autobiography is supposed to make you look good. After all, you're the one who wrote it. Roy Keane didn't get that memo. He takes to his memoirs like he took to football, stomping around and kicking anything that moves. When he clarifies issues -- like his assault on Alf Inge Haaland -- he doesn't contort the truth like so many of his contemporaries. Oh no. He tells you that he meant it, that he'd waited for it, that he relished every bone-jarring moment of it. It's so well ghosted by Eamon Dunphy, no stranger to controversy himself, that it's like spending six hours wandering around inside Keane's head. A genuinely terrifying prospect.

ALEX FERGUSON -- "MANAGING MY LIFE" (1999)

Even as the new version is shipped to stores around the world, its predecessor still stands the test of time. Starting at East Stirlingshire and rising to Manchester United, essentially, this is like reading the best game of Football Manager ever. In brutal style, Ferguson settles almost 40 years of personal scores accumulated as a player and a manager. There is no mercy for ex-chairmen, ex-players or ex-staff, even those who served him for so long, like poor Brian Kidd. And he wrote this one when he was still working. Imagine what he'll be like now he's retired ...

GARRY NELSON -- "LEFT FOOT FORWARD" (1996)

In the mid-1990s, as English football lurched out from the shadows and burst into the mainstream, there was a perception that all players lived a life of unimaginable glamour. Nelson's classic warts-and-all book blew those illusions away. With entirely unexpected self-awareness and humility, Nelson opens the door to a world of low wages, insecurity and broken dreams, where you were only one injury away from oblivion. After 17 years in football, Nelson would become more famous for his writing than he was for his goal scoring.

BRIAN CLOUGH -- "CLOUGH: THE AUTOBIOGRAPHY" (1994)
While his later release, "Walking On Water," was a meandering and half-hearted effort, Clough's first autobiography serves as a far better reminder of this bombastic human stun-grenade. Controversial throughout, Clough breaks off from the story of his success to launch attacks on everyone from Kevin Keegan for having the temerity to emigrate, to the FA for refusing to give him the England job, and most upsettingly on Liverpool supporters, falsely claiming that they caused the Hillsborough disaster. He would later retract his remarks. You may not walk away from this book liking Clough, but you certainly won't forget him.

BILL SHANKLY -- "SHANKLY: MY STORY" (1976)

Methodical, but none the worse for it, Bill Shankly's autobiography is notable, not just because it meticulously details the rise of Liverpool, but because of its opening chapters. Hardly any footballers' autobiographies are interesting until they start talking about football. Except for this one. Shankly's account of life in an Ayrshire mining community is utterly compelling -- you can see the strands that link the boy to the man. The latter chapters, where Shankly reveals his hurt at the way he believes his club froze him out, were so controversial that Liverpool tried to ban the book. An essential read for all Liverpool supporters.

THE WORST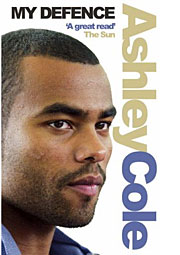 SoccernetMy Defence: It's Ashley Cole's take on everything.
Ashley Cole's sniveling, self-serving memoirs were intended to rescue his reputation after a controversial transfer to Chelsea. He'd have been better off keeping his mouth shut. His infamous, "I nearly swerved off the road" reaction to the offer of a pay raise from Arsenal will go down in football history.

A great ghostwriter will slip inside the head of his subjects, recounting their stories in their own voices. But more coherently. A bad one will have affable cockney loudmouth Jimmy Greaves saying things like, "Harold Macmillan was a gift to the emerging satirists of 1963," or "In 1974, in post-decimalisation Britain..."

How stupid is Theo Walcott? Here he is on Fabio Capello's management style: "'Theo!' he was yelling. 'I will kill you if you come inside like that again!' Despite Mr Capello's outburst, I never quite knew what was required of me." ... Erm ... Maybe he required you not to come inside like that again? You foolish man.