The tractor beam pull of the new Football Manager 2013
There is no hiding place. It is coming. It cannot be stopped. Football Manager 2013 is released on November 2 and once again it threatens the sanctity of marriage, the security of employment and the sanity of millions. For 20 years, this rolling juggernaut of geekery has consumed the leisure time of football fans all over the world, and I should know -- I've played them all.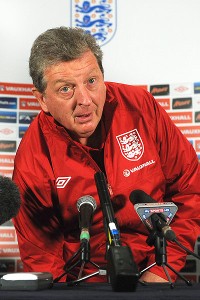 Michael Regan/Getty ImagesAre you tactically smarter than Roy Hodgson? You'll be able to find out with Football Manager 2013.
So what's the new one like? A wobbly step backwards, like the unwieldy FM10, or a classic like the sleek FM07? Well, almost no-one knows. Sports Interactive, the studio behind the game, are yet to release a demo and only a handful of people have played the not-quite-finished beta version. Fortunately, I'm one of them and I'm ready to sing like a canary.

FM is no longer a game. It is two games. Miles Jacobson, the creative force behind SI, is all too aware that the expansion and evolution of FM has been too much for the original generation of players. The teenagers who bought Championship Manager in the 1990s have grown up and spawned -- they can't afford to turn up to work with bleary eyes having pushed through to 4 a.m. to seal promotion. They haven't got four hours for pre-season. For them, there is "FM Classic."

This is, for all intents and purposes, the same game. It's the same database, the same engine, the same statistics. It is the player's influence on the game that has been stripped down. There is no individual training, no team-talks, no meandering press conferences, no fluff and no nonsense. You can skip entire matches, leaving your assistant in charge. You can set up detailed tactical plans, though this side of the game takes some practice and is a little less than intuitive.

That doesn't matter too much, though, as the games themselves have been cut from 10 minute "key highlights" packages to two minutes of genuine chances. For the first time since CM01/02, you can play a month of the campaign in little under an hour and not feel that you're rushing. On my first swing at the game, unfamiliar with the placement of icons and tentative in my actions, it still only took 52 minutes to complete pre-season.

All of this cutting and snipping means that the restraining bolt has been taken off the complete version and the geeks have run riot. There must be someone at SI who has been putting their hand up in meetings for years suggesting ever more complicated ideas, always being rejected because of the reluctance to overburden gamers. Well, they've seized control now. In come Directors of Football, Heads of Youth Development, Heads of Scouting and all of their customisable responsibilities. You can "interview" for managerial jobs, promising a certain style of football. International tax rates become crucial, as players will calculate their "take-home" pay packets when considering a move. It is BIG. It will take rather longer than 52 minutes to complete pre-season training here.

But, as seasoned FM players know, it is not the feature list that makes the game. It is the intangible "grip" of the game that matters. When you lose, do you blame the game or yourself? When you win, have you triumphed through your genius or by exploiting a loophole in the code? Sadly, there's no way of knowing which way FM13 will go. We'll only discover that after weeks of playing the complete version. But for what it's worth, I'm confident that they've got it right.

I played two months with Southend United on the full version and it felt good. When up against a back four of hulking, cumbersome fourth division defenders, I let Freddy Eastwood drop back as a deep lying forward and used Brett Assombalonga as a poacher. The combination of movement and pace destroyed them. Up against a similar defence the following week, I used Neil Harris as a target man and went direct. It failed. They just headed everything away. Every tweak had a noticeable effect.

On the classic version, I played as Liverpool. I hit the post three times every game, was continually frustrated by weaker, but physically stronger outfits and Pepe Reina was horrendous. That's a lot of ticked boxes for realism.

Even as someone who literally wrote the book on FM, I had felt that my time as a player was drawing to a close. I have a wife. I have a daughter. If I want to keep them, I cannot spend 300 hours a year on a game. Now, it seems that I don't have to. On November 2, when the full version completes its download, I'll leave the larger game to a younger generation and head to the classic mode. That's where I belong now. Half an hour here, half an hour there.

Sigh. Just when I thought I was out, they've pulled me back in…