Rekordmeister strikes again!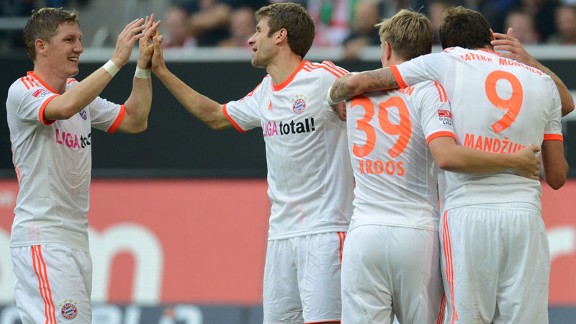 GettyImagesBayern Munich surged into a comfortable lead against Dusseldorf
All of the talk of the stalwart Fortuna Dusseldorf defence came to naught as Bayern Munich slaughtered F95 in the ESPRIT Arena, 0-5, on Saturday afternoon. It was never going to be easy for (Oh!) Fortuna, but the Bayern camp emphatically silenced any critics who were thinking that they might mentally struggle after the comeback by Sweden against Germany and the Munich contingent, mid-week, in World Cup Qualifying.

- Bundesliga: Bayern remain undefeated

Oh! (Fortuna!) And they broke a small Bundesliga Rekord. Die Muenchener become the first club in Bundesliga history to win their first eight league matches, surpassing a record that they jointly held with Mainz.

Mario Mandzukic opened the scoring on 28 minutes after a superb cross from Franck Ribery found the Croatian striker strangely unmarked. Luis Gustavo doubled the score eight minutes later after a Thomas Muller header, initially saved, deflected off of Dusseldorf 'keeper Fabian Giefer straight back at the Brazilian, who managed a last touch before it crossed the line. The teams went in to the dressing rooms with Bayern up 2-0, three yellow cards for F95, and Munich completing an astonishing 388 (to 87) passes.

Muller scored the first of his brace ten minutes after the restart, with another Ribery assist, after the Frenchman and Philipp Lahm had a lovely give-and-go. After Dante was wrongly given a yellow card - he was facing the player and played the ball - in the 67th minute, the pace started to drop as Javi Martinez replaced Toni Kroos (70), David Alaba came on for Mandzukic (77) and Bastian Schweinsteiger was subbed for Rafinha (82).

Instead of their usual 4-2-3-1, Munich were suddenly playing 4-6-0 with a false No.9. With success! David Alaba assisted Muller's goal on 86 minutes with a fine lay-off from the Austrian in his first competitive match this season for die Roten. Ribery garnered his third assist of the day, passing to Brazilian Rafinha three minutes from time.

Statistics don't lie. And in this case? They say it all. Time of possession? 30/70. Passes completed? 206/730. Touches? 422/951. Shots on goal (on target)? 2(1) / 25(14). Tackles won (%)? 40/60. And the most important stat of all: Goals scored? 0/5.

Eintracht Frankfurt beat Hannover 3-1 to stay in second place on 19 points in the Bundesliga. And Schalke upset Dortmund away, 2-1, in the Revierderby to stay in third with 17 points. Borussia Dortmund remains in fourth position with 12 (!) points. While record-breaking Bayern Munich remain top of the table with 24 points and a very, very pretty +24 goal differential.

Ain't it grand? Congratulations, boys! See you on Tuesday.

Odds and ends:

I love the infrared/white kits for girly reasons that I will keep to myself.

F95 initially did a great job closing down space when threatened. Which was often. They were a tough nut to crack. But, after the initial Bayern goal was scored, the pitch had to open up allowing Munich more space to roam.

Robbie Kruse had the best shot on goal for Dusseldorf. Too bad it was his own net.

Speaking of Kruse, GOL announcer Juan Arango got the "Kroos" / "Kruse" difference. Lovely.

Holger Badstuber looks really awkward when he's near the box with the ball.

After Dante's near miss on 39 minutes, Bayern almost got caught with their pants down. Lapses in concentration like that - while not the end of the world here - will be the death of die Roten.

Anyone else enjoy the 4-6-0?

You should follow Susie on Twitter @fussballsusie.