Goalkeepers, central defenders and Neymar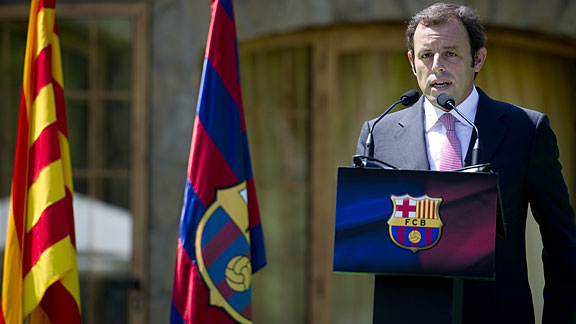 GettyImagesBarcelona president Sandro Rosell is not satisfied
Despite the fact that the key games of the current season haven't even been played yet, Barcelona president Sandro Rosell and sporting director Andoni Zubizarreta continue to work tirelessly behind the scenes in order to design the Blaugrana squad for next year. In a competitive world were minor details are decisive, allowing plenty of time for meticulous preparations can only be a good sign.

According to early reports, common sense seems to have prevailed and the club is working towards signing a reliable starting goalkeeper, a promising but already experienced defender and, no surprises here, Brazilian wonder-kid Neymar.

Let's analyse each move in more depth:

- Recently, Victor Valdes unexpectedly announced his decision to leave the Camp Nou despite having been an instrumental part of the Catalans' success over the last 10 years and having the full support of his teammates and coaching staff.

Nearly a whole month has passed since the goalkeeper dropped the bombshell and, to be honest, Cules around the world are still wondering what reasons may have pushed him towards taking such a surprising career move.

I have said it before and will say it again though: Barcelona supporters don't want anyone in the team who isn't 1000% committed to the common cause and anyone who isn't comfortable with that is very welcome to leave - As long as he can get some other club to pay a satisfactory transfer fee, of course.

Personally, I feel the Blaugrana should work towards selling the 'supposedly' unsettled goalkeeper this summer, in an attempt to cash some money before he leaves for free after his contract expires at the end of the following season.

Considering his experience and position as Spain's number one in the absence of the injured Iker Casillas, offers around the 12 million euro mark should be enough for Victor Valdes to pack his back a year earlier than expected.

Cashing in for the 32 year-old goalkeeper is even more important if we consider the fact that money would be instantly reinvested in securing the services of a young, reliable replacement. Many names have been splashed all over the media but, at this moment in time, Marc-Andre ter Stegen, David De Gea, Vicente Guaita and even Pepe Reina continue to be the hot-favourites to take charge of the Camp Nou goals as soon as Victor Valdes jumps ship.

- Anyone who has watched Barcelona in the last couple of season would have realised that the team is incredibly short of leadership, strength and depth in central defence, especially whenever Carles Puyol or Gerard Pique have been absent.

This point was also clear for the board and directors, who spent most of last summer negotiating for Thiago Silva. Unfortunately, the Blaugrana were priced out and the experienced Brazilian ended up joining forces with Zlatan Ibrahimovic at PSG.

That fact, added to Seydou Keita's decision to join the very rich Dalian Aerbin in China, created an extra gap in central midfield. The best solution at the time seemed to be spending 19 million euros on signing the polyvalent Alex Song but, while the Cameroonian's performances as Sergio Busquets' back-up have been decent since he landed at the Camp Nou, the obvious back-line weakness hasn't been solved yet.

It is rumoured that Mats Hummels, David Luiz or Dejan Lovren are being considered but the level of secrecy around this early shortlisting process is such that it is virtually impossible to predict who the chosen central defender will be.

- The Catalan media has, once again, confirmed that Neymar has decided to join Barcelona once he is ready to leave the Brazilian championship. To be honest though, the fact that the same story has regularly popped up for the last 2 years doesn't make me trust their sources anymore and I am more inclined to take a "Whatever-Will-Be-Will-Be" approach for now.

One thing seems clear though: The hypothetical arrival of the 21 year-old Brazilian would instantly force either David Villa or Alexis Sanchez out of the squad as Barcelona simply wouldn't have 40 million left to spend on Neymar after signing that much-needed goalkeeper and central defender.

Although it hurts my soul to type this, perhaps the best solution for all involved is allowing El Guaje to continue his career at one of the many major clubs who have already shown interest in his services and cash in accordingly.

Honestly speaking and analysing the amount of playing time he has been awarded so far this season, the 31 year-old would probably be better suited at a club where he can be the key attacking man anyway. Unfortunately for him, that is a status that Barcelona won't be able to grant as long as Lionel Messi is here.

The situation of Alexis Sanchez is also complicated. While his overall performances at the Camp Nou have been far from optimum, selling him on the cheap at just 24 years of age after investing a massive 40 million euros on him a mere 18 months ago wouldn't make much financial sense. Plus, I doubt there are any clubs out there who are willing to pay Barcelona a fraction of that fee at this moment in time.

The Chilean has also shown early signs of improvement in recent times and the way in which he opens up spaces, allowing teammates to develop their game and presses the ball whenever he is dispossessed is valued very highly by manager Tito Vilanova. Sure, his finishing has been pretty poor of late but it can only get better with time and confidence.

Whichever way you look at it, these will all definitely be complicated decisions to take. As a born Blaugrana supporter, I sincerely hope that Rosell and Zubizarreta are capable of taking this already powerful squad into an even better position after the summer transfer window.

Have your say

I welcome and appreciate all respectful feedback. Would you like to share any other important points with us?

Never miss an update: Join the 33,000 Cules who already follow at @Barcablog_com and Facebook.