Midseason review: Player ratings (part 1 of 2)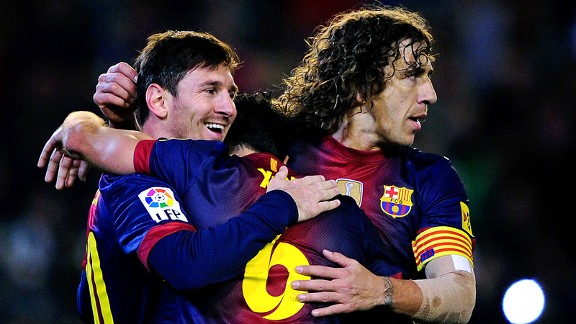 David Ramos/Getty ImagesLionel Messi, left, gets most of the attention at Barcelona, sometimes overshadowing the contributions of players such as Xavi Hernandez (middle) and Carles Puyol
Thank you to all who read and took the opportunity to comment on my previous post, Barcelona midseason review: 10/10. I hope you enjoyed the analysis and opportunity to look back at the positive few months since Tito Vilanova succeeded his friend and mentor Pep Guardiola as manager of the Camp Nou giants.

Looking at your feedback, a need for a more detailed, individualised analysis was identified. Key topics such as Lionel Messi's legendary record-breaking year are constantly splashed all over the world, but what about the progress of those less publicised but still all-important members of the squad?

Well, look no further:

Barcelona 2012/13 Player Ratings Aug.- Dec. (0-10 scale; 10=best)


Victor Valdes (Goalkeeper) 6: Came under severe criticism earlier in the season due to a couple of clumsy mistakes but has managed to turn things around with a string of solid performances in recent times. Unfortunately for him, the new 'we-will-score-more-goals-than-you' approach under Vilanova means that La Pantera is now more exposed than ever, often facing strikers one-on-one. Valdes fact: 24 goals conceded in 22 appearances.

Dani Alves (Defender) 5: Has become, for the first time in his successful career, a player who must fight for a spot in the starting lineup with the much-improved Adriano and upcoming youngster Martin Montoya. At 29, it can be argued Alves should still be near his best, but reality shows a player who seems to have lost his former confidence, focus and desire. Let's hope the Brazilian international puts minor injuries and distractions behind him, as his undeniable skills could prove a valuable bonus which the team could definitely use. Alves fact: 9 La Liga starts, substituted 4 times.

Gerard Pique (D) 8: Has finally reached a point of maturity which has enabled him to take the lead, making him truly indispensable by bringing the defensive stability which Barcelona so desperately needed. Vilanova successfully granted him more freedom within the system, enabling him to join the attack whenever he finds a clear gap and allowing him to play a mixture of calm and direct football even from the back-line. Pique fact: 145 balls recovered in 16 appearances.

Cesc Fabregas (Midfielder) 8: Has definitely benefited from reuniting with his former coach at the Barcelona Cadete youth team once again. Under Vilanova, the former Arsenal captain has evolved into a more direct, anarchic midfielder who has an increased degree of freedom to move into spaces or rotate across the pitch via striking positions. Glad to see him stepping up to the challenge in his second season at the Camp Nou. Fabregas fact: 5 goals, 9 assists in 15 La Liga appearances.

Carles Puyol (D) 6: Will surely go down as one of the greatest legends in Blaugrana history. His immense charisma and leadership skills make him an indispensable member of the squad, an almost paternal figure which upcoming La Masia graduates must look up to. From a sporting point of view though, and despite his obvious commitment, the 34-year-old has struggled when challenged by younger, faster forwards and unfortunately also picked up several injuries along the way. A true warrior nonetheless, Puyol definitely has a key role to play when titles are decided at the end of the season. Puyol fact: 10 matches as a starter (all competitions), substituted 6 times.

Xavi Hernandez (M) 7: Continues to play a key role which ensures the pass-and-move philosophy remains as effective as ever. Now that his former muscle injuries are only a blurred memory, his footballing intelligence and Blaugrana heritage have enabled him to keep the team ticking once again. Always aware of where his teammates are and making everyone better around him, the Catalan Commander is crucial to the team's success this season. Xavi fact: 40 passes creating goalscoring chances inside the area in 23 appearances.

David Villa (Striker) 7: Has actually done tremendously well in the limited playing time Vilanova has granted him. After spending most of 2012 recovering from a career-threatening leg injury, Spain's leading international goalscorer kept churning them out while fighting for full fitness in the early stages of the season. Inexplicably, El Guaje still finds himself watching most matches from the bench, which has obviously sparked interest from major clubs all around Europe. Let's hope common sense prevails and Cules can celebrate many more of his goals in the near future. David Villa facts: 12 La Liga appearances: 6 starts, 6 times substituted, 6 matches as substitute - still 5 league goals.

Andres Iniesta (M) 8: Continues to confuse rival defences week-in-week-out with his limitless creativity, magical touch and speedy attacking combinations. His ability to create chances out of nowhere is slowly but surely getting the deserved recognition in world football, as shown he's been on the Ballon d'Or podium twice in the last three years. I'd love to see him scoring more prolifically but, apart from that, we can confidently say he's having another season to remember. Iniesta fact: 7 assists in 9 La Liga starts, including 6 assists in his last 4 league starts.

Alexis Sanchez (Forward) 4: Struggling to grow as a player in the Camp Nou. After a first season full of injuries and getting to grips with the Blaugrana formation, many expected the Chilean international to take a considerable step forward after the summer break. Unfortunately, it didn't happen. The 37-million euro winger continues to show a relentless desire to press for every loose ball and enabling spaces for his teammates but, ultimately, Cules want such a massive investment returned with creativity and goals, not just defensive stamina. Only a huge improvement in form will justify his place in the squad for next season. Sanchez facts: 1,087 minutes, 22 shots, 1 goal.

Lionel Messi (F) 10: Continued to impress and managed to set the bar even higher than ever before with an extraterrestrial world-record 91 goals for club and country in 2012. There are simply no words to describe what La Pulga contributes to the sport on a weekly basis. I am fairly certain that none of us will ever see anyone surpass this landmark achievement in our lifetime -- unless Messi manages to improve on it again next year, of course. Not only that, his game attracts such defensive attention that he is able to continuously play his teammates into goalscoring positions. Messi facts: 24 appearances (club competitions since August), 33 goals, 36 passes which created goalscoring chances inside the area.

Watch this blog for Part 2 of the season-to-date Barcelona player ratings.

Have your say

I welcome and appreciate all respectful feedback.

Would you like to share any other important points with us?

Never miss an update: Join the 32,000 Cules who already follow at @Barcablog_com and Facebook.