Impressive Barcelona take off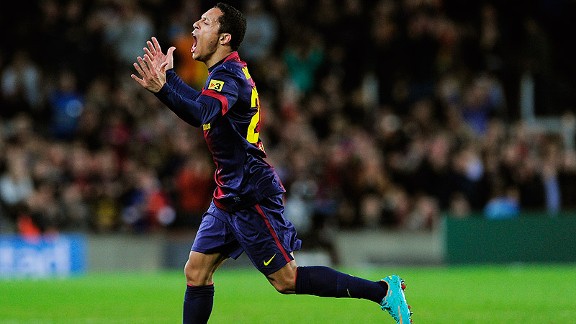 Josep Lago/Getty ImagesAdriano's wicked golazo was just the thing to kickstart Barcelona as they increased their La Liga lead with a win over Atletico Madrid.
Barcelona achieved a prestigious 4-1 victory against Atletico Madrid at the Camp Nou in Matchday 14 of La Liga. Adriano, Sergio Busquets and Lionel Messi (double) scored the goals for the Blaugrana, who enjoyed 74 percent of possession and attempted 11 shots, six of them on target. This result helps Tito Vilanova's side extend the lead at the top of the table to nine points over Atletico and 13 over Real Madrid.

Colchonero coach Diego Simeone came to the Camp Nou with the unsurprising idea of dropping deep, placing two solid lines of four in the width of the edge of the penalty area and allowing his two strikers to wait for eventual counterattacking chances upfront. At that point, Barcelona knew that the only way to win would be to tire Atletico out by constantly asking questions of their defenders while patiently applying the pass-and-move philosophy.

Such is the level of expectation on his shoulders that it can be argued that, despite scoring twice, Lionel Messi had a relatively quiet game by his standards. Fortunately, others such as Adriano, Xavi or Sergio Busquets stepped up and took responsibility at key moments of the game, in what is a clear a sign of a compact team which can overcome difficulties together.

The Camp Nou crowd also raised itself to the big occasion, playing a key part in the final outcome of the match by pushing the team forward with tons of unconditional love. The home supporters made themselves heard on every play, giving players an extra boost. Once again, fans screamed their hearts out when demanding 'Independencia' after 17:14 minutes, with the extra bonus of knowing the message will definitely be received by those who need to hear it in the Spanish capital. Cules also had chants of support for David Villa (We want you, Villa please stay), Adriano, Andres Iniesta and Pedro.

Surprisingly, Tito Vilanova decided to leave David Villa on the bench for the most important match of the Blaugrana season so far, which will surely fuel further speculation about his future. I certainly don't understand what else he needs to do to convince the new manager of his worth. When we compare El Guaje's eight goals so far in just 875 minutes with what Pedro (one goal in 1601 minutes) and Alexis Sanchez (one goal in 932 minutes) are achieving, the situation becomes even more puzzling.

Barcelona showed plenty of courage and desire, managing to come back from the initial Colchonero goal in what can only be interpreted as a decisive step in the right direction towards regaining the La Liga crown. Sure, the advantage over key direct rivals is now significant, but the objective must be beating Valladolid next week. Dreaming of long-term goals will not help anybody at this stage.

Player Ratings(0-10; 10=best)

Victor Valdes (6) -- Generally solid, beaten by a spark of Radamel Falcao magic.

Adriano (9) -- Man Of The Match -- Allowed Barcelona back into the game in a moment of desperate need with a spectacular top-corner strike, his sixth goal of the season. Tremendous display of commitment, strength and tactical awareness.

Carles Puyol (7) -- Let's face it, El Capita has plenty of charisma and demonstrates all the right attitudes at all times, but suffers when defending younger top-quality strikers. Having said that, was rarely beaten thanks to his bravery and great positioning.

Gerard Pique (7) -- Partnered well with Puyol to help keep Falcao relatively quiet despite the obvious goalscoring threat he constantly posed. Calm in possession.

Jordi Alba (7) -- Less attacking than usual, but as defensively committed given the circumstances.

Sergio Busquets (7) -- Unable to track back quickly enough to match Falcao's speed in his first and only goal. Redeemed himself by showing immense composure when controlling a loose ball inside the area, then smashing it with an accurate top-of-the-net finish.

Xavi Hernandez (7) -- Played a key role when building from midfield, always looking for the best option in order to break the Atletico defense.

Andres Iniesta (7) -- Returned to midfield in the absence of Cesc Fabregas. Used his class, mobility and vision to constantly challenge his opponents, taking them out of position.

Lionel Messi (8) -- A quiet start, to the point that he was dispossessed in midfield, allowing the Atletico counter-attack which ended up in the back of the Blaugrana net. La Pulga then came back in full force, scoring his 19th goal in 15 matches against Atletico Madrid with a clinical finish despite being surrounded by up to seven players, then his 20th after cheekily making the most of a rare moment of clumsy Rojiblanco defending. His tally of 90 goals in 2012 speaks for itself.

Alexis Sanchez (5) -- Hardworking but unimpressive overall. Must do more to keep his spot in the starting eleven.

Pedro Rodriguez (6) -- Stretched the pitch, got involved in transition plays but, similarly to Alexis, failed to threaten the Atletico keeper. In desperate need of a goal.

Substitutes: Thiago (7), David Villa (6), Dani Alves (6)

Have your say

What did you think of Barcelona's performance vs. Atletico Madrid?

Who was your Man of the Match? What are your player ratings?

I welcome and appreciate all respectful feedback.

Never miss an update: Join the 32,000 Cules who already follow at @Barcablog_com and Facebook.