Manchester City adopts the Blaugrana model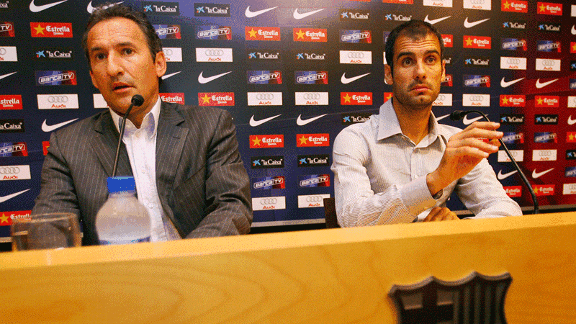 GettyImagesTxiki Begiristain and Pep Guardiola oversaw a period of unparalleled Barcelona success
Recent developments clearly demonstrate that Manchester City are using a huge chunk of their virtually unlimited budget to transfer the Blaugrana philosophy to the Premier League.

Ex-Barcelona financial vice-president Ferran Soriano joined the current English champions in the summer and, since that moment, has taken numerous steps towards implementing many strategies which have made the Catalans successful over the years at his new club.

The former Joan Laporta board member explained: "The focus must be on both academy and first team and the close co-ordination between them. Given the scale and importance of this challenge, we want to commit our very best people to it. The long-term future of the club is dependent upon our ability to recruit and develop young players through to the first-team squad."

The East Manchester Masia

Barcelona have been promoting quality young players into the first team for decades. The Camp Nou giants have developed world-class footballers such as Pep Guardiola, Carles Puyol, Xavi, Andres Iniesta or the already legendary Lionel Messi after they all spent years learning the basics skills and values at the famous La Masia youth academy. The impact of this unlimited source of magic is so obvious that it is only natural that many rival clubs around the world are trying to copy the model.

Fact: Manchester City have planned to invest over 100 million euros over the next two years to build a training complex by the Etihad Stadium which will be monitored by Ferran Soriano and follow the Blaugrana principles.

Txiki Begiristain to lead the sporting project

Txiki Begiristain is the latest addition to the Manchester City project. The man who, together with former president Joan Laporta and Ferran Soriano himself, built one of the most successful teams in Barcelona history explained: "I'm pleased to have such an opportunity. I look forward to building a team and philosophy which will serve City well in the near and long term future."

In his new role as Director of Football at one of the richest clubs in the planet, Cules can expect several key members of the team to be linked with The Citizens over the coming months. If you believe what you read in the press, this process has already began with Sergio Busquets and Cesc Fabregas being the first targets given their current performances and potential for further improvement.

Based on all the facts above, it is no surprise that Pep Guardiola has been strongly linked with the managerial role ahead of next season. The Catalan Master is currently enjoying a sabbatical year in New York away from the media spotlight but, given his immaculate record when coaching Barcelona, it is clear that the most important football teams in the world are constantly begging for his services. Sure, Roberto Mancini is still carrying the job at the best of his ability but, in my mind, I can clearly picture Txiki and Soriano moving all the necessary strings to take Guardiola to East Manchester – whether Pep decides to accept such challenge would be a different matter altogether.

Final Word

From a personal point of view, I see nothing wrong with The Blues' decision to adopt the Barcelona model. To be honest, it is flattering to see how rivals are prepared to invest such large amounts of money in their attempt to copy it. Having said that, I do believe that many years will have to pass before true talent starts to make a remarkable impact within the first team.

I would obviously not be pleased if any of our major players left the Camp Nou for Manchester City but such possibility can simply not be discarded in the future. Considering the obvious hatred between Joan Laporta and Sandro Rosell, I expect many City offers who could potentially destabilise Tito Vilanova's squad. While the La Masia development programme is based around a love for the Blaugrana colours, the professional game is based around money and nothing can be taken for granted. Having said that, I really see no reason why a player who is enjoying regular appearances at Barcelona would wish to move elsewhere at this moment in time.

Another interesting point is that there is just not enough room for every talented player to prove their worth at the Camp Nou. Take our attacking line, for instance. Next summer, Tito Vilanova will have to choose between current players (Lionel Messi, David Villa, Pedro, Alexis Sanchez, Cristian Tello, Isaac Cuenca), players who return from loan (Bojan Krkic, Ibrahim Afellay), promoted players (Gerard Deulofeu, perhaps even Jean Marie Dongou) and the potential new signing of Brazilian star Neymar.

I certainly wouldn't mind a lucrative City offer for any of those who aren't guaranteed a starting place, especially given the current economical climate.

Good luck to Manchester City in their new adventure.

Have your say

I welcome and appreciate all respectful feedback and questions.