Bartra making supposed 'problem' go away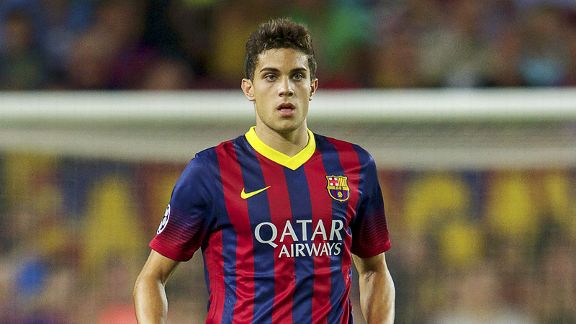 VI Images/Getty ImagesWith Javier Mascherano out injured, Marc Bartra is capitalizing on his chance to be Barcelona's starting center back.
Barcelona have won the Super Cup and seven of seven other matches -- five in La Liga and two in Group H of the Champions League. So why are there so many questions about the Blaugrana's start to the season?

It is already the best start in the club's history, and now Barca go into Saturday night's home game with Valladolid with options in attack and defence. But with newspapers and Internet space to fill on a daily basis and every angle to inspect, questions are still being asked at the club.

-Neymar updates:
Happy with rotation | No 'replacing' Messi
-Bartra keen on extended run

After such a scintillating start, you would think any club would be in a state of bliss. But this is Barca, the self-proclaimed "mes que un club."

The season began in gloom for many Cules due to the lack of cover brought in to the centre of defence before the summer transfer window closed, an area many thought the side needed to be strengthened the most.

Many names were mentioned before the season kicked off, with Paris Saint-Germain's Thiago Silva apparently the man wanted most by then-coach Tito Vilanova. The names of Daniel Agger and David Luiz were also offered, but when the window closed, the lack of action on Barca's behalf was criticised.

Now, after two clean sheets in a week against Almeria and Celtic -- in some part due to competent performances from Marc Bartra -- some are claiming the centre-half position has been resolved, while others continue to doubt.

Bartra was called for when Javier Mascherano collided with Sergio Busquets in the 34th minute against Real Sociedad, with the score already 3-0 in Barca's favour. Since then, Bartra has not put a foot wrong in 236 minutes.

Born in the Catalan province of Tarragona, Bartra -- like many others at Barcelona -- learned all his football in La Masia after arriving at the club as an 11-year-old. Against Sociedad, he grabbed his side's fourth before putting in two good shifts in four days in Almeria and Glasgow.

Now in his fifth season as a member of the first-team squad and with a contract running out at the end of the season, it is make-or-break time for Bartra, who turns 23 in January.

Tall and elegant, his defensive play at times is reminiscent of Gerard Pique's, and he may be the option that allows Pique a rest in the coming games if manager Tata Martino decides to continue his rotation policy with his defence, especially when Mascherano and Carles Puyol return to full fitness.

It is too early to say if Bartra will save the club the cost of a top-class centre-half in January, but another clean sheet against Valladolid will go some way to helping his cause.

Meanwhile, farther up the field, Martino has to decide whether Neymar has more to offer than a role stuck out on the left.

The Brazilian has been slowly eased into the side, and nobody can complain about his performances in a role on the periphery of Barca's play. With Lionel Messi missing against Celtic on Wednesday, Neymar had arguably his best game yet in a Barca shirt, showing his willingness to take on defenders at every opportunity.

The culmination of his performance was the pass from the centre of the pitch out to Alexis Sanchez on the right, who crossed for "false" No. 9 Cesc Fabregas to head home the winner.

With Valladolid in town, it may be the perfect time for Neymar to get some extra protagonismo and a more central role closer to the area. It could be the stage for Martino to test the water, move Fabregas to his favoured more central position, and allow Neymar to be the farthest forward.

The Brazilian is enjoying the start to his Barca career and told Catalan station TV3 so after the Celtic game.

"The most important thing is the union within the squad; this makes us stronger and helps us win games," he said. "Rotating the squad is a good system so everyone can rest and not pick up injuries; we can do this because we have so many good players."

Neymar's approval of Martino's methods may be the sign that his settling-in period is over and that the time has come to expect a bit more. If that is case, it will be interesting to see how Valladolid cope in the late Saturday game at the Camp Nou -- while, of course, keeping one eye at the back on Bartra's performance.