Fernando Llorente -- an ideal Plan B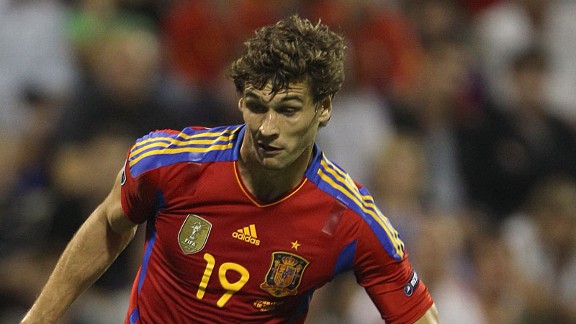 PA PhotosBarcelona should be aware if Fernando Llorente becomes unsettled at Juventus.
Fernando Llorente clearly exemplifies a style of football which Barcelona have largely rejected for many years -- a more direct approach based on beating rival defenders in the air by alternating quick combinations in midfield, wide openings and accurate high crosses into the box.

Juventus seemed to strike jackpot by securing the services of the Spain international after a difficult season at Athletic Bilbao, where he was punished by warming the bench up for a whole season after refusing to sign a new contract with his home club -- which is definitely another way in which the current Victor Valdes situation could have been handled, by the way.

Despite the Italian champions signing one of the most effective reference strikers in recent La Liga history (with an impressive 94 goals in the past five seasons), the 28-year-old hasn't enjoyed much playing time since his arrival in the Serie A. Instead, Llorente has been forced to wait for his chance on the bench while watching Carlos Tevez and Mirko Vucinic taking his spot in the starting 11.

Considering the fact that Barcelona directors were reportedly looking for a taller attacking alternative during this summer's transfer window, I sincerely hope that under-pressure Andoni Zubizarreta is monitoring the latest developments at the Vecchia Signora -- while he continues to simultaneously search for that essential centre-back, of course.

Jesus Llorente, the player's brother and agent, recently explained when questioned about the Lion King's future: "The situations in football can change from one day to the next, so we are quite calm. We are aware that anything could happen." A highly enigmatic message from the entourage of a player who has already been linked with Barcelona, Real Madrid, Arsenal and Chelsea despite having virtually just joined his current club.

Regular readers of this column may remember that I already highlighted the signing of Llorente as a priority back in September 2012, arguing that the powerful striker could free some goal-scoring pressure off Lionel Messi and offer a valuable alternative up front.

A whole year on, the argument remains the same and, regrettably, no Plan B has been found yet. The inclusion of Neymar and improvement of Cesc Fabregas' game has made Barcelona a more direct, less speculative team under Gerardo Martino.

Following the natural steps forward in that direction, the team would surely benefit from adding a powerful attacker who could win the ball in the air, then assist Messi, Neymar or any of the much speedier forwards within the team's final attacking third in order to find the opponent's net.

The inclusion of a taller forward would certainly attract a couple of defenders in longer attacking transitions and add a much-needed boost during set plays (not only in offence, but also defensively whenever needed). Looking back at recent Barcelona performances, it is clear that protecting the goal from corners is shamefully difficult at the moment and reinforcements are essential.

Juventus signed Llorente on a free transfer while Barcelona, following Tito Vilanova's instructions, ignored the whole situation in what can only be interpreted as one of the more painfully obvious missed opportunities in recent years.

If the Spaniard continues to waste his talent by warming the bench in Italy, Barcelona directors have the obligation to monitor the situation closely and be the first to react if the player begins to consider a move elsewhere.

Giuseppe Marotta, sporting director at the Nerobiancos, dismissed speculation about the Spaniard's future: "We believe in Llorente and we have no intention of selling him." Clear words in front of the media, but reality on the pitch tells a different story.

Personally, I believe a player of his calibre will surely struggle to accept his current situation as a luxury benchwarmer and study his options to succeed away from his current employers -- the fact that he hasn't started a single game and has played only one minute of football so far is outrageous, if you ask me.

Barcelona, under Martino, seem to be moving away from the never-ending passing transitions into a more direct formation where long balls are understood as a valid alternative if needed -- a scenario that would definitely favour a reference striker such as Llorente whenever rivals decide to park the bus and place 10 players behind the ball.

Time to get to work, justify your salaries and improve the squad, Rosell and Zubi!

Have your say

I welcome and appreciate all respectful feedback.

Follow Francesc Tomas at @TomasESPN and Barcablog Facebook for more news and opinion notes on Barcelona; 36,000 Cules have already joined.