Barca player ratings 2012-13 -- Part 1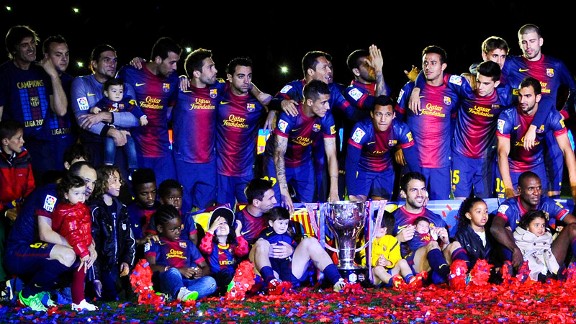 David Ramos/Getty ImagesBarcelona's insatiable appetite for silverware means supporters can expect cast changes - and possible profitable sales in the transfer market.
As promised in my end of season review, here are my Blaugrana player ratings for the 2012-13 La Liga championship season.

Victor Valdes, goalkeeper: 6 -- Performed to a decent standard all season but was clearly affected by Barcelona's defensive weakness, being faced by rival forwards on a one-on-one basis far too often. His irresponsible move to announce his irrevocable decision of leaving the Camp Nou a massive 18 months before his contract expires brought unnecessary drama upon the team during Tito Vilanova's absence.

Valdes fact: 50 goals conceded in 42 appearances. Keep, loan, sell or release? If a 10-million-euros offer comes, sell; keep otherwise. Regardless of whether he stays or not, Barcelona need to sign a reliable, younger goalkeeper who can fill the gap as soon as the Catalan decides to leave.

Dani Alves, defender: 5 -- Forced to work extra hard to keep youngster Martin Montoya and Adriano out of the Catalans' lineup. Seemed to re-establish himself as a more regular starter as the season developed, but his defensive intensity obviously dropped when compared to his former self in previous seasons. Let's hope his future role as Neymar's spiritual ambassador within the Blaugrana dressing room helps him re-focus.

Alves fact: 46 appearances, his lowest since the 2004-05 season with Sevilla. Keep, loan, sell or release? Keep, but improvement is needed.

Gerard Pique, defender: 6 -- His lack of consistency has affected the assertiveness of his game, making him look exposed and vulnerable especially when faced with world-class opponents in major games. Having said that, and despite not always being able to bring stability to the Barcelona back-line, the truth is that the 26-year-old Catalan has been forced into an unusually high number of different centre-back partnerships this season.

Pique fact: 399 balls recovered in 42 appearances. Keep, loan, sell or release? Keep, as he needs to become the team's natural defensive leader next season.

Cesc Fabregas, midfielder: 6 -- After a confident start under his former coach at the Barcelona Cadete youth team, the former Arsenal captain seemed to lose his way when the crucial stages of the season came. His ability to play in different positions within the Blaugrana formation, while positive on paper, hasn't always played to his advantage. Two years after his return from London, Cules still don't know where he truly fits within the system.

Fabregas fact: 14 goals and 12 assists in 48 appearances. Keep, loan, sell or release? Keep, but his performances next season must prove why Barcelona invested so much time and money to secure his return to the Camp Nou.

Carles Puyol, defender: 5 -- Let's face it: The continuous string of injuries and ongoing difficulties to fully recover fitness have caused the courageous 35-year-old to struggle when challenged by younger, faster forwards. The Blaugrana back line has certainly missed his ability to lead by example and motivating those around him with explosive bursts of energetic tackling and impeccable positioning.

Puyol fact: 22 matches played, the lowest since his professional debut back in 1999. Keep, loan, sell or release? Keep, as long as he feels retirement is inevitable: His leadership is not only important on the pitch, but also within the dressing room in order to develop younger players.

Xavi Hernandez, midfielder: 7 -- Played a major role in ensuring the application of the traditional Barcelona philosophy continued under Tito Vilanova. Having said that, I would have liked to see his game become more varied, direct and incisive whenever faced with major rivals. Still, a class act that many teams around the world can only dream of counting as one of their own.

Xavi fact: 73 passes into the area in 46 matches; six goals scored this season, less than half of his 2011-12 tally (14). Keep, loan, sell or release? Keep, without a doubt.

David Villa, striker: 6 After spending most of 2012 recovering from a career-threatening injury, El Guaje was able to find the net regularly while still fighting to regain full fitness in the early stages of the season. While it's obvious that his goal-scoring gift will never go away, his ability to break rival defences decreased as the season went by.

David Villa facts: 16 goals in 43 appearances; 17 matches as a substitute. Keep, loan, sell or release? Sell to the highest bidder as, unfortunately, I feel it is time for the 31-year-old Spanish international to move on. I would welcome offers above 12 million euros.

Andres Iniesta, midfielder: 8 -- Magical. His limitless creativity, mesmerising vision and ability to continuously confuse his markers played a major part in Barcelona's ability to win the La Liga title once again. It would be great to see Don Andres converting a higher percentage of shots but, apart from that, he had yet another outstanding season, establishing himself as a quiet, humble leader on and off the pitch.

Iniesta facts: 18 assists in 46 appearances; six goals on 67 shots. Keep, loan, sell or release? Keep, as he is irreplaceable at this moment.

Alexis Sanchez, forward: 5 -- After an injury-plagued first year and a disastrous start to his second at the Camp Nou, the Chilean forward seemed to start looking slightly more like his former self at Udinese in the last couple of months. His commitment and stamina are unquestionable, but the Barcelona faithful are right to expect many more goals after investing a tremendous 37 million euros a couple of summers ago.

Sanchez facts: 11 goals and 13 assists in 44 matches. Keep, loan, sell or release? Considering the adverse effect that keeping him could have in the progression of Cristian Tello and the arrival of Neymar, I would accept 25 million euros for Alexis. If Barcelona received no satisfactory offers, I would keep him but demand a massive improvement of his performance.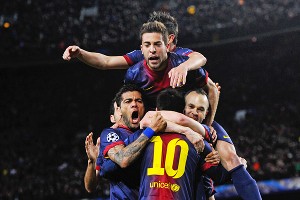 David Ramos/Getty ImagesLionel Messi (10) carried Barcelona this season in more ways than one.
Lionel Messi, forward: 10 -- As I explained in more detail in my previous post, the quadruple Ballon d'Or winner was the best player of the season for Barcelona. The Argentine maestro became so crucial in terms of creating plays, opening spaces and finishing the whole team frustratingly under-performed whenever he was unavailable or below his remarkably high standards. Having said that, it is mostly up to Vilanova, not just Leo himself, to ensure Barcelona find a way to reduce such degree of Messidependence. Looking forward to another impressive 12 months from the best footballer on the planet!

Messi facts: 60 goals in 50 appearances; found the net in a record 21 consecutive La Liga games; made 74 passes creating goalscoring chances inside the area. Keep, loan, sell or release? The most obvious answer ever ... Keep forever and ever!

Stay tuned for Part 2 of my Barcelona player ratings, coming very soon.

PS: Stats and facts collected from ESPNFC and the official FC Barcelona website.

Have your say

I welcome and appreciate all respectful feedback.

For more news and opinion notes on Barcelona, follow Francesc Tomas at @BarcablogESPN and Facebook; 33,500 Cules have already joined.