Neymar offer accepted as Catalan derby looms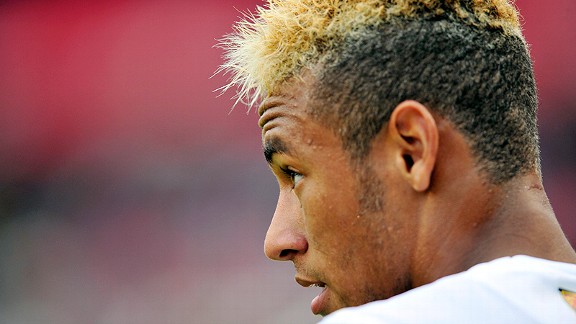 The Catalan media are reporting that Barcelona and Santos have finally reached agreement on a fee for the transfer of Neymar to the Camp Nou next season.

But the Brazilian club have also accepted a desperate last-minute bid from Real Madrid to hijack the transfer - so now it is entirely up to the player to decide his future.

As happens whenever news of this sort hits the front pages, information is confusing at this stage - it varies according to where it is published. Generally speaking, it is believed the transfer fee would be €25 million, a couple of friendlies and a €7 million-a-year wage, and Los Blancos reportedly have offered €35 million to the club and an €11 million yearly wage to the player.

After seemingly endless negotiations, Neymar said: "This is the happiest day of my life. I am full of pride, and will make a decision together with my family. I am not in a rush, so I may need five minutes, half an hour or three days to decide."

Personally, I don't blame Santos for accepting both offers - ultimately, they are losing one of their greatest assets. It is only natural that they should try to make the highest possible profit out of what is an adverse situation from a sporting point of view.

Fans would obviously be disappointed to lose their most effective footballer of recent years, so the higher the compensation, the easier it would be for them to accept the transfer a year before his current contract expires.

But despite both offers being accepted, everyone expects Neymar to keep his word and join forces with Lionel Messi, Andres Iniesta, Xavi Hernandez and the rest of the Blaugrana stars at the Camp Nou. The prospect of adding another reliable attacking threat would bring a new dimension to the team, giving coach Tito Vilanova a chance to evolve his current system.

A word of caution, though: Although 21-year-old Neymar has scored 122 goals in his last 171 matches for Santos, and 19 in 31 matches for Brazil, he is likely to need a fair amount of time to adapt not only to the different demands of European football but also to the complex formation mechanisms at Barcelona.

Sure, great players eventually should be able to work together to enhance each other's games, but such a process can take variable time according to the skills and willingness of the different individuals.

Inevitably, Cules would start comparing Neymar to other legendary Brazilians such as Ronaldinho, Romario or Rivaldo from the moment he signed a Barca contract – but I feel their situations were completely different because they had all been successful in Europe before arriving at the Camp Nou.

Patience would be a necessary virtue because insanely high expectations wouldn't help anybody. If, as predicted, El Mohicano ends up joining the Catalan giants, his main priority should be adapting to the team rather than trying to change already-successful routines in order to become the main attacking reference.

At Barcelona, most of the attacking play runs through a certain Lionel Messi. The need for an alternative up front has become increasingly obvious, and I couldn't be happier that the board seems prepared to invest heavily to fix the problem.

Unsurprisingly, some haters have already tried to argue that Messi isn't prepared to give up his goalscoring records to accommodate any newcomers, as though he has become some sort of mini-dictator in recent times. Those same 'experts' have also tried to tell the public that Neymar won't stand playing second fiddle to anybody.

Rubbish. Speaking to the media after losing the Club World Cup 4-0 to Barcelona, Neymar said: "Messi is the best player in the world. He is just incomparable, nobody can match him."

And the four-time Ballon d'Or winner returned the compliment recently, saying: "Neymar is an incredible player, full of dynamism and capable of unbalancing games. His arrival at Barcelona would be very important for us."

I'm looking forward to welcoming Neymar to the Camp Nou and witnessing the team improve as a result of his arrival.

A difficult trip to Cornella

With the media attention firmly focused on the transfer market, it is hard to believe the Liga campaign isn't over yet.

Luckily, Barcelona have already been crowned champions, making forthcoming matches nothing more than glorified friendlies as far as Tito Vilanova's team are concerned.

Having said that, the prospect of facing Espanyol at their Cornella-El Prat stadium doesn't strike me as a placid day out. The fact that the hosts will have to stage a guard of honour when the champions walk out will make their stomachs turn, firing them up even further for the latest chapter of the ongoing Battle of Catalunya.

Vilanova will have his own ideas, but I would field a starting XI with Victor Valdes in goal; Martin Montoya, Gerard Pique, Marc Bartra and Jordi Alba as the back four; Alex Song, Thiago and Cesc Fabregas in midfield; Alexis Sanchez, Cristian Tello and Barcelona B leading goalscorer Gerard Deulofeu up front.

Have your say

I welcome and appreciate all respectful feedback.

For more news and opinion notes on Barcelona, follow Francesc Tomas at @BarcablogESPN and Facebook; 33,000 Cules have already joined.