Why Christian Benteke deserves to be Young Player of the Year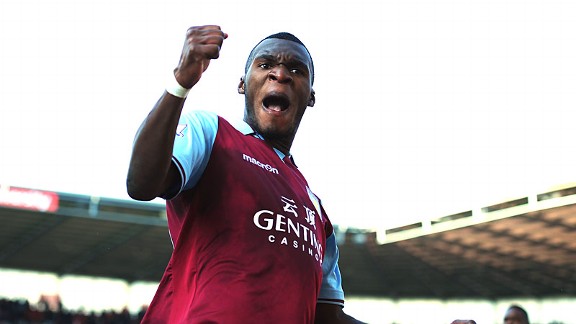 Chris Brunskill/Getty ImagesChristian Benteke's consistently strong season makes him a good candidate to take home the Young Player of the Year award.
The shortlist of nominations for the PFA Young Player of the Year has been revealed, and there can be no worthier candidate on the list than Christian Benteke.

Discarding all club bias and looking at this objectively and neutrally, the Villa striker surely deserves official recognition for what has been an outstanding debut season in the Premier League.

- Lambert wants Benteke focused

Nine, ten months ago, Benteke was relatively unknown outside of Belgium, if not to European scouts than at least to your average English football fan. Deploying the benefit of hindsight, as the season has developed and Benteke's talent become increasingly evident, at least one Premier League manager has declared that the striker had previously been on their 'radar'. Back in the summer, however, the £7m Paul Lambert spent to bring him to Aston Villa -- a significantly large percentage of the total transfer 'kitty' the manager had to play with -- represented a sizeable risk.

Benteke has repaid that and more. To watch him blossom has been little short of astonishing. Scant time wasted in settling in and absorbing new surroundings, the Belgian has instead confirmed himself as a rising talent with a haste bordering on the indecent, forging his way towards the top end of the goal-scoring charts.

His goal return so far this calendar year is impressive: 11 in all competitions, ten in 13 Premier League games. It's a prolific run which has left more illustrious striking names trailing in his wake. And these have been goals scored, lest we forget, for a team which has spent much of 2013 in the bottom three of the league -- a club fighting relegation. He's taken that pressure and run with it. He has 15 Premier League goals and 19 in all competitions.

That's not to say Benteke will claim the award unopposed, for the shortlist has some top-class names:

Gareth Bale, Tottenham
Romelu Lukaku, West Bromwich Albion
Danny Welbeck, Manchester United
Eden Hazard, Chelsea
Jack Wilshere, Arsenal

Even so, Benteke still stands out a mile, for me, for the sheer impact he has made. There's no denying Bale's brilliance throughout the season but I no longer think of him as a young player. He qualifies for this category still, but he's an established success at this level, he's delivering to a standard we've seen before and he's 24 in July. Bale should be a genuine contender for Player of the Year (for which he has also been nominated). Winning the junior version may feel like a consolation prize.

As for Wilshere, he's the best English midfielder in the Premier League, or could be, if his body can refrain from betraying him for a couple of years. He's a gifted playmaker and it's been exciting to see him back on the field, but he's shown flashes of genius this season rather than sustained form. Can a player who's made 20 league appearances lay claim to being Young Player of the Year?

Eden Hazard's on the list. He's done well in his debut season, like Benteke, but again, seems to have dipped in and out in games instead of really stamping his authority for Chelsea. He'll only get better. I don't think he's grabbed his chance and announced himself as dramatically as Benteke.

Another Belgian (that's three out of six) is Romelu Lukaku. Actually, he's not too far behind Benteke in the scoring stakes, 13 goals, and with fewer starts, too. He has a decent shout as a young striker, playing his first full season in the PL. He hasn't tended to grab the headlines as much as Benteke though, and he's been rotated by his coach, Steve Clarke. He hasn't, like Benteke, almost carried a team on his shoulders. Albion have had a pleasant, mid-table campaign, and Lukaku's goals have not been perceived as being as crucially important.

So to the final name on the list: Danny Welbeck. Something of a mystery, this. He's hardly played a key role in Manchester United's surge to the league title, scoring just a single Premier League goal, and that way back in October 2012 against Stoke.

But Welbeck is among the list, so he has a chance. Remember that professionals are polled for their votes, so the outcome is down to the players, not a panel of journalists, coaches and members of the football industry. That means Benteke may be denied his moment -- after all, the players' choice is not always seen as being 'right' and their collective judgments often divide opinion. How else to explain the absence, from the Player of the Year nominations, of Swansea's Michu and Everton's Marouane Fellaini?

The winners are announced on Sunday, April 28, the day before Villa's relegation clash against Sunderland.