Aston Villa sleepwalking out of the Premier League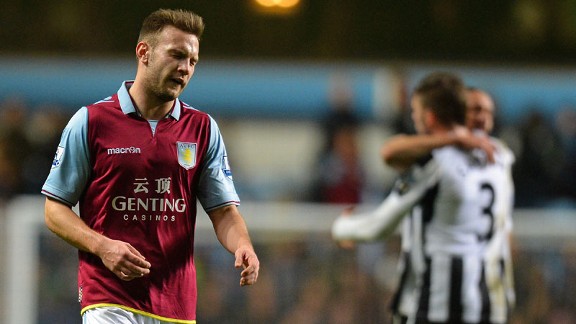 GettyImagesAndreas Weimann shows his frustration at the final whistle as Newcastle celebrate
It was the night the boos rang out around Villa Park, a night in which the bleakness of Villa's situation was highlighted in large, bold, capital letters. CRISIS. Defeat to Newcastle, together with a point for Wigan at Stoke, means Villa are in the bottom three; this team is going down unless the next three months bring significant improvement.

Another massive evening for Villa, and the team fluffed its lines. Ahead of Tuesday night's match against Newcastle, manager Paul Lambert had called for his players to bleed for the cause; in the first half, those players barely got their knees dirty. It was all but over inside 30 minutes as Newcastle - who had not won an away game all season, in any competition, cruised to a 2-0 lead.

What a difference between the two sides in that opening half, difficult to believe a mere point separated them in the Premier League table prior to kick-off. Of course, the clue to the gulf in performance levels lay not with points on paper, but the fortunes of Villa and Newcastle since the last round of league fixtures. Lambert's team had suffered debilitating cup defeats to lower league teams, while Newcastle, free of such stress, enjoyed success in the transfer market, adding quality (and cut-price quality) to their squad.

Three of those new signings started for Newcastle, giving the team added zip and desire. Villa fans can only dream of recruiting the likes of Mathieu Debuchy, Moussa Sissoko and Yoan Goufran, a trio of France internationals. In fact, Lambert admitted a few days ago that he had considered a move for Sissoko, but Villa couldn't finance a deal. For a player who reportedly cost just £3 million, and straight from the French Ligue 1, that speaks volumes for the current regime at AVFC.

Villa had no-one new and fresh to call on. Lambert's biggest dilemma was who to replace the injured Fabian Delph (Bannan), whether to go with Bent or Weimann alongside Christian Benteke in the forward line (Bent), and which formation to use. Somewhat surprisingly, he reverted to a back three. And Villa looked, again, like they were a team who didn't quite know what they were supposed to be doing.

Cisse and Cabaye put the visitors two goals ahead. The boos rang out at half-time, and the chorus was no less than Villa deserved. At least there was definitive action by the manager during the break, with Bent and left-back Joe Bennett withdrawn, and the team reverting to a flat back four. Weimann and Agbonlahor came on, and Villa did respond. A Benteke penalty on 49 minutes pulled Villa right back into the game, but there was too much to do. N'Zogbia threatened a couple of times - half the crowd celebrating when a shot hit the side netting - and Nathan Baker had a header cleared off the line with ten minutes to go, but Newcastle saw the game out reasonably comfortably.

It was a 90-minute lesson for Lambert, and his bosses, the Villa owner Randy Lerner and club chief executive Paul Faulkner. The question of whether there is money to spend during this transfer window has never been answered satisfactorily. Lambert has skirted around the issue at every interview during the last month, while a statement attributed to Lerner this week, which more or less only just paid lip service to the repeated pleas from fans to hear from him, was hardly encouraging. The days during January have ticked by ever so slowly, meanwhile, and the club's failure to finalise any signings has arguably already cost a Wembley appearance and a handful of league points.

Newcastle, on the other hand, have just got on with the business of strengthening their squad: on Tuesday night they will be looking up the league table and plotting a charge towards the top half. Villa, however, are staring into the abyss. Two days to go until the window closes. Do something now, Villa, please.