How will Lambert spend Lerner's money?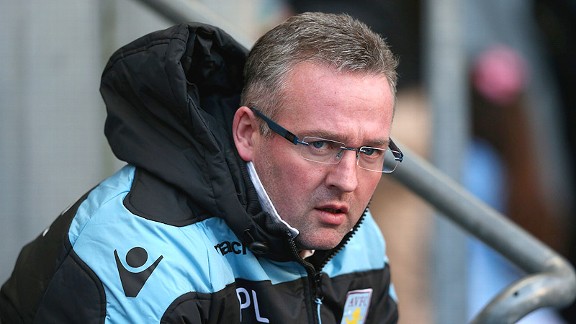 Alex Livesey/Getty ImagesVilla manager Paul Lambert, above, will need to use Randy Lerner's resources wisely during the transfer window
Exciting news breaking from Villa this week - Paul Lambert has met with owner Randy Lerner, and money will be made available for January transfer window spending!

Headline-making stuff. I'm of the opinion funding was budgeted for the second half of the season, and I don't think I'd be too wide of the mark in thinking a meeting was scheduled weeks if not months ago, regardless of team performance.

It defies any kind of business logic to suggest the overseas-based owner of a football club would not want a catch-up with the coach while visiting his club. I'd guess they have at least a couple of in-person discussions planned during the campaign, but I also know that such routine doesn't lend itself to sensational copy, so we can always go with the tabloid take:

Villa owner Lerner jets in from USA for crisis transfer talks with under-pressure coach Lambert!

Far more dramatic. What the news does provide, however, is fuel for fans to speculate on potential new signings, and provide hope reinforcements may well be on their way to prop up a Villa squad struggling to hold its own in the Premier League. What will be fascinating to see is how Lambert chooses to spend whatever funding is given to him. Will he pull in one or two established talents, or continue with his strategy of targeting young and hungry players?

Villa's past two managers have gone for experience in the last two January transfer windows. Darren Bent was a big signing in January 2011, but £18m was money well spent as his goals effectively saved Gerard Houllier's team from relegation, delivering priceless winning strikes against the likes of Manchester City and Arsenal.

Last January, Alex McLeish had precious few options, but brought in Robbie Keane on a short-term loan from LA Galaxy. Keane only played a handful of games, but the two goals he scored at Wolves, turning a 2-1 deficit into a 3-2 away win, were top-class efforts and clinched what turned out to be three very welcome points. Without those, Villa could be a Championship club now.

Keane's name has again been mentioned in speculation - MLS players with a PL past are always a possibility for month-long loans - but whether Lambert will move for him, or any player, the 'wrong' side of 30 years old is in doubt. The Villa manager, as always, was cagey was quizzed about it this week.

"Would I sign experienced players? It's not something I'll turn away from," he said. "If they have got the right attitude to go and do it, and they fit into the group, then I'd look at that. This club is too big to be about one individual or a few individuals. It's about the team."

Interpret that however you want - I'd say it's a question of attitude as much as experience. Big players? Possibly? Big shots? No way.

Lambert has been circumspect in his spending so far - a touch over £20m on seven players in the summer, rather than a couple of hefty packages on two marquee names, which he could have gone for. The post-Christmas period will be revealing, but a pointer could the first rumour to break - Villa have been linked with a £1.5m move for Hull City defender James Chester.

Chester is 23 and playing Championship football - despite starting at Manchester United, he never made a senior appearance for the club. He'd tick most of the boxes that comprise a 'typical' Lambert signing, but doesn't strike me as the kind of player to instantly give Villa a short-term lift.

Will the Villa manager stick with his longer-term transfer policy, or go for someone of proven quality? We'll find out in a few weeks' time.