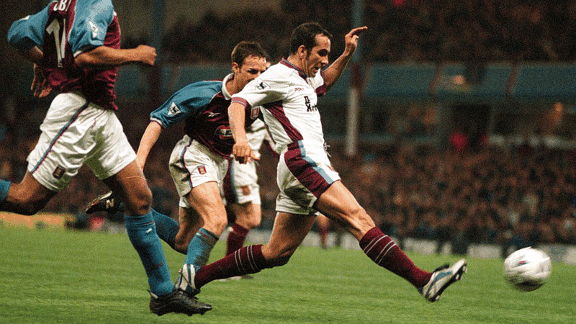 PA PhotosSince becoming a manager with Swindon, Paolo Di Canio has retained the charisma that characterised his playing career
A team in form, a partisan home crowd, an opposition manager who does 'up for it' like no other, and the media sniffing for blood. Welcome to the next round of the Captital One Cup, Villa, and the skiddiest of banana skins that is a trip to Swindon Town. The next 90 minutes could be most unpleasant; at the very least, they'll certainly be eventful.

What do I know of Swindon? Hand on heart, not a great deal. I know they have former Villa striker James Collins in their squad, one of those promising young players who didn't quite get the run of the ball and the breaks to get into the senior set-up. I saw Collins a few times in pre-season friendlies, a bustling, physical type of centre-forward who couldn't, and was perhaps never likely to, dislodge the likes of John Carew and Emile Heskey and force his way into the first team. Nevertheless, I can see why he'd be an asset in League One.

Anything else I know about Swindon is dwarfed by their manager. Paolo Di Canio. Everyone knows Di Canio. As is the way of things when a high-profile player turns coach, and takes charge of a club in the Football League, the focus is on that man. Before Di Canio, there was Swindon Town - the days of Glenn Hoddle guiding them into the Premier League are still vivid enough - and when, one day, Di Canio moves on, there will still be a Swindon Town. But for now, it's fair to say Di Canio rather dominates the Swindon story.

His transference from player to coach has been fascinating to watch. If you know anything of Di Canio the player, you'll know the extravagant brilliance of his football, and the utter eccentricity, on occasions, of his behaviour. He could be a world-class performer and an absolute firecracker, simmering and waiting to explode; there was never a dull moment watching the Italian in action.

Di Canio is now 44 years old, still young in managerial terms, but you might think coaching has tamed him. Not exactly. His character traits don't seem to have changed a great deal. The fire is still there, the idiosyncrasies, the hot-headed, impulsive reactions. Last season, he famously clashed with his own striker, Leon Clarke, during a League Cup tie against Southampton. This season, he labelled goalkeeper Wes Foderingham the worst professional ever (the pair have since reconciled and Foderingham is back in the team). Against Coventry, earlier this season, Di Canio went on a furious, air-kicking routine on the touchline.

And his discussions with the media have been hilarious. He's talked about coaching England one day. He's remarked that he's "not God, but a very good manager". He's pondered beating Villa, and decided that it would be "better than having sex with Madonna". Being a journalist and covering Swindon's matches must be some experience - comedy gold coming from the manager's mouth every week.

All of this is good fun for the neutral to observe, but it masks what Di Canio the coach is actually achieving with his Swindon team. Which is impressive. Saturday's 4-0 win at Stevenage was pretty spectacular, especially when you consider that Di Canio had taken the bold step of resting a few regulars in preparation for the Villa match. That victory put Swindon in 7th position, just below the play-off positions. It was their seventh win from 15 league games.

Their performances in the League Cup have been equally strong and should serve sufficient warning to anyone connected with Villa who might underestimate the League One side. Swindon sent Premier League Stoke out, before beating Championship club Burnley. Decent scalps. Villa have no right to expect a straightforward encounter at the County Ground.