A Derby win to match history -- from JFK to present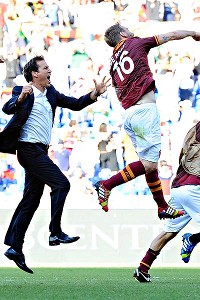 Giuseppe Bellini/Getty ImagesRoma's Daniele De Rossi, right, celebrates the derby victory over Lazio, getting a little more air than manager Rudi Garcia.
Not since the Claudio Ranieri Scudetto push of 2009-10 have Roma been in first place after a matchday. Not since the 1960-61 season have the side taken maximum points from the first four games of the season. Not since March 2011 had Roma beaten Lazio in a derby.

The team couldn't have celebrated Francesco Totti's contract extension in any better way Sunday in a 2-0 victory.

Rudi Garcia is doing something right. For the flaws that this Roma side still have -- and not having scored in a first half may be the most glaring -- there's so much more they're doing right. They look compact, able to attack and push forward without leaving the defense entirely exposed. They maintain calm and confidence throughout a match. The blackouts, at least for the time being, at least so far this season, are gone.

After four games there's not quite much to draw about the season as a whole. Garcia maintains the objective is to finish in the top five: the only way to do that is by taking it one game at a time. Roma have not quite defeated the four best teams in Italy this season* (see below), but European places can be clinched without doing so. Instead, they've defeated teams they should* and come away from their first true test of the season, the Derby, in the best way possible.

The game was as expected: tight, edgy, tense. It's only fitting that the deadlock was finally broken from a moment of brilliance from Totti, whose creative fountain never seems to run dry, and finished off by Federico Balzaretti. The former Italian international, so often scapegoated last season, was never more vilified in a Roma shirt than for his performance in the 1-0 loss to Lazio in the Coppa finale last spring.

With his goal Sunday, Totti worked toward banishing those demons; his tears, a sign of relief; his performance, a sign of progress.

Garcia is fortunate enough to have two wide forward players to alternate in Adem Ljajic and Alessandro Florenzi. Each is different enough where a certain style should fit different types of opponents better, and it's the former's dribbling skills which helped open up the match once his subsititution occurred. On the other flank, Gervinho continues to do everything well except scor; wehether that will come in due time as he adjusts to Serie A or is merely a parcel of his game as it was at Arsenal remains to be seen.

But Garcia has already shown a penchant for revivals. Balzaretti and Douglas Maicon seems like a dubious and old pairing to have at the back, but one goal conceded in four matches underlines how well they've contributed to the attack without exposing Medhi Benatia and Leandro Castan. The latter especially has been in fantastic physical shape, hunting down loose balls in the Lazio box with less than 10 minutes to go.

There are still plenty of questions to answer and plenty of issues to address. Winning four in a row is nothing but celebratory-worthy, but the party should be kept in check; four out of 38 is simply too small. A loss will inevitably come as it does for every club; as was the case with Aurelio Andreazzoli, the true mark of a tactician will be how he gets his side to respond after defeat.

Garcia can't answer that yet because he's done nothing but a fantastic job. When the question arises, he'll have to address it. For now? The table and results might be premature but what's football without hope?

*--The teams Roma have defeated may not be as bad as they seem: Livorno have won twice and drawn once since the opening-round loss to Roma and sit above Lazio, Milan and Udinese so far, Hellas have beaten Milan, scored against Juventus and defeated Sassuolo, lying mid-table after a very difficult opening to life in Serie A. Parma may be winless but Lazio are juggling two competitions this season and the Derby often favors the side that enters it in worse form. Merely food for thought.