Winning, but only just: The Torino review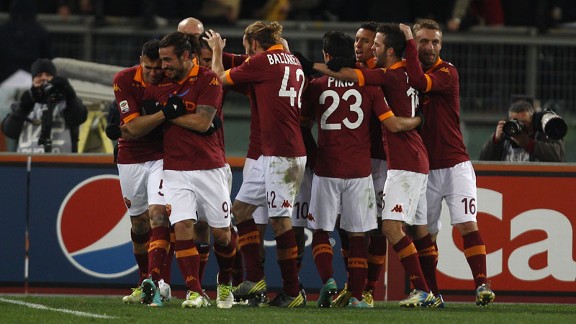 GettyImagesSuccess in the Coppa Italia could go a long way to relieving Roma of their disappointment in the league
Roma won today!

Part of me wants to leave the post at just that one sentence because it reinforces everyday, normal thoughts like "Winning is good!" or "three points are vital at this time of the season". And you know what, both of those thoughts are true, so let's leave it there and call it a day.

Except you know that I can't do that; it would be sacrificing the ever-important narrative for the sake of reductionism. The score line tells so little of the story.

There are a lot of buts coming up, so tighten that seat-belt. The bigger picture: Roma should have lost, but they didn't. Normally I'd be thrilled winning a match Roma had no business of winning, but since it was against Torino, it's more flustering that it was a match they had no business of almost losing. This was a match that - for several reasons - featured a team that looked like they were completely disinterested.

Considering the Coppa semi-final is this week against Inter, one could argue that perhaps this was somewhat justified. The starting eleven indicated that Aurelio Andreazzoli also recognized this match as one that perhaps didn't require a full-strength Roma to win. He was right - but marginally so.

When Pablo Osvaldo scored the opening goal, it looked for a second that this makeshift team might just work out against the league' lower sides. You'l never want to bench Francesco Totti and Marquinhos against teams with more quality at the front and the back but against a side like Torino? Sure, they dominated the early proceedings but goals often beget confidence. That could have been the chance to swing momentum and easily defeat a mediocre team.

That, of course, did not happen. It simply is not the Roma way. And to be frank, the eleven men who went out there just lacked the quality to do it. For example, Dodo represents one segment of players at the club - talented but ever so raw (see also: Tachtsidis, Panagiotis; Destro, Mattia and even Romagnoli, Alessio as players who need just a bit more time and confidence before they become the final product).

These are the exact types of players that need to be slowly integrated into a side with a good mentality so that they can gain that know-how and the experience necessary to become big players. Playing out of position (on paper), closer to his natural position (in reality), Dodo didn't do a terrible job, but he looked, well, like a young kid with a lot of energy and little Serie A know-how. He's probably not a player who should start in a game during a stretch where practically every one is a must-win, basically.

There's another group of players that is a bigger problem. Michael Bradley, Ivan Piris, and Nicolas Burdisso may all have their uses but they simply aren't talented enough to be guaranteed starters at a club with so much ambition. The latter especially deserves a special note here. He has always displayed grit and passion since coming over from Inter. For the most part, he's been a decent-to-good defender, to boot. At 32, however, his faults are becoming more apparent and perhaps exacerbated by age: prone to bookings and mental lapses topped off by a lack of acceleration. He has been at fault for quite a few goals this season and he's essentially the Juan of last year, albeit he started at a much lower peak before his decline. Thanks for everything Nico, sincerely, but it may be time to move along.

His involvement in the equaliser goes without saying, and were it not for a very good day at the back from Maarten Stekelenburg, Roma would have suffered a very humiliating and possibly deadly result. Instead, the side suffered but somehow managed to pull off a win after Erik Lamela roared to life with a fantastic shot. Coco is on the cusp of leaving that 'raw but talented' stage. His quality is all too evident, but he tends to disappear for large spells and has trouble regaining form/confidence. His match winning goal today should go a long way in remedying that.

Aurelio Andreazzoli's roll of the dice worked but only just. Then again, it's difficult to place the blame entirely on AA. The squad's quality is lacking in the depth department, for which Aurelio can take zero blame. Therein lies the catch-22: a Europa League spot at the very least is often required to attract the more talented players around, but reaching that spot without talented players is almost impossible.

Nevertheless, with Champions League football out of the picture, the best possible way to end this season begins on Wednesday. A win against Inter would see Roma in the Coppa Italia final for the chance to win much-needed silverware in order to gain confidence and properly usher in the new era. Andrea Stramaccioni's men have numerous injuries and absences to deal with. There's no better chance than now to salvage something from the season and with a nearly full squad looking to be available midweek, this is a fantastic opportunity that shouldn't be missed.

As a Roma fan, that concerns me. We've been here before.