Five reasons behind Roma's sixth away loss of the season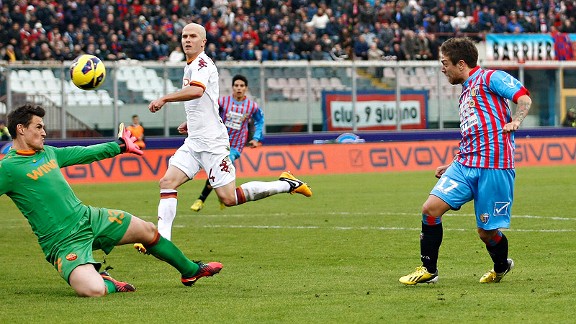 Maurizio Lagana/Getty ImagesRoma midfielder and United States international Michael Bradley looks on helplessly as Catania's Alejandro Gomez scores the match-winner versus Roma.
An umimpressive Roma once again met defeat on the road with a 1-0 loss at Catania. Here's a look at what went wrong.

Absences played a massive role.

Between injuries (Francesco Totti, Pablo Osvaldo), suspensions (Miralem Pjanic) and Zdenek Zeman's personal preferences (keeping Daniele De Rossi and Maarten Stekelenburg benched), Roma arguably had more talent off the pitch than on it. This became exceedingly clear in the front third of the pitch in the first half, when no less than seven chances went begging for the side.

Mattia Destro saw four shots go wide, Michael Bradley missed a fantastic opportunity, and Marquinho and Alessandro Florenzi were equally guilty of failing to put the ball in the back of the net. The latter two, being midfielders, are perhaps less guilty of blame; Destro rarely starts however and is clearly not in form. There's no easy answer for the club, but there are no excuses for losing either. Roma continue to be Roma's worst enemy.

Depth is a serious concern.

Following a first half where Roma should have put the game away, Zeman made no changes at halftime. Yet during the second half, it became clear that the capital side were going to have one of those predictable drop-offs in performances. Once the changes did come, they made had little impact. Taking off Ivan Piris was a necessity due to a breathing issue, but Marquinhos is not a fullback and was forced to play wide for the remainder of the match. Furthermore, Zeman failed to make any changes in the midfield though it became clear that Roma were no longer in control, instead subbing arguably the most impressive player on the pitch, Marquinho. The winger responded angrily, yelling at the bench as Dodo came on in his place: the same Dodo that is a fullback, not a winger. By the end of the match, Roma had three center-backs on the field and a full-back playing wide up top. Something isn't quite right.

The winter break has once again ruined Roma's form.

For years, the capital side have been a streaky team. It's perhaps too simplistic to blame the sojourn to Disney for Roma's woes in the second half of the season, but there's no denying that the break has killed all momentum. During December, for example, the side scored at least three goals in every match bar the fog of Chievo; since then, there's been one goal in 180 minutes of football.

Erik Lamela has been a shadow of the player he was during the first half of the season.

Best exemplifying the aforementioned drop in performances since December is none other than Roma's joint-top goal-scorer. Hounded into anonymity by Napoli's Juan Zungia, the Argentine was no better today against a much weaker Catania team. His biggest sin is often simply trying to do too much; dribbling one too many players on the counter instead of passing the ball; predictably trying to always beat his man on the wing rather than playing triangular passes. Furthermore, he's clearly gaining a reputation for going down too easily, as he asked a number of times for a free kick after a challenge. Referee Antonio Damato refused to award nearly all of them.

Zeman's decisions may be hurting the side.

Some of the absences today cannot be blamed on the former Pescara manager: Miralem Pjanic missed the game due to the red card he was given against Napoli, Osvaldo wasn't even called up due to his training ground injury and Il Capitano was not fit enough to make it through the warm-ups. However, the coach has been keeping two World Cup finalists on the bench despite their replacements failing to impress. De Rossi has admittedly not been at his best this season but surely his experience and presence in the midfield could have helped turn the game around as Roma were losing their grip in the second half.

Maarten Stekelenburg, meanwhile, has lost his spot to Mauro Goicoechea even though the youngster has rarely had a standout match as the side's number one. Furthermore, Roma's second half blackouts have become all too common recently, but the substitutions never seem to arrive soon enough nor be as effective as they should. Perhaps even Simone Perrotta would have been an improvement for the midfield given his vast experience and calming presence.

A win for Milan today would see Massimiliano Allegri's men leapfrog Roma into sixth -- the same Milan team who were a laughingstock at the beginning of the season. Perhaps more depressing is that Udinese and Parma are just two points behind Roma in eighth and ninth, respectively. A loss to Inter next week could conceivably see the side tumble all the way down to tenth. Now, third place is as far away from Roma as 11th place.

This season is at risk of turning into exactly what Totti warned it couldn't be: another year lost for the side.