Arsenal enjoy punishing foolish Adebayor
"Adebayor, what's the score?" Arsenal fans sang gleefully at the Emirates Stadium on Saturday.

It's normal when a player returns to his former club that home fans will take every opportunity to gloat if the opportunity arises. The smallest thing will provoke cheers and hand gestures that would make a nun blush. So when the guy who scores the opening goal in the 10th minute and gets himself sent off seven minutes later allows said former team back into the game and to 4-1 in front, the schadenfreude reaches epic levels.

- Gunners rout 10-man Spurs
- Martin: AVB's up-and-down ride continues

Credit has to go to referee Howard Webb on the sending off. As we watched replay after replay which showed Emmanuel Adebayor's studs-up challenge on Santi Cazorla was a definite red, we ought to remember Webb had to make up his mind on one viewing, and he got it absolutely right. We're quick to criticise when officials make mistakes, so hats off.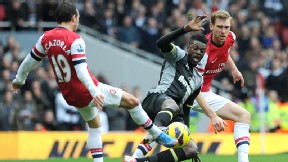 David Price/Getty ImagesArsenal scored five goals after Emmanuel Adebayor was sent off for this tackle of Santi Cazorla
It's often said that playing against 10 men can be more difficult, but that was not the case for Arsenal. Having started well, Spurs found themselves on the back foot and, with effervescent Cazorla outstanding once again, Arsenal turned the screw. Goals by Germans Per Mertesacker and Lukas Podolski and another from Olivier Giroud before half-time put Arsenal in full control.

When Cazorla got a deserved goal to make it 4-1, it looked done and dusted. But Arsenal being Arsenal, they never do things the easy way. Chances were spurned and, when Gareth Bale pulled one back for Spurs, there was palpable nervousness in the Emirates, supporters all too aware the Gunners are capable of pulling a rabid biting rabbit out of the hat at any time.

But after another dangerous moment from Bale, Arsenal controlled the game until the final whistle. The experienced players -- Mertesacker, Cazorla, Barcary Sagna and Mikel Arteta -- got their foot on the ball, slowed things down and ran the clock down well until Theo Walcott made absolutely sure with the fifth late on.

The three points are welcome and vital for Arsenal and Arsene Wenger. Last season this game provided a boost of form which saw Arsenal win eight of their next nine in all competitions. Although this result will ease some of the pre-game pressure, it won't answer all the questions.

Another game goes by without a clean sheet, but that feels like nitpicking on a day when Arsenal stuck five goals past their old enemy and set themselves up well for the important midweek Champions League home game against Montpellier.

The final note has to go to Cazorla. We know he's a player of great technique, but some of his close control Saturday was outstanding. Taking down long, high balls with a first touch that would make angels weep and spreading the play beautifully to help Arsenal control the game late catch the eye. But seeing him combine those with an unquestionable work ethic, not always found in the most skillful players, makes him the complete package. He's a joy to watch.