Attacking options offer Wenger flexibility
Arsene Wenger has seen the reinforcements arrive at just the right time.

Lukas Podolski came off the bench at West Ham for his first Arsenal appearance in four months since a hamstring injury, Theo Walcott looks sharper with every game, while the once-crippling injury list now looks far more manageable.

Alex Oxlade-Chamberlain is nearing fitness, stepping up his training, and could be playing in the first team again next month.

It suddenly means Arsenal have good attacking options and, perhaps, the chance to give a break to Olivier Giroud, who is going through a lean spell. While his all-round game remains good, he has not scored for seven games.

At West Ham, the Frenchman looked jaded and in need of a breather. When Podolski came on, he changed the game with a cross from the left for Walcott's headed goal, which put Arsenal in front, before scoring himself.

Wenger can now look at resting and rotating through the remainder of this busy spell as his club approach three games in six days: a tough trip to Newcastle on Sunday, followed by entertaining Cardiff on New Year's Day, then the FA Cup third-round tie with Tottenham on Jan. 4.

It is a grueling schedule, one which has already claimed a big injury: Aaron Ramsey suffered a thigh problem at West Ham and he will be out for some time.

But Jack Wilshere returns from suspension at Newcastle, Mathieu Flamini has been on the bench and Arsenal have a wealth of midfield riches.

Santi Cazorla even looked back to his best at Upton Park when he switched inside to orchestrate play from central midfield.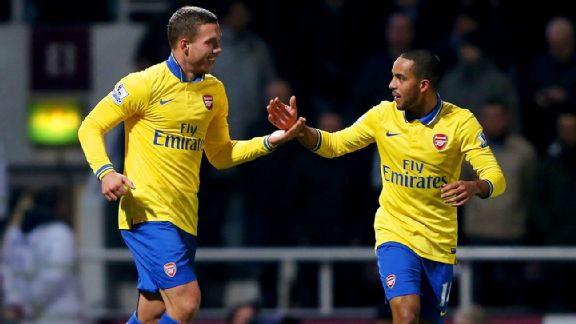 Ian Walton/Getty ImagesPodolski and Walcott sparked Arsenal's recovery at West Ham.
Having laboured and struggled to score for more than an hour, Arsenal suddenly looked fantastic with Walcott right, Podolski left and Cazorla through the middle.

They blew West Ham away with three goals in 11 minutes, and suddenly the doubts and gloom surrounding the team after a sticky spell -- in which they had gone three league games without a win -- quickly lifted.

It is amazing what a win can do. This one took Arsenal back to the top of the Premier League, the players were smiling again and even Wenger looked relaxed.

Now is an important time to make the right calls and maintain momentum. You need to rest players for fear of any others picking up an injury like Ramsey while tired.

- Ramsey sidelined by injury
- Mangan: Arsenal back on top

I fancy Laurent Koscielny will come back into defence at Newcastle. Maybe Flamini will start too. But also, does Wenger change things in attack?

Podolski is probably still too short of match sharpness to start games but can be very important from the bench.

However, more of a dilemma perhaps surrounds Nicklas Bendtner. Wenger still sees him as part of the squad in a big way. Could he start against Cardiff on New Year's Day -- or even against Tottenham?

While Wenger is more concerned about the Premier League title race, the fans will be desperate to beat Spurs in the FA Cup, and that is a game where the manager may look to change things around a bit to try to keep players fresh.

Wenger definitely needs a trophy this season to keep the fans onside. One way to get the fans on his back is to lose to Spurs.

But there is no doubt that he sees the title as the priority. It is a big call but Wenger will surely rest and rotate over the next week.

At least now, finally, they have a few more options. Podolski can be a huge influence until the end of the season.

While he may lack the defensive discipline to play wide left all of the time, the 28-year-old can fill in as a striker, come off the bench and look for late goals. He is a deadly finisher with a terrific shot.

From a feeling of doom and gloom, one win and a big return from Podolski has lifted and changed the Arsenal mood completely before a huge trip to Newcastle.